HUGE Q1 Loss by Bank Of America
With its mortgage business in decline and after paying $6 billion in legal fees and fines, Bank of America (NYSE:BAC), the second biggest lender in the nation, has a huge first quarter loss.
After shares plummeted 2.9% in trading, the bank reported a loss of $276 million. This equates to the loss of five cents a share. What makes this decline rather startling is that a year ago, Bank of America reported a $1.48 billion profit.
Over the past three months, the price of BAC has declined about 6% while the S&P is up 1%. During 2011 and 2012 the stock price of BAC lingered in the single digits. Will this price action happen in 2014?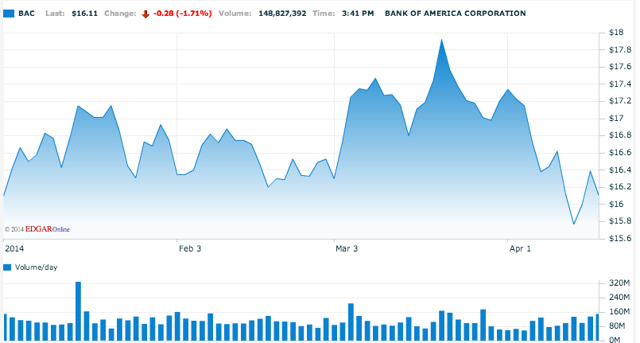 (Nasdaq.com)
The company has been hard-hit by two crises: financial resolution of lawsuits arising from the financial crisis and purchasing Countrywide Financial Corporation in 2008. Particularly damaging to its quarter results was the increase in litigation costs. A year ago, it paid $2.2 billion. Now, it paid $6 billion.
Losses Damaging To BAC'S Bottom Line And Reputation
Although the idea of fines adding up to some $6 billion may sound huge to the average investor, the bank's market cap of $170 billion highlights the fact that heavy fines damage the company's reputation even more than its bottom line.
Two examples are:
·Faulty mortgages: Bank of America had to pay $950 million in a claim settlement after their mortgage division, Countrywide Financial Corporation, combined toxic mortgages into securities. This negatively impacted the Financial Guaranty Insurance Company, as well as forced the buyers to incur losses.
Credit card fiasco: In April 2014, the bank had to pay about $772 million to refund customers and pay fines. According to the Consumer Financial Protection Bureau, the bank had used deceptive marketing and deceptive billing practices with their credit card customers. The deceptive billing practice was to charge customers for services that they failed to deliver, specifically credit reporting and credit monitoring services. More than a million customers who had purchased these add-on services that were not delivered had to be refunded. While $772 million is less than half a percent of BAC's market cap, such negative publicity, particularly with BAC appearing to actively take advantage of individual customers, is a concrete knock against the bank's integrity.
Not Business-As-Usual
Although Bank of America is attempting to improve its internal restructuring and processes, as well as lower its expense base, the Q1 loss has alarmed investors, particularly given the size of its legal charges and slumping mortgage originations.
BAC did post revenue increase in some areas, including $1.66 billion in basic banking services and small business loans; however, the credit card debacle-again, a seemingly direct exploitation of its customers-does not bode well, especially for this area of business.
Investors Should Take Some Profits in BAC, Invest In A More Responsible Financial Institution like Wells Fargo
This overall deficit, for such a large institution, is troubling-specifically given the embarrassing reasons for BAC's losses.
Given BAC's increasingly negative performance in and outlook for 2014, we recommend investors take profits in BAC and shift their money to a more responsible bank, such as Wells Fargo (NYSE:WFC), which posted a Q1 gain and is free from regulatory mess. Why wait for BAC to possibly go back to a single digit.
For a deeper analysis of WFC's strong points, see our previous article here.
Disclosure: I have no positions in any stocks mentioned, and no plans to initiate any positions within the next 72 hours. I wrote this article myself, and it expresses my own opinions. I am not receiving compensation for it (other than from Seeking Alpha). I have no business relationship with any company whose stock is mentioned in this article.