Company Overview: CVS Caremark Corporation (NYSE:CVS) operates as a pharmacy services company in the United States. It operates in two segments, Pharmacy Services and Retail Pharmacy. The Pharmacy Service segment provides a range of prescription benefit management (PBM) services, including mail order pharmacy services, specialty pharmacy services, plan design and administration, formulary management, and claims processing. This segment primarily serves employers, insurance companies, unions, government employee groups, managed care organizations and other sponsors of health benefit plans, and individuals.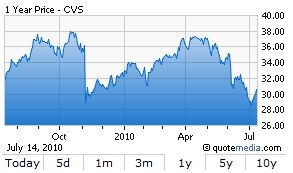 Prognosis: The stock is selling close to its 52 week low despite having historical low valuations using a variety of metrics (Price to Sales, Price to Book, Price to Cash Flow, Price to Earnings, etc…). It is down approximately 30% from its 52 week high. The highly publicized spat with Walgreens and other challenges with its recently acquired PBM (Caremark) have weighed down the stock price.
Valuation: CVS is selling for 11 times this year's consensus earnings and 10 times projected earnings in 2011. It has a small dividend yield of 1.2%. It is selling at approximately .4 times revenues
Catalysts: There are several factors that we believe should provide support for a higher stock price in the near and medium term:
The public fight with Walgreens concluded with an agreement that should not affect other negotiations with PBM customers

This defensive play should hold up well if/when economic growth decelerates which is highly likely

The New CEO is not tied to the PBM business which could mean spinoff or divesture if division continues to hold back rest of company at some point in the future
Recommendation(s): Given its earnings prospects, low valuations, and its position is a recession resistant segment of the economy, we believe CVS is undervalued. In our opinion, the stock should be trading at a more reasonable rate of approximately 12-13 times next year's projected earnings of around $3.09. Our target price is $36-$40, up from the current price of $30.55.
Disclosure: Author is long CVS