Mark Hibben made a good point in discussing Intel's (NASDAQ:INTC) dreadful mobile group numbers. I agree with Hibben's assessment that Intel's losses over its tablet campaign may worsen for the next quarters.
However, Krzanich is gambling that Chinese white box tablet makers will help Intel punish tablet leaders Apple (NASDAQ:AAPL) and Samsung (OTC:SSNLF). I firmly believe that Shenzhen tablet producers will outsell both Apple and Samsung this year. Intel's deliberate loss-making tablet campaign has an area of effect collateral damage to its competitors for the near future.
Intel Is Punishing Rivals With Contra Revenue
Krzanich is smugly telling rivals that Intel is desperate enough to drag everybody down. Shenzhen tablet producers will sell 130 million tablets this year, almost half of the 260.9 million tablets that IDC predicted will be sold for 2014. Intel is providing $5 Bay Trail SoCs to Chinese white box tablet companies.
Samsung will find it harder to sell Galaxy Tab 4 units this year because Intel is providing Shenzhen companies good SoCs inside $150 Android tablets. Samsung, Apple, and other brand name tablet makers will have to lower their average selling prices to keep up with Intel's frantic and discriminatory pricing strategy.
Intel's other big OEM partners like Hewlett-Packard (NYSE:HPQ) and Dell will also hopefully abandon using Allwinner SoCs in their low-ASP Android tablets. The $169.99 HP 8 Android tablet uses an Allwinner A31 chip. A $5 Bay Trail SoC may inspire Hewlett-Packard to make new variants of the HP 8 with Intel Inside.
I still prefer though, that HPQ makes higher-ASP Windows 8 tablets and 2-in-1 hybrid notebooks with BlueStacks dual-OS feature using more expensive Bay Trail chips.
Intel May Not Lose $3 billion On Mobile This Year
I believe most of the dirt-cheap $5 tablet chips for Shenzhen companies are already part of the unsold inventory, which was charged to last quarter's $929 million operating loss of M&C group. Barclays Capital's Blaine Curtis pointed out to Krzanich that Intel's Mobile Group is losing $3 billion a year. Intel's CEO deftly answered that the upcoming 14 nanometer process may reduce losses. A CFO commentary also supported this assertion that Intel will likely reduce its Mobile Group losses this year.
Krzanich did admit that Mobile & Communications Group will still not see any profitability through 2015. Intel only sold 5 million tablet chips during the first quarter of 2014. The company needs to double up for the next three quarters if Krzanich wants to fulfill his promise of 40 million tablet chips sales this year.
This all-in desperation move means contra revenue will likely deliver another $1 billion or more loss for M&C group for the rest of the year. However, the stock market is tolerating Intel's contra revenue strategy. Despite the BlackBerry-like write-off loss over mobile, INTC is still above $26 after earnings report.
Ashraf should be very happy that nobody is shorting Intel despite its "$3 billion annual mobile operating losses."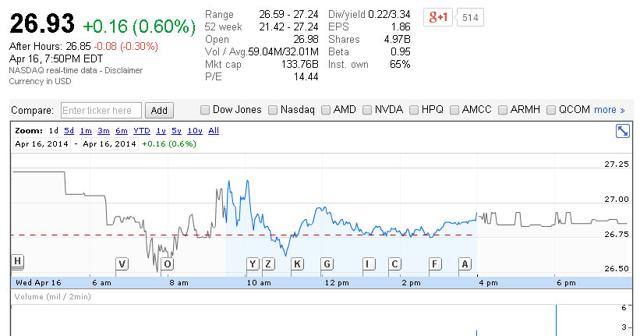 Earlier Release of SoFIA is Highly Desirable
Mobile & Communications Group's losses may further be reduced if Intel will do an earlier release of the baseband-equipped SoFIA SoC. Phablets are higher-ASP products, which Shenzhen white box manufacturers can also produce to compete with the Galaxy Note 3. Intel's SoFIA is ideal for $200 or less Shenzhen-made clones of the Note 3.
Krzanich said SoFIA is on track to ship to OEMs this fourth quarter of 2014. However, INTC can really benefit by shipping the SoFIA by third quarter. OEMs can build more units of Intel-powered smartphones and phablets for the coming holiday shopping season.
I like SoFIA, but I'm not confident with Merrifield's ability to attract smartphone makers. It has no integrated baseband capability so most cost-conscious OEMs will still rely on Qualcomm (NASDAQ:QCOM) and MediaTek this year. An LTE-enabled SoFIA SoC next year so Intel will only probably gain traction in smartphones by mid-2015.
Conclusion
The stock market likes Krzanich's all-in money-losing approach to stealing market share in tablets this year. Krzanich is using Intel's reliable robust income from PC and server groups to finance a very aggressive campaign. Contra revenue hurts Intel's bottom line but it also hurts rivals like Apple, ARM Holdings (NASDAQ:ARMH), Qualcomm, and Samsung.
Consumers are the ultimate winners in Intel's predatory pricing policy in tablets and smartphones. Other companies have no choice but to also reduce their chips' price tags to slow down Intel's mobile crusade. Lower price tags for SoCs and other essential components produces lower retail prices for tablets and smartphones.
In my book, INTC is a strong hold. However, Alpha Omega Mathematica rates Intel a Strong Buy based on Value, Momentum, and Quality indicators. Do your own due diligence and decide for yourself what INTC's rating should be.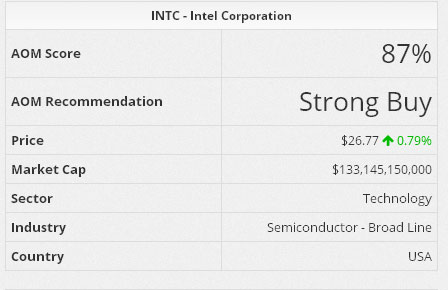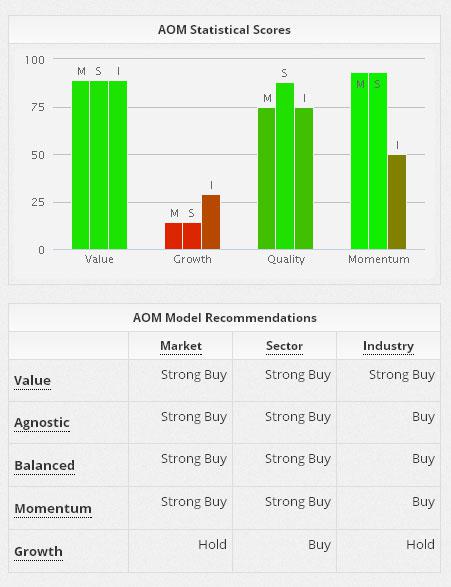 Source: getaom.com
I am aware that big investment houses are actually very bullish on INTC in spite of the dreadful M&C Group losses. I'm tempted to raise my Hold assessment to a Buy, but I'm really jaded that Seeking Alpha Intel bulls, with thousands of followers, failed to move the stock beyond $30 since I joined Seeking Alpha last December.
Pacific Crest reiterated its Outperform rating for INTC on April 16 and increased its Price Target to $32. Deutsche Bank (NYSE:DB) also reiterated its Buy rating for INTC and increased its PT to $30 from $28.

Source: Finviz.com
Disclosure: I am long INTC, AAPL. I wrote this article myself, and it expresses my own opinions. I am not receiving compensation for it (other than from Seeking Alpha). I have no business relationship with any company whose stock is mentioned in this article.