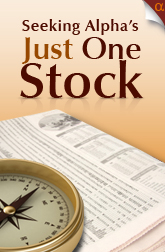 Several times a week, Seeking Alpha's Jason Aycock asks money managers about their single highest-conviction position - what they would own (or short) if they could choose just one stock or ETF.
---
Ingrid Hendershot, CFA, is founder and president of Hendershot Investments, a woman-owned RIA based in Bristow, Va., and edits the firm's quarterly newsletter. She has more than 25 years of investing experience and provides investment insights as a regular guest on The Value Investor radio show.
If you could hold only one stock position in your portfolio, what would it be?
Express Scripts (NASDAQ:ESRX) is a stock we've owned in our portfolio for 14 years. The stock has been a profitable prescription for the portfolio, rising nearly 40-fold over that time period. We continue to find the business attractively valued with Express Scripts residing near the top of our buying list today.
Express Scripts serves tens of millions of Americans as a pharmacy benefit manager (PBM) for health maintenance organizations, health insurers, employers, union-sponsored benefit plans, third party administrators, workers' compensation and government health programs. The company focuses on driving out waste while improving health outcomes by coordinating the distribution of outpatient pharmaceuticals.
The company's annual report says "Prescription drugs play a significant role in healthcare today and constitute the first line of treatment for many medical conditions. As pharmaceutical research increases the potential for even more effective drugs, demand can be expected to increase." At the same time, managing high prescription drug costs is challenging. Employer total medical costs continue to outpace inflation. National health expenditures as a percentage of GDP are expected to increase from 17% of GDP in 2009 to 19% of GDP in 2019 according to the Centers for Medicare and Medicaid Services estimates.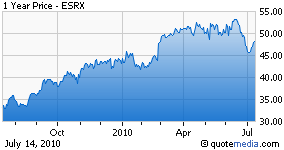 In managing the cost of the drug benefit for its clients, Express Scripts evaluates drugs for price, value and efficacy in order to assist clients in selecting a cost-effective formulary. Express Scripts also leverages purchasing volume, promotes the use of generics and low-cost brands and offers cost-effective home delivery pharmacy and specialty services which result in drug cost savings for plan sponsors and co-payment savings for members.
Independence from the influence of retail pharmacies or pharmaceutical manufacturers aligns the company's interests with their clients and members. In 2009 alone, Express Scripts' clients saved $1.4 billion through greater use of generics and lower-cost brands. Express Scripts' industry-leading 69% generic drug fill rate last year was a primary reason for the significant cost savings.
As Express Scripts saves money for clients and patients through the utilization of generic medications, lower-cost brand drugs and cost-effective delivery channels, their earnings improve. Over the past five years, net income and operating cash flows have more than doubled.
With minimal capital expenditure needs, the company generates substantial free cash flow which has been used for significant share repurchase programs and acquisitions over the past 14 years. Express Scripts has a proven history of successfully integrating acquisitions to increase shareholder value. The company recently completed the largest acquisition in its history: the $4.7 billion acquisition of WellPoint's (WLP) NextRx pharmacy benefit management subsidiaries.
How does your choice reflect your investment approach?
We seek to invest in high-quality companies at reasonable valuations that we can hold for the long term. We define a high-quality company as a business with steady growth in sales, earnings and free cash flow; a strong financial position (the more cash and the less debt on the balance sheet, the better we like the business); and sustainably high returns on shareholders' equity (typically greater than 15-20%) which reflect a durable competitive advantage.
The most important part of the investment equation is having the discipline and patience to wait for a high-quality business to sell at a substantial discount to its intrinsic value, which we compute using a multifactor valuation model that we have developed and refined over the past two decades. We then seek to hold these high-quality, cash-compounding investments for the long term, which is reflected in our very low portfolio turnover.
Express Scripts is a good example of a high-quality company which has boasted steady growth in earnings and free cash flow while generating high returns on shareholders' equity over the 14 years we have held the investment. While Express Scripts' balance sheet currently has more debt than we prefer, this is due to their recent acquisition of NextRx. With their strong operating cash flow, which should exceed $2 billion this year, we expect them to pay down the debt rapidly, as they have in past acquisitions.
Can you tell us a bit about the sector? How much is your selection based on Express Scripts' industry, as opposed to a pure bottom-up pick?
Our investment style is to select investments on a bottom-up basis as we seek the best values we can find regardless of the industry.
That being said, Express Scripts serves the broader healthcare landscape. With changes brought on by healthcare reform, Express Scripts' clinical expertise, insights gained from investments in behavioral science and proven marketing theories should produce positive solutions to drive out wasteful spending from the healthcare system.
How is Express Scripts positioned with regard to competitors?
There are a number of PBMs in the United States against which Express Scripts competes. Some of these are independent PBMs, such as Catalyst Rx (NASDAQ:CHSI), Medco Health Systems (NYSE:MHS) and MedImpact. Others are owned by managed care organizations such as Aetna (NYSE:AET) and CIGNA (NYSE:CI). Some are owned by retail pharmacies, such as Caremark which is owned by CVS (NYSE:CVS).
Express Scripts has proven to be a formidable competitor and has grown to become one of the largest independent pharmacy benefit managers in North America. As one of the largest PBMs, Express Scripts has gained significant economies of scale which provide the company with a competitive advantage.
CVS Caremark and Walgreens (WAG) had a public tiff last month, but made up; what effect does that have on competitors like Express Scripts? It looks like ESRX may still get to reap competitive benefits, judging from the share-price separation it maintains over CVS in the past month.
After the recent public spat on reimbursement issues, Walgreens and CVS Caremark reached an agreement for Walgreens to remain in CVS Caremark's pharmacy benefit network and continue to fill prescriptions for CVS Caremark's patients. While Express Scripts likely didn't pick up much in incremental sales during the brief battle of its competitors, the battle did highlight Express Scripts' independent and open pharmacy benefit network, which creates the perception of value to both insurers and individuals and provides them with a competitive advantage when bidding on contracts.
How does ESRX's valuation compare to its competitors?
Express Scripts' stock currently is priced at a premium to other PBM pure plays in terms of P/E, price-to-book value and price-to-sales ratios. This premium is deserved, in our opinion, given the company's superior return on capital compared to its peers over the past decade, and higher growth expectations relative to its competitors for the next five years.
Management once again expects 20%-plus earnings growth this year and reaffirmed 2010 earnings guidance, excluding certain items, of $2.42-$2.50 per share, adjusted for a recent 2-for-1 stock split. Revenue is expected in the range of $46 billion to $48 billion. Cash flow from operations is expected to increase by at least 14% and exceed $2 billion in 2010. Management has historically been conservative in their earnings projections and generally overdelivers on their forecasts.
At current price levels, Express Scripts is trading for about 15 times expected 2011 EPS of about $3.17. With an expected 10% free cash flow yield, Express Scripts appears attractively valued on an absolute basis. We expect the stock to trade between $41 and $76 over the next 12-18 months based on current business fundamentals and reasonable multiples applied to expected sales, earnings and book value. With the stock currently trading at the low end of our expected price range, we believe the company may continue to provide us with significant gains.
Does your view differ from the consensus sentiment on ESRX?
Analyst sentiment on Express Scripts is generally positive, given the company's competitive position in a very profitable industry. Although healthcare reform has cast a cloud of uncertainty over many healthcare-related companies, Express Scripts should have a bright future, as reducing healthcare costs remains paramount in our country.
The company's acquisition of NextRx, investments in their infrastructure and new systems and products should increase growth, improve efficiency and lead to further cost savings and increased customer satisfaction. We believe there are significant opportunities for Express Scripts to grow further from the rising use of generics, home delivery and specialty pharmacy management services.
Does the company's management play a role in your selection? If so, how?
Yes, management is key in making the critical capital allocation decisions for any business. We seek management teams which intelligently allocate the growing free cash flows the business is generating. By making strategic acquisitions, repurchasing shares and/or increasing dividends, companies can reward us as long-term shareholders.
We've long admired George Paz, Express Scripts' president, CEO and chairman, who we first came to know when he served as the company's chief financial officer, when we first acquired our position in the company. Mr. Paz has an impressive record of intelligent capital allocation decisions as he has directed the company's growing free cash flows into accretive share repurchase programs and strategic acquisitions to enhance long-term shareholder value.
What catalysts, near-term or long-term, could move the stock significantly?
There are many positive trends that should continue to benefit Express Scripts in the years ahead, including an aging population, increased generic drug usage, increased mail-order usage and further healthcare cost containment efforts by clients.
The integration of the NextRx acquisition should also benefit Express Scripts in the years ahead as it further increases the company's economies of scale and competitive advantages. The transaction includes a 10-year agreement under which Express Scripts will provide pharmacy benefit management services, including home delivery and specialty pharmacy services, to tens of millions of members of the affiliated health plans of WellPoint. The two companies will "leverage integrated medical and pharmacy data for a more holistic view of members' health and related behaviors. WellPoint will seek to improve the effectiveness of its clinical competencies through the success of Consumerology, Express Scripts' powerful application of the behavioral sciences to help members make better healthcare decisions."
Through Consumerology, Express Scripts is employing principles of behavioral economics to develop new approaches that drive adoption of generics, better therapy adherence and greater use of home delivery. For example, the company says, Select Home Delivery, one of the first products to emerge from the Consumerology initiative, has unlocked the behavioral principles behind procrastination to drive member behavior change. Through this program, Express Scripts has successfully enrolled more than two million members in Home Delivery from the Express Scripts Pharmacy, their most cost-effective delivery channel. New insights should create the potential for innovative programs to further drive improved health outcomes and reduce costs.
What could go wrong with your pick?
While the integration of the NextRx acquisition is so far proceeding smoothly, there is always the potential for hiccups in the integration of any acquisition, especially such a large acquisition as this one. Regulatory risk is ever present in the pharmacy benefit management industry with the industry subject to further government changes and compliance issues.
Thanks, Ingrid, for sharing your choice with us.
Disclosure: Hendershot Investments is long ESRX.
Read more Just One Stock articles »
If you are a fund manager and interested in doing an interview with us on just one stock or ETF position you'd hold, please email Rebecca Barnett.