It's official! The PC upgrade cycle has begun. After being mired in an environment characterized by cautious capital investment, corporations seem to finally have reached a point where they are once again willing to spend. At least that is what Intel's (INTC) latest EPS report seems to imply. However, we question whether Intel's result offers a reason to buy the shares of its rivals, and we remain highly contra to forecasts for economic revival and general medium-to-long-term stock market rise.

After rising 2% Tuesday, Intel shares jumped nearly 6% on Wednesday morning on the company's best quarterly profit in a decade. The news offered hope to technology shares, that perhaps a PC upgrade cycle had begun and corporate capital investment activity had returned.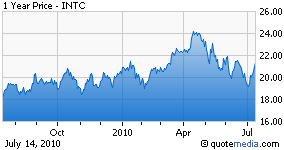 Intel's Q2 EPS Report

Intel (Nasdaq: INTC) reported enthusiastic numbers after the close of trading Tuesday night, starting an after-hours buying binge. The PC semiconductor giant posted EPS of $0.51, well above the analysts' consensus forecast for $0.43 (based on Thomson Reuters). Quarterly revenues reached $10.77 billion, again surpassing analysts' expectations for $10.25 billion. The company's revenue level marked a 34% increase over the prior year quarter, which is pretty significant even when not considering the size of its sales levels. At $10+ billion, it's huge!

The last time Intel posted earnings this high was before the dot-com bubble burst. Even better, the company forecasts revenues of $11.2 to $12.0 billion for its upcoming third quarter, again higher than analysts' forecasts for $10.92 billion. As a result of its revenue gains and also due to production efficiencies, Intel's gross profit margin is seen expanding above its own previous forecasts, to 65% to 69%. The company now expects its full year gross margin to reach 66%, up from its previous 64% outlook. We took note that Intel's cost of sales decreased year-over-year, despite a near $3 billion increase in sales. As a result of its success, the company is increasing its R&D spending and capital investment, a direct driver for the tech sector.

Intel's president and CEO Paul Otellini stated,
Strong demand from corporate customers for our most advanced microprocessors helped Intel achieve the best quarter in the company's 42-year history. Our process technology lead plus compelling architectural designs increasingly differentiate Intel-based products in the marketplace. The PC and server segments are healthy and the demand for leading-edge technology will continue to increase for the foreseeable future.

Tech Bellwether?
PC and server segment sequential strength were certainly encouraging for Intel and the whole of the tech sector. Intel dominates the PC space, with 80% or so global market share for microprocessors. One analyst warned not to translate Intel's success to Advanced Micro Devices (NYSE: AMD) though, which operates to a lesser extent in Intel's Q2 driving markets. AMD shares thus only managed to gain 1% in Wednesday trading through midday.

Also, Intel earns more than half its revenue from Europe and Asia, where business has not been as good as the US of late. However, the company notes that business has settled in Europe through Q2. Intel's CEO reported growth returned before quarter's end. That said, we have to wonder how good a barometer Intel serves for the overall tech sector today. Europe looks certain to offer drag through 2010. Besides Europe, there's one other reason why Intel's gains may not offer reason to buy stocks on the whole.

The PC upgrade cycle has been on hold for some time. If it is indeed finding traction now, it would surely be propelled by pent-up demand and needs to upgrade outdated equipment. The rate of innovation within technology should have intensified that desire in the corporate space. Meanwhile, budgets on lockdown and uncertain economic outlook kept managers from making necessary and desired improvements. Intel's own gains in gross margin, which were also aided by found efficiencies during hard times, evidence the freeing of capital. With economic growth now generally forecast, corporate decision makers may simply be making the upgrades they would have incurred under normal operating conditions. Thus, Intel's stellar growth may not offer reason for enthusiasm about general economic growth. That said, it seems to provide support to equipment makers of all sorts, who have seen orders die off over the last few years. Keep in mind though, that if economic conditions offer dark clouds, capital may still be held on the sidelines.


Disclosure: No Positions