It seems as though there has been a revolving door of REIT CEOs of late. First it was James "Jay" Flaherty III who was terminated in October (2013) after HCP, Inc's (NYSE:HCP) board said that "it had lost confidence in leadership" (see my article yesterday). Then it was Mike Foust, CEO of Digital Realty (NYSE:DLR) who was also pushed to resign by the board in order to "help guide Digital Realty to the next level and scale of operational sophistication."
A few others left are departing voluntarily - George L. Chapman recently announced his retirement from Health Care REIT (NYSE:HCN) as chairman and chief executive; Dean Jernigan retired December 31st as the CEO at CubeSmart (NYSE:CUBE); and Tom Lewis, retired last year after leading Realty Income (NYSE:O).
All companies must have leadership and that includes a well thought out succession plan. I would never want to go on a cruise if I knew that the captain was not going to guide me to my final destination. In the case of the three recently retired REIT CEOs, all have identified internal people to fill the key executive positions and leading the companies.
When it comes down to succession planning, it's critical that each company has "bench strength" - that is - providing critical development experience for those that can move into key roles.
Studies indicate that companies that report the greatest gains from succession planning feature high ownership by the CEO and high degrees of engagement among the larger leadership team (source: Wikipedia). Internal planning should identify potential leaders and prepare them to take over, if needed. Ideally, there would be some sort of transition period where the current CEO can work with his or her replacement, until he or she is ready to turn over the reins to the replacement.
In the case of HCP, Inc., there was an immediate replacement of the CEO; however, there was no transition period. I was concerned with HCP's leadership transition and integration risk and that's why opted to sell out last year. However, in my article yesterday, I purposely formulated my strategy to begin building back a position in the health care REIT.
In the case of Digital Realty, I still own shares. As disclosed in several articles on Seeking Alpha, I entered into positions on September 17th (at $54.81) and then a larger position on December 3rd (at $44.15). By dollar cost averaging my purchases I was able to establish a blended cost basis of around $46.00. Since my last purchase, shares have advanced over 20% (to a recent close of $53.83).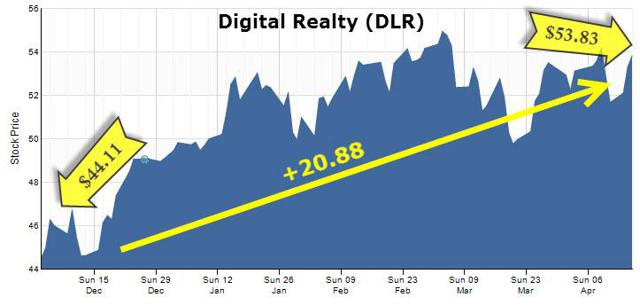 Click to enlargeI'm comfortable with my investment in Digital Realty as it appears that the turbulence in 2013 has died down considerably. Although the previous CEO (Foust) was not directly responsible for the drama (in 2013) that included botched earnings calls and an untimely short by Highfields Capital, the board made it clear that it needed new leadership going forward.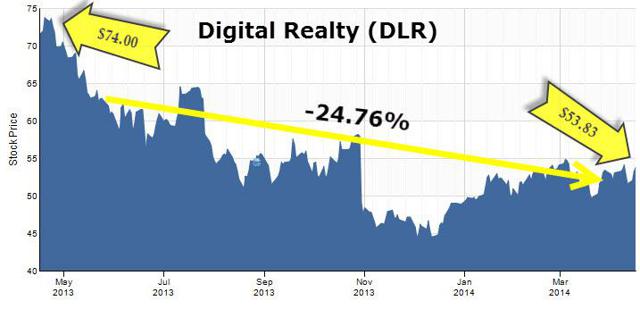 Click to enlarge
With no CEO, I feel kind of like the cruise ship passenger. I could jump off the ship now and land on a life raft or I could stay on the same path and wait for higher ground. In the case of HCP, I was not willing to wait since I did not feel comfortable (then) with the "bench strength." I wisely sold out without taking on any losses. In regards to Digital Realty, I will provide you with my decision at the conclusion of this article (scroll down if you don't want to read the article though).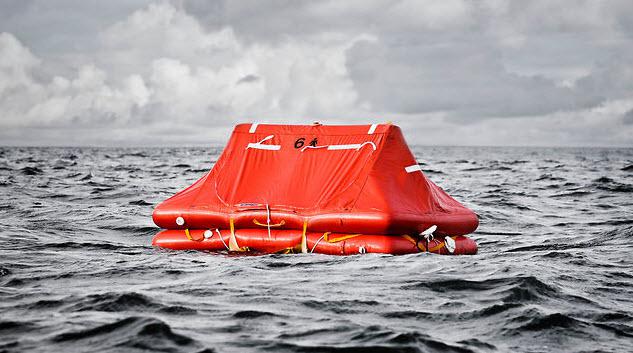 Digital Realty Still Chugging Ahead
Digital Realty remains the largest Data Center REIT with a Total Capitalization of $12.746 billion. As of the latest quarter (Q4-13) assets were $9.7 billion.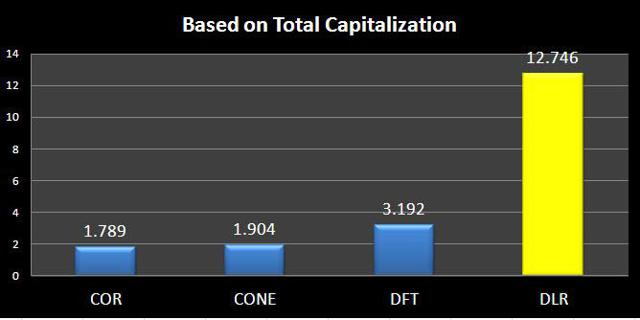 Click to enlarge
Digital is one of the 20 largest publicly-traded U.S. REITs with an Equity market capitalization of $7 billion. The company has a diversified portfolio of properties and tenants, located in over 30 markets throughout North America, Europe, Asia, and Australia. The company owns 131 properties with over 24.5 million square feet of rentable space.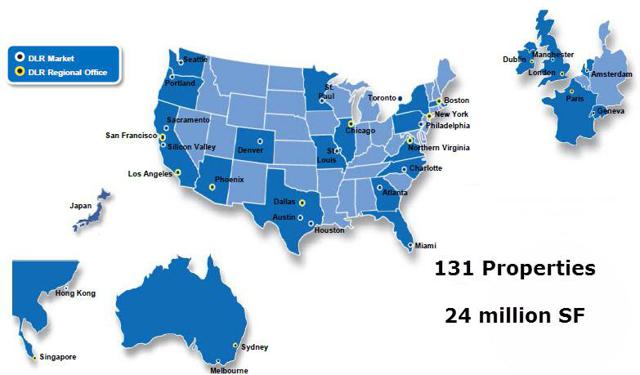 Click to enlarge
Digital has a high quality tenant base with approximately 2,000 leases with over 600 tenants, including leading global companies across various industries. Here's a snapshot of the company's tenant type (by % of ABR):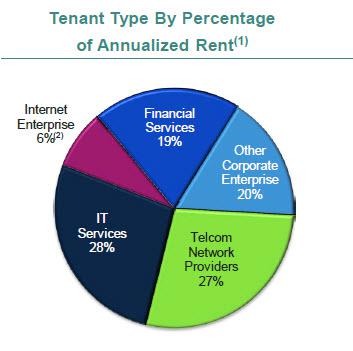 None of Digital's major tenants have more than 10% in rental income concentration. The major tenants include CenturyLink (NYSE:CTL), IBM (NYSE:IBM), Equinix (NASDAQ:EQIX), and Morgan Stanley (NYSE:MS).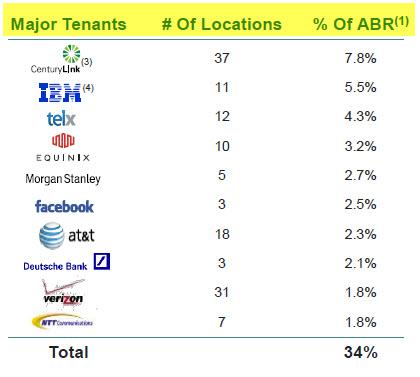 It's important to note that Yahoo! Is Digital's 18th largest tenant with only 1% of total revenue. In addition, all of Digital's internet enterprise tenants - Amazon (NASDAQ:AMZN), Google (GOOG, GOOGL), Microsoft (NASDAQ:MSFT), Salesforce (NYSE:CRM), and Yahoo! (NASDAQ:YHOO) - represent less than 6% of Digital's ABR.
Digital Has Maintained a Conservative Balance Sheet
When Mike Foust parted ways with Digital, his temporary replacement was the company's CFO, Bill Stein. One of the reasons that I purchased shares in Digital was because of the leadership - bench strength - of Bill Stein.
Digital has achieved investment grade status (under Stein's leadership) with quality ratings from S&P (BBB), Moody's (Baa2), and Fitch (BBB). The company's conservative leverage ratios include Total Debt / Total Enterprise value of 40.9%, Net Debt / LQA Adj. EBITDA of 5.4x, Debt service coverage of 4.3x, and Fixed charge coverage of 3.3x. The company has 88.3% unsecured debt.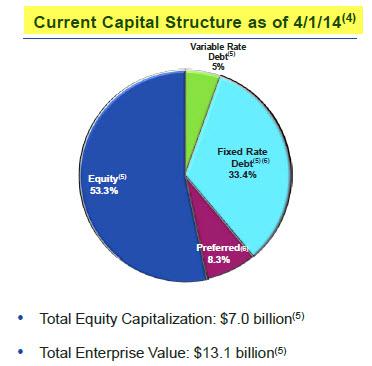 Digital has total equity capitalization of around $7 billion (53.3% of total capital) and the company has raised over $3.7 billion since 2008. Around 8.3% of total capital is preferred.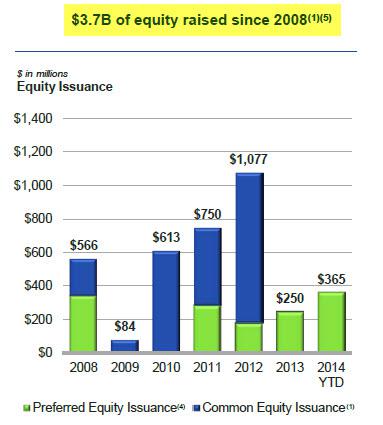 Digital has around 33% in fixed rate debt and 5% in variable debt. The company has issued around $4.7 billion of debt since 2008 - a 196% increase in unsecured credit.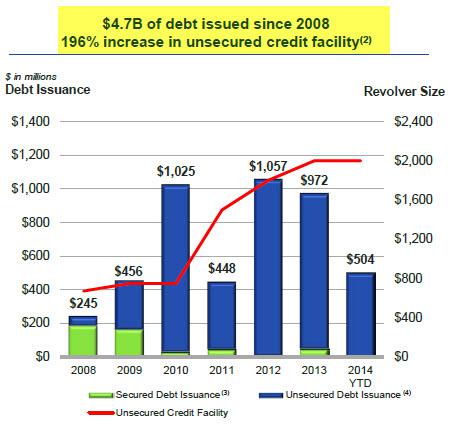 The company's debt maturities are well-staggered with modest near-term maturities.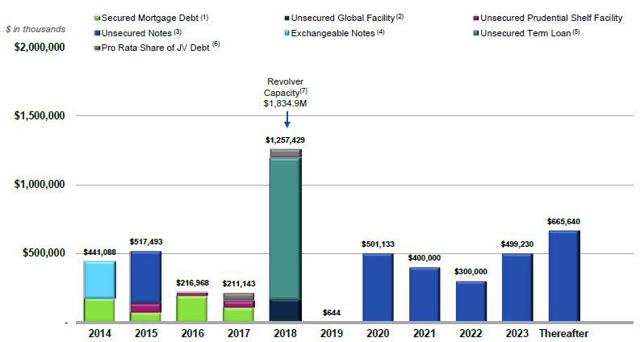 Click to enlarge
Can Digital Steer Me Without a Captain?
Digital's board has hired a search firm to assist in hiring the best possible CEO. The key question for me is making sure that the ship sails smoothly until the new CEO is steering the vessel. Arguably, the former CEO was responsible for some of the turbulence but what keeps me from getting sea sick until there is a new captain?
As I reflect on the past, Digital has shown its success in maintaining a steady and reliable retention rate. The company's average original lease term was 11.9 years and the remaining average term is 7 years. Excluding non-data center properties, same-store occupancy for Internet Gateway and Corporate Center facilities was 93.2% on Q4-13 and 94% in Q3-13.

Click to enlarge
Can the new captain maintain Digital's steady growth and cash flow? From 2005 through 2013 Digital grew EBITDA by an average of 27.4%. 2013 Adjusted EBITDA was $882 million - up 16.2% from $758 million in 2012.

Click to enlarge
Meanwhile, during the same periods (2005-2013), Digital's compounded FFP per diluted shares grew by 16.9%. 2013 FFO was $4.78 per diluted share - up 7.2% from $4.46 in 2012.

Click to enlarge
One of the primary reasons that I own a stake in Digital today is because of the history of dividend payments. Recently Digital increased the common 2014 dividend to $3.32 per share or 6.4% over 2013. As evidenced by the snapshot below, Digital's cash flow has been consistent and that has provided healthy dividend coverage. The company's average discretionary free cash flow payout ratio is 70%.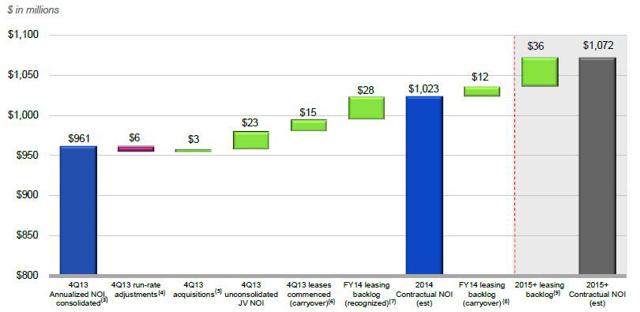 Click to enlarge
Since 2005 Digital's dividend growth has been 14% and the company has never cut its annual dividend. The company's AFFO payout ratio in 2013 was 83.9%.

Click to enlarge
In 2013 Digital guided full year FFO of $4.67 and the company's actual FFO was $4.78. In addition, during the first quarter of 2014, Digital completed two capital offerings and both offered better execution - a strong vote of confidence for better execution.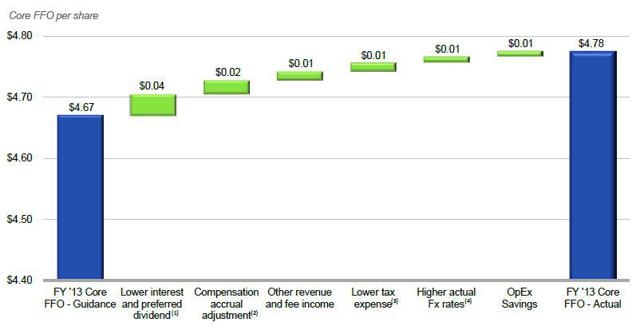 Click to enlarge
Am I Comfortable With A Boat With No Captain?
To answer that question, I must ask myself: What's the risk? Since Digital announced the departure of its former CEO, shares have traded up 2%.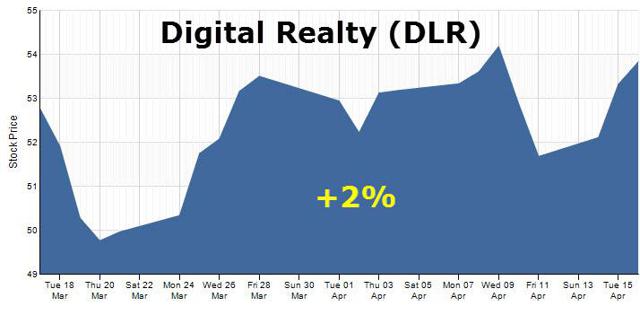 Click to enlarge
Currently Digital share has a Price to Funds from Operations (P/FFO) multiple of 11.1x.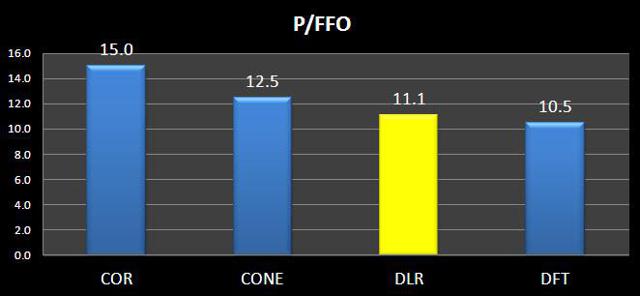 Click to enlarge
That's still below the historical 3-year P/FFO average of 12x.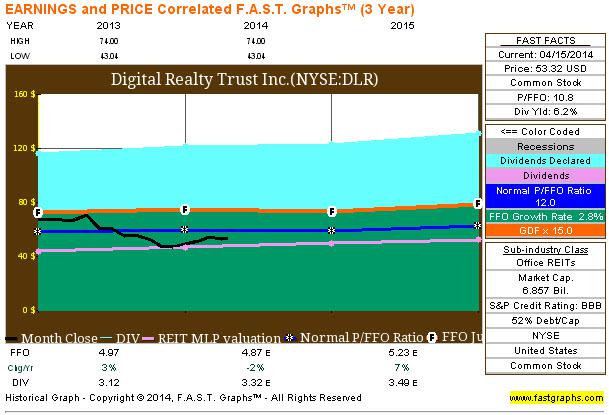 Digital still has an attractive dividend yield of 6.17%, the highest of the peer group.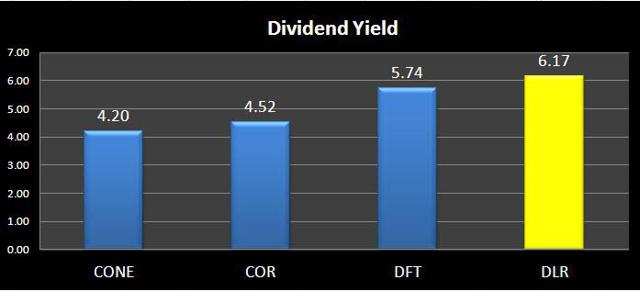 Click to enlarge
I got in at the peak but Digital is still paying a high dividend compared with historic averages.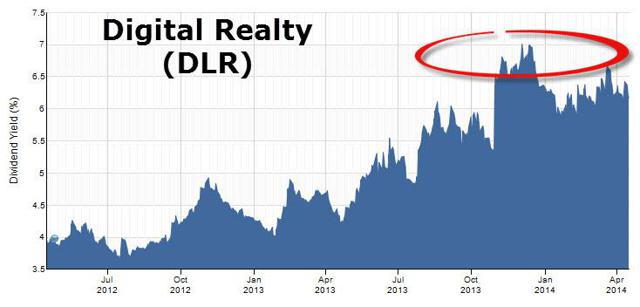 Click to enlargeSo I suppose I could jump off and redeploy the capital into a safer boat, one that has a captain. But where would I find an alternative that pays me a 6.5% dividend yield (my going in yield in December)? It appears that Digital is still trading at a modest discount too. Hmm.
Maybe I could jump into DuPont Fabros (NYSE:DFT). The company is paying a 5.74% dividend yield and it just increased its dividend by 40% over the previous quarter. The company's quarterly dividend has nearly tripled from $.12 per share (2 years ago) and has increase 75% versus a year ago.
I'm definitely going to take a closer look at DuPont (article coming next week); however, I'm going to stay on board Digital, for now. I believe Digital's Board made a good call to bring in new leadership. The market seems to agree. I believe Digital is well-positioned to sustain and grow its earnings and I credit the company's CFO for prudently managing the capital resources.
However, I am downgrading Digital from a SWAN (sleep well at night) for now. With no CEO on board, there is no clear leadership in place. The key reasons I'm staying on the boat include:
A Sound Payout Ratio (mid 80's)
A Recent Dividend Increase
Beat Earnings Guidance (2013 FFO)
Better Execution on Recent Capital Offerings
Finally, I read over the Digital's Board member bios to determine my level of confidence as it relates to their experience of running a $10 billion data storage enterprise. In addition, I scanned over some of the insider trades to determine whether there is ample "skin in the game." I concluded that there is ample bench strength and although I'm anxious to see a man (or woman) behind the wheel, I will maintain the status quo. Digital will release its first quarter 2014 results on May 6th and the company will host a conference call to discuss the results at 5:30 p.m. EDT on the same day.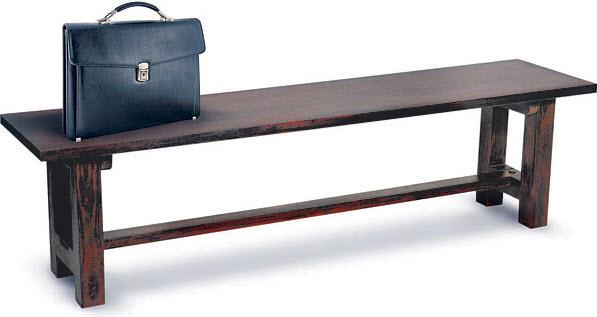 iREIT Newsletter: For more information on REIT investing, check out my newsletter HERE.
Source: SNL Financial, FAST Graphs, and Digital Realty Investor Presentation.
REITs mentioned: (NYSE:COR), (NASDAQ:CONE).
Disclaimer: This article is intended to provide information to interested parties. As I have no knowledge of individual investor circumstances, goals, and/or portfolio concentration or diversification, readers are expected to complete their own due diligence before purchasing any stocks mentioned or recommended.
Disclosure: I am long O, DLR, VTR, HTA, STAG, UMH, CSG, GPT, ARCP, ROIC, MPW, HCN, OHI, LXP, KIM, WPC. I wrote this article myself, and it expresses my own opinions. I am not receiving compensation for it (other than from Seeking Alpha). I have no business relationship with any company whose stock is mentioned in this article.