United Technologies Corporation (NYSE:UTX) announced this week that they started a Joint Venture production facility to develop and manufacture electric power systems for China's C919 airliner. UTC China strategy already starts generating revenue in 2014. UTC is definitely a buy!
UTC in China
In February United Technologies And China: Time To Buy? described UTC's hidden strategy with China. It concluded that UTC has built a good strategic position in China, and that this would be reflected in future revenue growth.
Another step (sooner than expected) that confirms this, is UTC Aerospace Systems announcement on April 15 that the JV facility Xi'an AVIC Hamilton Sundstrand Aviation Electric Co. Ltd. [AUAE] was opened.
The joint venture was formed to develop and manufacture the electric power system for the new C919 jetliner, built by Commercial Aviation Corporation of China (COMAC).
AVIC is the Chinese state-controlled aerospace industry and COMAC is a 100% state-controlled company under AVIC's umbrella. View this for more details on the Chinese aviation industry and its international links.
UTC Aerospace Systems is the third (and last) aerospace division with a substantial JV in China. The Sikorsky and Pratt & Whitney divisions have the following major aerospace links:
Helicopter production (and parts such as S-76D cabins) with Changhe Aviation. Sikorsky and AviChina [AVIC] are partners in JV Shanghai Sikorsky.
Aerospace engine production with Pratt & Whitney through the following joint ventures:
Chengdu Aerotech Manufacturing
Xian Airfoil Technology
South Pratt & Whitney Aero-Engine Co.
The fourth division Building & Industrial Systems also has production facilities in China.
With the JV UTC gets another piece of the ambitious Chinese aviation pie. China is developing its own regional airliner and the C919 is a narrow body airliner comparable to Boeing's (NYSE:BA) 737 and Airbus (OTCPK:EADSF) A320. The C919 is also a competitor for Bombardier's (OTCQX:BDRBF) CSeries airliner.
Compared with North America and Europe, China has a lot of growth potential in commercial air traffic. China doesn't require a lot of long-range wide-body airliners as most airliner routes in China have a relative short range in eastern China. The bulk of the airliners are in the C919/Boeing 737/A320 segment.
The C919 is just the start of Chinese revenue for UTC's Aerospace Systems. Its activities can provide products and services to the entire chain of Chinese commercial aircraft. The main significance of the JV production facility is that UTC Aerospace Systems will be producing part of a Chinese designed airliner.
Aerospace Systems is also the most profitable of UTC's aerospace divisions as the data used in United Technologies And China: Time To Buy? shows.
| | | | | | |
| --- | --- | --- | --- | --- | --- |
| Aerospace Systems | 2013 | 2012 | 2011 | 2010 | 2009 |
| Revenue | $13,347 | $8,334 | $4,760 | $5,608 | $5,560 |
| EBIT | $2,018 | $944 | $759 | $918 | $857 |
| EBIT% | 15.12% | 11.33% | 15.95% | 16.37% | 15.41% |
(Source: Confero, based on financial reports published by UTC)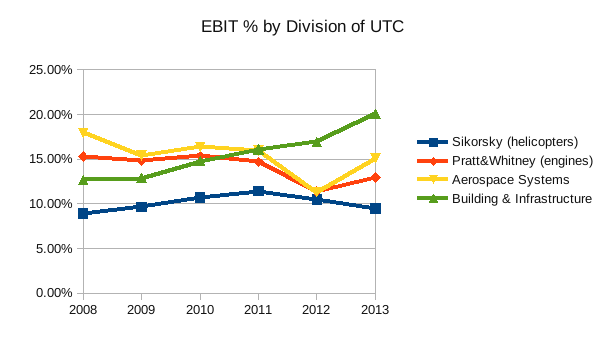 With UTC's growth potential, a PE of 19 and a dividend yield of almost 2% UTC is a good long-term investment.
Disclosure: I have no positions in any stocks mentioned, and no plans to initiate any positions within the next 72 hours. I wrote this article myself, and it expresses my own opinions. I am not receiving compensation for it (other than from Seeking Alpha). I have no business relationship with any company whose stock is mentioned in this article.