Advanced Micro Devices (NYSE:AMD) will issue its Q1 earnings report later today. I'm already bracing for another brutal battering during the after-hours trading. However, I'm willing to be surprised by the stock market. The market ignored the BlackBerry-like $921 operating loss of Intel's mobile division (NASDAQ:INTC) two days ago. I hope it also gives AMD a pass whether or not it hits or misses the Street's expectations.
AMD's high Debt/Equity ratio is always a good excuse to pummel the stock. On the other hand, I'm hoping the shorts will give AMD a ceasefire later. Yes, AMD has a significant short float % but since the markets will close in observance of Good Friday tomorrow, I expect a little less sell-off action after AMD's earnings report.
Of course, my ultimate wish is still for the market to actually give AMD a post-earnings rally.

Source: Finviz.com
How Will The Market Treat AMD Post-Earnings Today?
I hate to say this but the market treats AMD like a third-class citizen when it comes to post-earnings. Look at Estimize's historical earnings chart below, AMD managed to beat or meet the Street estimates for the past four quarters - and yet the shorts always find it appropriate to initiate a sell-off.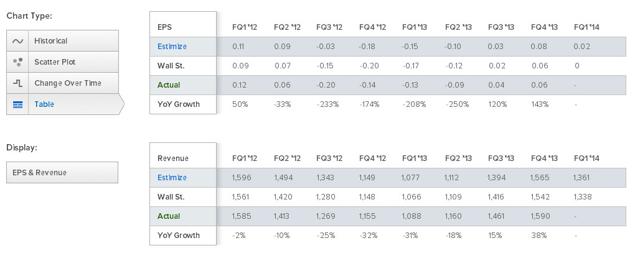 The post-earnings thrashing of AMD is a habit which I hope the market will not practice later today.
AMD ER on April 18, 2013 produced a -3.8% market reaction.
AMD ER last July 19, 2013 produced a -13.9% market reaction.
AMD ER last October 17, 2013 produced a -7.6% market reaction.
AMD ER last January 21 produced a -11.3% after-hours reaction.
AMD deserves a more positive treatment from market players. Rory Read is not only relying on console sales to keep the company afloat amidst this trying period. The strong demand for Radeon GPUs from cryptocurrency miners and Apple (NASDAQ:AAPL) Mac Pro units should help AMD post good numbers for Q1 and the rest of 2014.
More Reasons Why Market Should Not Beat Down AMD
Yes, I agree that AMD's Mullins has very little chance of success in the consumer tablet sector. Intel's already giving $5 Bay Trail SoCs to Shenzhen white box tablet makers. AMD cannot match the contra revenue might of Intel. INTC is willing to lose big money just to meet its 40 million tablet chips target for 2014.
However, I'm looking forward for Mullins to be inside some 2-in-1 Windows 8 touchscreen notebooks later this year. Mullins offers a superior gaming experience to Intel's Bay Trail SoCs. Custom BlueStacks for AMD-powered desktop and notebooks will keep AMD afloat in the PC arena. A dual-OS Windows and Android gaming tablet is a persuasive product.
PlayStation 4 and Xbox One sales will also remain strong for all of 2014. AMD is the ultimate winner from the console wars. Sony is doing record numbers of PlayStation 4 sales, 6 million versus 3.9 million of Xbox One (as of March 2014). However, Microsoft reduced its latest console's price to $450 in order to keep up with the PlayStation 4.
Radeon GPUs will remain relevant in the marketplace. The halo effect of AMD's feat of producing the world's fastest GPU will help the company attract more gamers away from Nvidia (NASDAQ:NVDA). AMD's total discrete and embedded GPU business suffered a -10.4% decline last Q4 2013. AMD was late in supplying its Radeon cards last Q4 2013 but I hope the company managed to deliver its GPUs on time to OEMs this Q1 of 2014.
Conclusion
Based on four previous quarters, AMD has a good chance of beating the Street's estimates. The market will hopefully give AMD a fair shake after earnings report today. Investors need only to go to Alpha Omega Mathematica (AOM) to see that AMD has a HOLD rating. I wish AMD investors will follow AOM's rating after the Q1 earnings report.
AOM gives AMD a Hold rating mainly because of its excellent Growth Indicator. Another post-earnings sell-off will only confirm that AMD bulls are impotent against the shorts.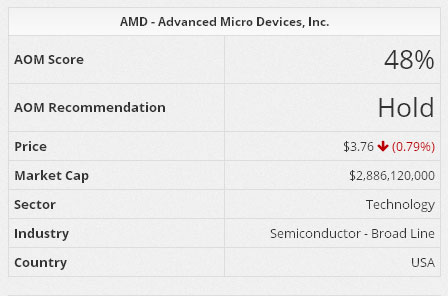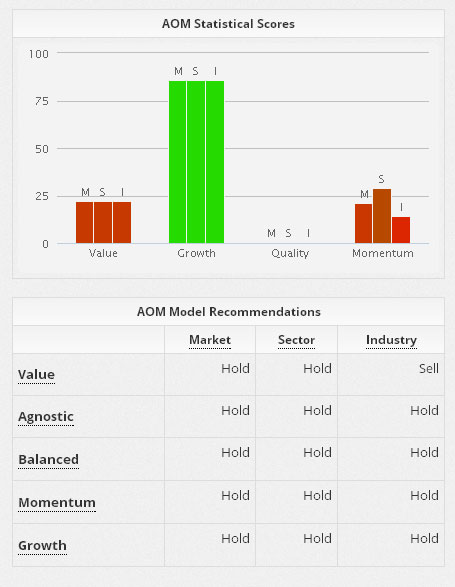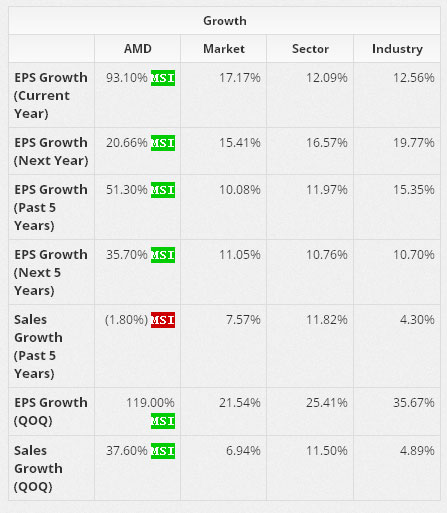 Source: All charts from getaom.com
Zacks also calls for a HOLD on AMD. The market is unpredictable and I'm eager for it to surprise me later today.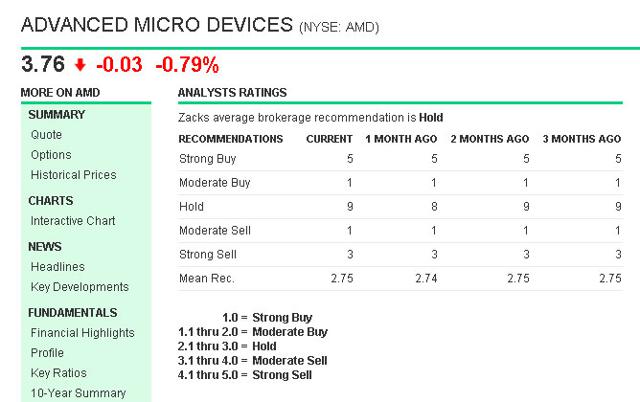 Disclosure: I am long AMD, INTC. I wrote this article myself, and it expresses my own opinions. I am not receiving compensation for it (other than from Seeking Alpha). I have no business relationship with any company whose stock is mentioned in this article.