As last quarter came to a close, International Business Machines (NYSE:IBM) suddenly jumped roughly $7 higher, breaking out above the $190 level. At the time, I wrote an article detailing the event with the caveat that I would update it after earnings were reported. The hope was that the breakout was an early indicator that IBM's fortunes were turning, which would lead to a positive earnings report. In after hours trading, the shares are indicated to open roughly $8 lower, as the street's preliminary reaction is to sell as the report failed to generate any sort of excitement. In the article below, I will highlight some of the key aspects of the earnings release.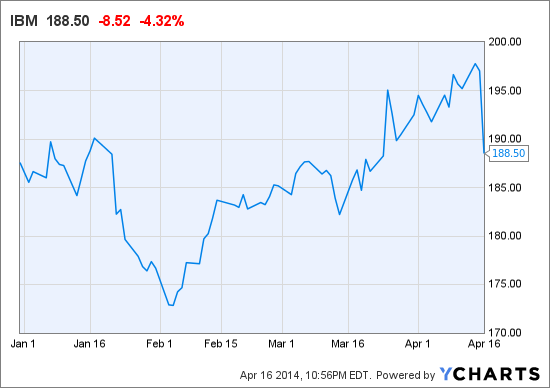 I would like to begin by highlighting the performance of two distinct divisions in IBM. In my opinion, the performance of the Software and Systems and Technology divisions will determine how prosperous the future will be for IBM. I will begin with the better-performing of the two, which is the Software division.
The Software division performed quite well, with revenue up 2 percent to $5.7 billion dollars. This division is by far the most profitable, with a gross margin of 87.5%, which was 0.3% higher than the comparable period the year before. Interestingly, cloud revenue was up more than 50%, with this year's revenue projected at $2.3 billion dollars. One of the primary criticisms concerning IBM revolved around it missing out on the shift towards the cloud. In my view, the criticism seems a bit off-base, as IBM seems to be an able competitor in this arena, as evidenced by sales growth.
I maintain the Software division performance will be critical for the company going forward due to the enormous gross margins they are able charge and receive. I expect IBM to continue to purchase smaller companies that they are able to "bolt on" to their existing offerings, driving gross sales higher. I fail to see any evidence that IBM lacks any urgency in harnessing the cloud and all the potential benefits it can bring to IBM's customers.
The second division I would like to highlight is the troubled Systems and Technology division. The Systems and Technology division performance can be summed up as abysmal. Revenue was down 23 percent along with a 5.3% drop in gross margins. Clearly, the troubles that afflicted this division last year continue to stymie them in 2014. IBM, in my opinion, will look to divest assets in this division along the lines of its pending sale of its server division to Lenovo (OTCPK:LNVGF). Unfortunately for IBM investors, I suspect the division's poor performance will continue to hamper sales growth.
IBM's gross profit came in at 10,543 billion versus 10,678 billion as compared to the year before. Total gross revenue was down 924 million, yet gross profit was only down 135, clearly demonstrating the more profitable shift in IBM's business mix. Gross profit was 46.9% versus 45.6% for the comparable period in 2013. The CEO's plan is taking shape, as Software sales are picking up, yet the slow pace of shedding older not as profitable divisions, such as those found in Systems and Technology, continue to hamper revenue growth. It is the absence of revenue growth that causes the street, in my opinion, to take cast such a dim view on the shares of IBM.
The key question facing an investor in IBM revolves around what should be done with shares that have underperformed over the last couple of years. In my opinion, the answer is to continue to hold as the strategic plan set forth by management continues to take shape. IBM continues to be a shareholder-friendly company that returns quite a substantial amount of capital to shareholders in the form of dividends and share repurchases. The company is due to raise the dividend for this year with an announcement expected shortly. To demonstrate IBM's continued commitment to returning capital to shareholders, the company spent $8 billion dollars in the first quarter purchasing shares in the open market. IBM retired roughly over 82 million shares, which leaves 1,041.8 billion fully diluted shares outstanding.
The final item I would like to highlight concerning IBM revolves around its rather inexpensive valuation. Management stated they expect operating earnings of at least $18 per share, which would value the company at slightly more than 10 times this year's earnings. IBM's forward multiple is far less than the overall market, which in my view, greatly enhances IBM's appeal. IBM is a true bargain here that simply requires a good set of earplugs to block out all the noise emanating from the street as they continue to reshape their business. By simply buying and holding the shares of IBM, an investor will receive a dividend that is comparable to a 10 year US treasury rate with two distinct differences. The first being, IBM will continue to raise the dividend, offering a nice inflation hedge that is absent from bonds.
The second benefit will come from ownership in a solid, stable company that will be here for the long haul. As IBM adjusts their divisions and exits out of less profitable ones, IBM is left with a collection of strong stable businesses that offer an "annuity" like payout. They won't be anything fancy, just slow and steady. The real benefit will be accrued by investors with a longer-term horizon (10 plus years) as the company methodically reduces the shares outstanding leading to significant capital gains. I would like to thank you for reading, and I look forward to your comments.
Disclosure: I am long IBM. I wrote this article myself, and it expresses my own opinions. I am not receiving compensation for it (other than from Seeking Alpha). I have no business relationship with any company whose stock is mentioned in this article.
Disclaimer: Investors are always reminded that before making any investment, you should do your own proper due diligence on any name directly or indirectly mentioned in this article. Investors should also consider seeking advice from a broker or financial adviser before making any investment decisions. Any material in this article should be considered general information, and not relied on as a formal investment recommendation.