After Citigroup (NYSE:C) presented solid Q1 2014 earnings and surprised analysts with an earnings beat on April 14, 2014, Bank of America (NYSE:BAC) released quarterly results Wednesday. High litigation costs unsettled investors, and shares of Bank of America closed the day 1.59% lower as a result. Bank of America's quarterly financial performance was not that bad, but investors resorted to a usual pattern: Focusing solely on the negative.
Investors need to stop extrapolating from the negative
I still believe Bank of America is on the way to improving its underlying business performance; the bank presented solid net income in all but one business segment (see below). Investors need to understand that turnarounds need time to gain ground and really need to practice more patience. Investors also cannot realistically expect that a company linearly improves its financial performance without running into occasional problems and constraints.
Extrapolation from quarterly results, whether they are good or bad, is a big mistake, and I believe it is this thinking that is predominantly responsible for poor investment decision-making. Behaviorally skilled investors realize that extrapolating results is a cognitive bias called representative bias.
This bias basically asserts that investors believe in a positive economic future after good results have been presented, and in a bad economic future after a company has disappointed. While this may be true in the very short-term, this logic clearly isn't helpful in forecasting inflection points. I have said it before: A long-term mindset is superior to a short-term, trading-focused mindset. Having said that, Bank of America's net loss was clearly not as material as the bears like you to believe. I do not believe that the underlying long-term value of Bank of America is substantially affected by high litigation costs, which I still expect to return to normalized levels in 2014-2015.
Short-term setbacks like the one we are experiencing now offer investors the chance to pick up a leading banking franchise at seriously discounted prices. While investors can snatch up Bank of America at a sizable discount to book value, the bank (as well as the industry) retains outstanding growth prospects coming from a broad-based recovery in the US economy as well as increasing interest rates.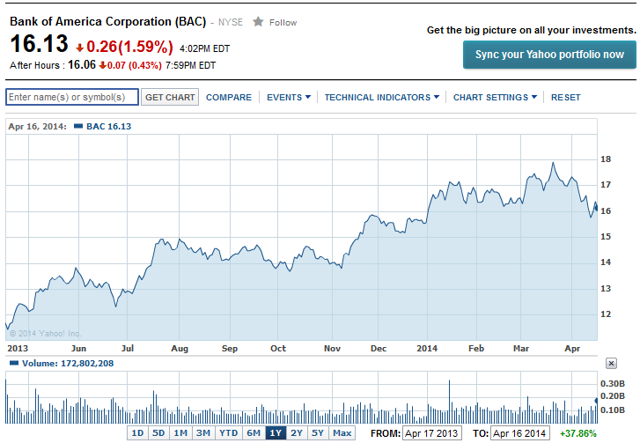 (Source: Yahoo Finance)
Quarterly results
Probably the most publicized theme of Bank of America's first quarter 2014 results was the $6.0 billion in pre-tax litigation expenses the company was forced to swallow: $3.6 billion relate to the announced FHFA settlement and $2.4 billion relate to additional reserves for legacy mortgage issues.
Overall, Bank of America swung to a net loss of $276 million or $0.05 per share in the first quarter. Bank of America missed EPS estimates by $0.10 per share as analysts expected a profit of $0.05 per share in Q1 2014.
The business segment overview below shows that Bank of America, once again, took a massive hit in its Consumer Real Estate Services unit -- mainly due to litigation expenses. All other business segments from Consumer & Business Banking to Wealth Management were solidly profitable.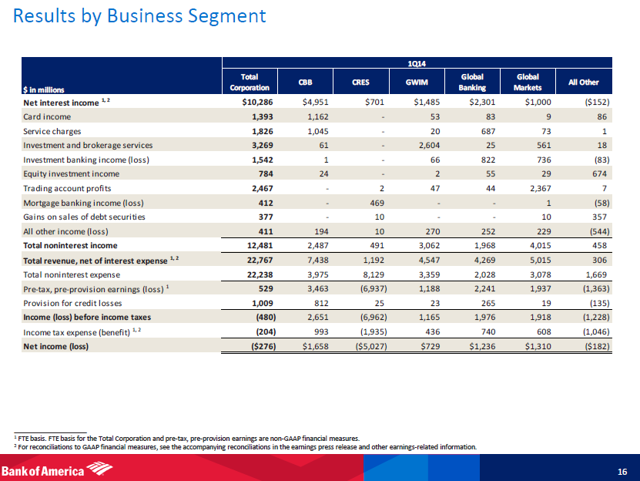 (Source: Bank of America 1Q14 Financial Results Presentation)
Book value per share
Bank of America slightly improved its book value metrics. Tangible book value per share came in at $13.81 in the most recent quarter and compares against $13.79 per share in Q4 2013 and $13.36 per share in Q1 2013. Total book value per share was reported at $20.75 compared against $20.71 per share in the previous quarter and $20.19 in the year ago quarter. Despite a multi-billion dollar hit from the litigation front in its Consumer Real Estate Services unit, Bank of America still managed to marginally improve book value.
Bank of America now trades at a 17% premium to tangible book value and at a 22% discount to total book value. The large discount to book value was also the main reason why I recommended Bank of America in light of the recent consolidation in equity markets.
Conclusion
Bank of America's first quarter earnings release makes a good case study for a behavioral finance class: High litigation expenses overshadow otherwise solid performance results. Contrary to what many investors might believe, I think Bank of America's litigation expenses will mean-revert over time. In any case, I agree that litigation expenses are too high and cause impatience. However, temporary sell-offs and spikes in negativity make for extraordinary investment opportunities for investors who are emotionally in charge.
Bank of America has way more upside than downside potential given its strong underlying business performance. I stand by the assertion that Bank of America is the best bank to own over the next couple of years and believe the bank has an intrinsic value of $25+ per share. It is a strong, long-term BUY on investor misconceptions and short-term thinking, normalizing litigation costs, higher consumer banking and real estate profitability driven by a broad-based economic recovery and a sizable book value discount.
Disclosure: I am long BAC, C. I wrote this article myself, and it expresses my own opinions. I am not receiving compensation for it (other than from Seeking Alpha). I have no business relationship with any company whose stock is mentioned in this article.