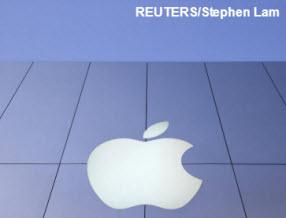 Rumors are swirling Marissa Mayer of Yahoo (NASDAQ:YHOO) wants to snatch Apple's (NASDAQ:AAPL) search engine business from Google (NASDAQ:GOOG). Google has the undisputed most popular search engine out today. In the following sections I will attempt to distinguish what is real from repartee. Further, I will do my best to evaluate the veracity of these claims and what it would mean for Apple.
Marissa Mayer wants Apple to ditch Google
According to people familiar with the situation, Marissa Mayer is supposedly far along on a proposal to convince Apple to scrap Google as its default search engine in favor of Yahoo. Re/code recently reported, citing sources within Yahoo,
"This is the aim of the whole effort here, to grab the pole position in iOS search. It will take more than pretty pictures, though, to convince Apple to give up Google, given its focus on consumer experience being top-notch. But Marissa wants it very badly."
Mayer anticipates capitalizing on a long and virtuous relationship with Apple. Yahoo currently is the default data source on the iPhone for the device's stocks and weather apps. So she already has one foot in the door. Nonetheless, attaining Apple's search business is another matter. Google does a very good job and is popular with consumers.
Apple is laser focused on quality
Google has the highest-rated most popular search engine by a wide margin according to eBizMBA.
5 Most Popular Search Engines - April 2014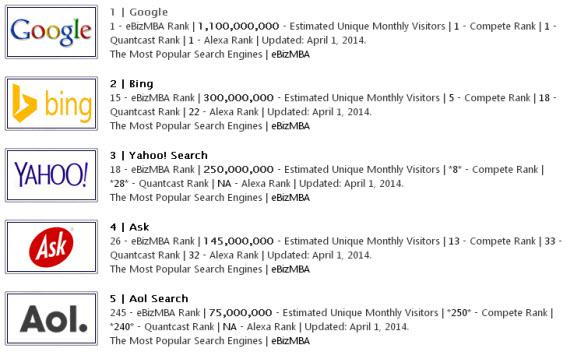 (Information provided by eBizMBA.com)
The eBizMBA rank is a constantly updated average of each website's Alexa Global Traffic Rank, and U.S. Traffic Rank from both Compete and Quantcast.
My two cents
I have to say, by my own anecdotal experience I much prefer Google search over Yahoo's current offering. The elephant in the room is Yahoo seemingly doesn't have proper know-how to build a better mousetrap in the first place.
The Apple Maps Debacle
Moreover, the nail in Yahoo's coffin is the fact Apple still hasn't forgotten the Apple Maps Debacle, where Apple attempted to replace Google Maps with the company's own home grown version of maps. This prompted a major revolt by end users. The entire fiasco was deemed the Apple Maps Debacle. I am sure Apple doesn't wish to repeat that experience.
Google has the goods
Google has the highest quality search product on the market today. Google is light years ahead of Apple in this regard. Further, Google pays Apple over $1 billion a year in fees for the opportunity.
Conclusion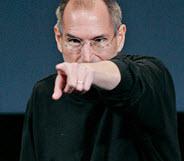 Apple took some major lumps by attempting to substitute a sub-par product previously. I believe the company learned a valuable lesson from the so-called Apple Maps debacle. The painful experience is most likely still fresh on Apple's mind. Mayer may want the business bad, but I posit Yahoo will have to spend a huge chunk of the company's expected windfall from the Alibaba IPO to mount any sort of challenge. Even then, I posit Google will still be light years ahead of Yahoo regarding search. Nevertheless, Yahoo may not be successful in the short term regarding garnering Apple's search business, yet never say never. Steve Jobs did say he wanted to destroy Google. Maybe his wish will finally be granted one day.
Disclosure: I have no positions in any stocks mentioned, and no plans to initiate any positions within the next 72 hours. I wrote this article myself, and it expresses my own opinions. I am not receiving compensation for it (other than from Seeking Alpha). I have no business relationship with any company whose stock is mentioned in this article.