The commercial real estate bubble, which peaked in late 2007 at over 6 trillion dollars in value, is now worth half of that three years later. One-half of the remaining 3 to 3.5 trillion dollars of debt is located at community and mid-sized banks.
The short term commercial real estate debt coming due peaks in 2011, 2012, and 2013. Approximately $1.4 trillion in commercial real estate loans are set to mature between 2010 and 2014. Non-performing CRE loans on bank books had reached a level of 10% at the end of the first quarter this year according to the NYFed. This problem has yet to bail play out.
The excess supply at underwater prices of the commercial real estate now in existence was encouraged by relaxed CRE lending standards earlier this decade. Underwater CRE loans are threatening the survival of many smaller banks. So far this year 90 banks have failed on top of the 140 that failed in 2009 and 25 in 2008. Note the steep rise in delinquent loans displayed in this graph.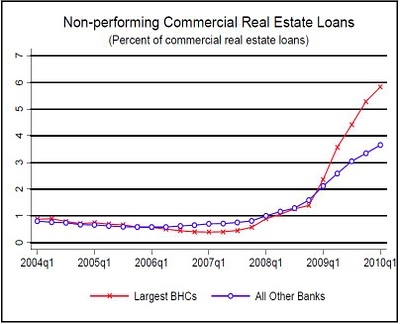 Source: Federal Reserve Bank New York 1st Qtr 2010 Report (Largest BHCs: JPM, BoA, C, WF, USB, BNYM, Cap.1)
Current conditions are as follows:
So far CRE prices have fallen 42% overall
Office vacancy rates are at a 17 year high
Mall vacancy rates are at a 19 year high
Hotel loans are delinquent at a rate of 19%
Apartment loans are delinquent at a rate of 14%
Retail property loans are delinquent at a rate of 6%
Industrial property loans are delinquent at a rate of 5.5%
Office property loans are delinquent at a rate of 5%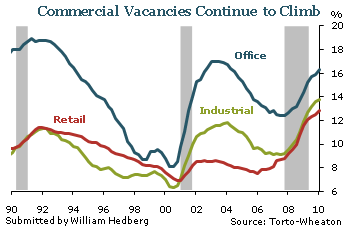 Source: Federal Reserve Bank of SanFrancisco
It is not an unrelated subject that both large and smaller banks have reduced lending to small businesses. This week Bernanke spoke urgently about this problem. These businesses are vital for job creation, tax collections, and the overall health of communities. With all of the toxic assets remaining on bank books and the prospects of GDP growth looking smaller every day, it is no wonder this lending has contracted.
Though there are many looming reasons for this economy to take a double dip, the one which looms largest just may be the commercial real estate debt unwind.
Also, you might want to keep a close eye on your wallet. Just a suggestion.
References:
Note: This is a condensed version of a report which I wrote earlier this week here.
Disclosure: No positions