Kinder Morgan Inc (NYSE:KMI) probably just posted its best quarter since 2012. Not only was the dividend increased, cash flow for the quarter came in stronger than expected, boosting the dividend coverage ratio to well above where it was for most of 2013. In addition, guidance for the rest of 2014 points to continued dividend growth. Do note that Kinder Morgan Inc is the general partner, or GP, of Kinder Morgan Energy Partners (NYSE:KMP) and El Paso Pipeline Partners (NYSE:EPB).
Kinder Morgan's Q1 2014: Quarterly dividend up 2.40% to $0.42
It would be remiss of me to ignore the impact of Barron's February article on Kinder Morgan. Titled "Kinder Morgan: Trouble in the Pipelines", this article hammered the stock. While it was mostly rehash of old Hedgeye talking points, shares of Kinder Morgan still suffered, declining roughly 10% in a few short days. As a result, KMI ended the quarter down 9%, compared to a 7% decline for KMP and a smaller 4.50% decline for Kinder Morgan Management (NYSE:KMR).
However, operationally, Kinder Morgan seems to have performed quite well. On April 16, Kinder Morgan reported its Q1 2014 results. Overall, the company posted a strong quarter, with key metrics such as the dividend coverage ratio much improved.
For the quarter, the company saw its cash available to pay dividends, a non-GAAP figure, increase to $573M, up 12% from last year's $439M. On a per share basis, cash available to pay dividends increased to $0.55, up $0.06 or 12%, from $0.49 last year.
As a result of improved cash flows, Kinder Morgan has rewarded its shareholders with a one cent increase to its quarterly dividend. The company has declared a $0.42 per share dividend, up 2.43% from last quarter's $0.41, and up 10.52% from last year's $0.38 per share.
Furthermore, even with the increased dividend, Kinder Morgan's dividend coverage ratio improved to 1.31x, up from 1.12x last quarter, and inline with last year.
Do note that Kinder Morgan's coverage ratio tends to vary quarter to quarter due to the timing of both interest expenses related to the acquisition of El Paso's GP and cash taxes. Over the past twelve months, Kinder Morgan has generated $1.70 in cash while paying $1.64 in dividends, resulting in a 1.04x coverage ratio.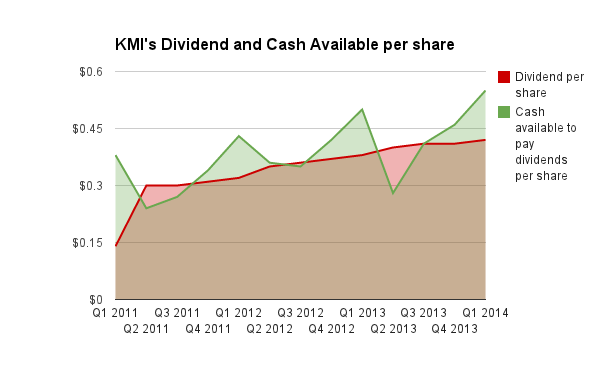 2014 outlook remains unchanged
As for Kinder Morgan's guidance, nothing really changed. The company expects to declare $1.72 per share in dividends this year, up 8% from 2013. In addition, the company noted that it plans to dropdown various legacy midstream assets to El Paso, including its 50% interest in Ruby Pipeline, its 50% interest in Gulf LNG and its 47.5% interest in Young Gas Storage.
These dropdowns are likely to result in a shift in the composition of Kinder Morgan's cash generation towards equity and IDR income from El Paso and away from the legacy assets.
A look at Kinder Morgan's cash generation from equity holdings
For the quarter, Kinder Morgan received $642 million from its various equity stakes, of which $527 million, or 82%, came from the KMP GP. We can clearly see that the KMP GP interest is by far the most valuable asset for the company, generating an outsized amount of cash compared to the others. Compared to last year's $573 million, Kinder Morgan's equity cash generation was up 12%, and up 1% from last quarter's $635 million.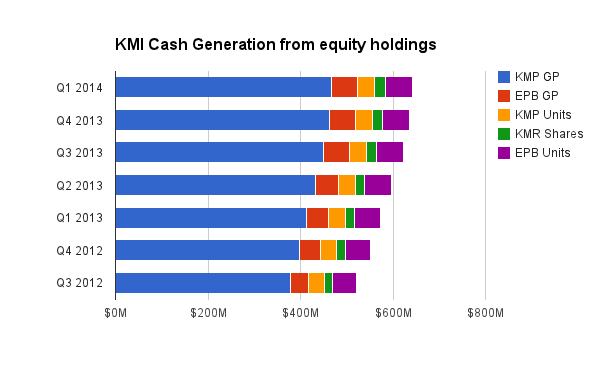 A look at Kinder Morgan's stock and warrant repurchases
Besides dividends, Kinder Morgan was also actively buying back stock. For the quarter, the company bought back about 2.8 million shares for $94 million. This implies an average price per share of $33.57, or about 0.28% of the current float.
In addition, Kinder Morgan repurchased about 31 million El Paso merger related warrants for $51 million. At quarter end, the company had about $45 million remaining on its $100 million share and warrant repurchase authorization.
Conclusion
For dividend growth investors, Kinder Morgan continues to be a solid pick. A 5% yield backed by a 8% growth rate is hard to find.
Overall, Kinder Morgan's Q1 results were quite strong. Cash generation was robust, allowing for a 2% dividend increase. This is a welcome return to dividend growth for the company, as the dividend was temporarily frozen at $0.41 for two quarters in a row.
Furthermore, given the impressive coverage ratio of 1.31x, I think Kinder Morgan may be able to post dividend growth above the projected 8% this year. At the moment, the $1.72 guidance implies at least two more dividend increases this year, with the quarterly dividends at: (Q1: $0.42, Q2: $0.43, Q3 $0.43, Q4 $0.44).
Disclaimer: The opinions in this article are for informational purposes only and should not be construed as a recommendation to buy or sell the stocks mentioned. Please do your own due diligence before making any investment decision.
Disclosure: I am long KMI. I wrote this article myself, and it expresses my own opinions. I am not receiving compensation for it (other than from Seeking Alpha). I have no business relationship with any company whose stock is mentioned in this article.