DryShips (NASDAQ:DRYS) price continues to dip a bit - making me continually wonder when the right time is going to be to step in and buy. When is DRYS going to be prime for the picking? In the midst of some bearish headlines (BDI falling, short interest rising), it's looking more and more like now might be the time to start a position in DRYS.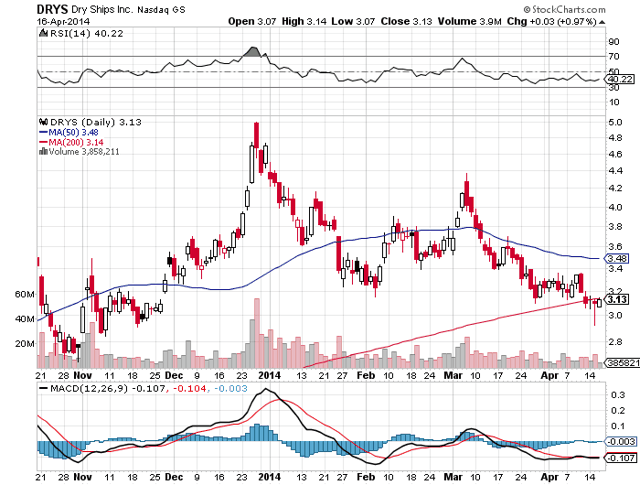 DRYS has continued to return 76% for its investors dating back to the last 12 months. To start 2014, however, it has been another story. The stock has been down 33.4% since the beginning of the year, poising itself as a potential "buy" at these levels.
DryShips, Inc. is a company which provides mostly water-based transportation for all kinds of cargo. From DryShips' website:
DryShips Inc. is an owner of drybulk carriers and tankers that operate worldwide.

Through its majority owned subsidiary, Ocean Rig UDW Inc., DryShips owns and operates 10 offshore ultra deepwater drilling units, comprising of 2 ultra deepwater semisubmersible drilling rigs and 8 ultra deepwater drillships, 3 of which remain to be delivered to Ocean Rig during 2013 and 1 during 2015.

DryShips owns a fleet of 42 drybulk carriers (including newbuildings), comprising 10 Capesize, 28 Panamax, 2 Supramax and 2 newbuilding Very Large Ore Carriers (VLOC) with a combined deadweight tonnage of approximately 4.4 million tons, and 10 tankers, comprising 4 Suezmax and 6 Aframax, with a combined deadweight tonnage of over 1.3 million tons
In a previous article, I was looking for $2.85 as an entry point for DRYS. We might continue to head in that direction, but any further movement towards $3.00 looks attractive to me.
Our first contrarian indicator is the Baltic Dry Index. Rates have fallen below the key 1,000 level that will likely psychologically spook some investors. Like the BDI has done over the last year, it'll likely eventually bounce back up to 1,000+ levels in just a few short weeks - it's a cyclical index and recent PMI data out of China (touched on in my last DRYS article) looks to be strong.
Benzinga reported:
A trend that has supported the bearish side of these arguments has been weakness in the Baltic Dry Index over the last month, which fell once again Tuesday morning, dipping 1.9 percent below the key 1,000 level to 970.

Used to price shipping worldwide, the Baltic Dry Index is employed by logistics teams to calculate costs, but also by macro traders as a leading indicator of macro economic strength. Moves in the index tend to be demand-driven, with high demand for shipping sending the index, and thus shipping prices, upwards. To those who would use the index for macroeconomic forecasting, a drop from above 1,500 in late March to its current level at 970 could be worrisome.
(click to enlarge - source Bloomberg)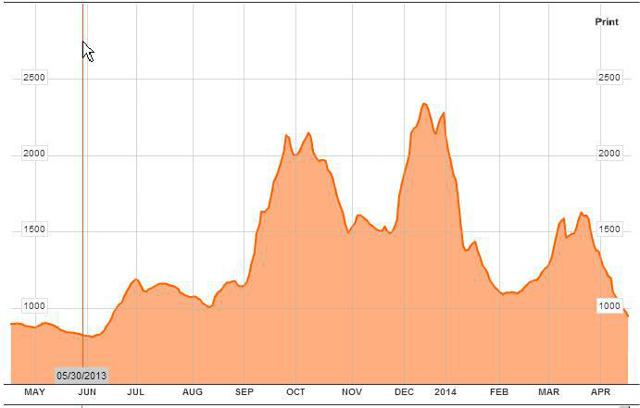 The second contrarian indicator is that the short interest in DryShips has increased significantly. They're topped only now by Genco Shipping (NYSE:GNK), which is currently poised to be heading into bankruptcy.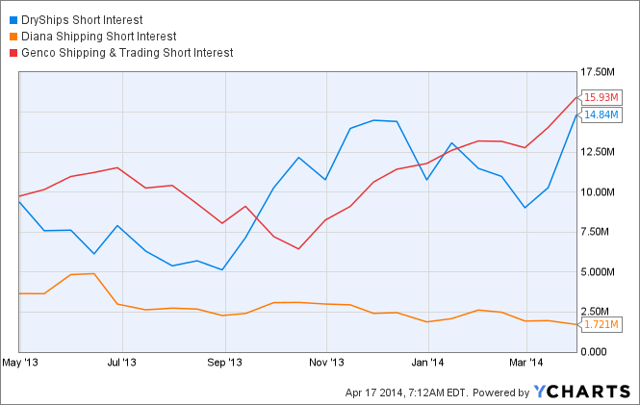 DRYS Short Interest data by YCharts
Rather than look at this as everyone running for the hills, it screams out potential squeeze to me in the future, should DRYS be able to catalyze a movement upward. DRYS is a stock where it isn't unlikely for them to move 10%+ in a day.
Finally, analyst sentiment remains tepid at this point:
Analysts at Zacks reiterated a "neutral" rating on shares of DryShips in a research note on Thursday, March 20th. They now have a $3.75 price target on the stock. Separately, analysts at Jefferies Group raised their price target on shares of DryShips from $3.00 to $3.50 in a research note on Friday, January 31st. They now have a "hold" rating on the stock. Finally, analysts at Nordea Equity Research upgraded shares of DryShips from a "buy" rating to a "strong-buy" rating in a research note on Thursday, January 23rd. Five equities research analysts have rated the stock with a hold rating, two have assigned a buy rating and one has assigned a strong buy rating to the stock. The stock currently has an average rating of "Buy" and an average price target of $3.25.
But, as Mitu Anand recently pointed out, the company's revenue continues to grow YOY:
The positives can be seen right off the bat, as DryShips' revenue in the fourth quarter rose 52.5% year-over-year to $431 million. Also, during the quarter, DryShips lowered its drilling rig operating expenses, resulting in a 4.8% decline in total operating expenses. As the shipping industry is expected to gain some momentum later this year, these moves of DryShips should come in handy during its recovery.
Additionally, the company has its strongest cash position in years.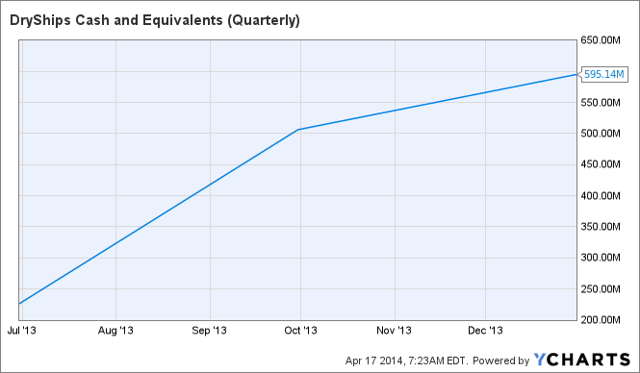 DRYS Cash and Equivalents (Quarterly) data by YCharts
DRYS remains a ripe candidate for the contrarian buying. I'll be looking at DRYS in the coming week and reserve the right to open a long position in the company through stock or options without notice.
Best of luck to all investors here.
Disclosure: I have no positions in any stocks mentioned, but may initiate a long position in DRYS over the next 72 hours. I wrote this article myself, and it expresses my own opinions. I am not receiving compensation for it (other than from Seeking Alpha). I have no business relationship with any company whose stock is mentioned in this article.