"The cost of resolving more of our mortgage issues hurt our earnings this quarter"

- CEO Brian Moynihan
My thesis on Bank of America (NYSE:BAC) hasn't changed much since I penned my original article on the bank last year titled, "Why You Should Ignore Bank of America's Legal Woes." That thesis, although certainly acknowledging that the bank had a tough legal road ahead of it, argued that as long as the underlying performance of the bank continued in the right direction under Mr. Brian Moynihan, that the one time legal fees the bank would incur would eventually dissipate into the background.
Bank of America, inclusive of yesterday's poor trading, has still provided investors a 37.9% return in the last 12 months, and has recently upped its dividend after passing its Federal Stress Test in the last month.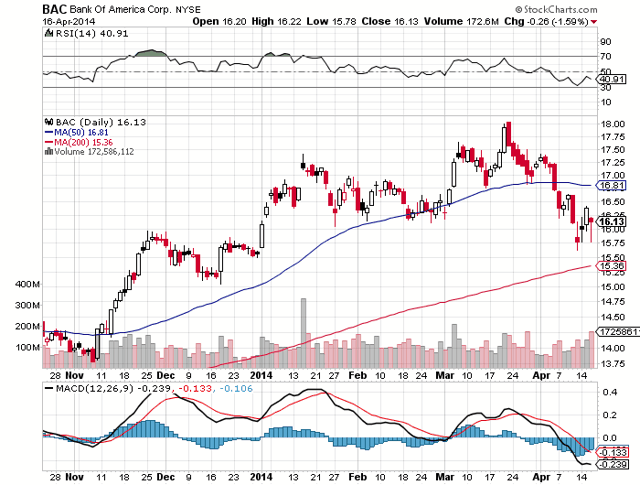 Throughout 2014, the bank has continued to make progress in this regard - it's been settling litigation left and right, and Mr. Moynihan appears to continue steering the ship in the right direction. USA Today reported on recent litigation leading up to the bank's earnings:
Bank of America in March agreed to pay $9.3 billion to settle claims it marketed risky mortgages to Fannie Mae and Freddie Mac. At the same time, the bank reached a $15 million settlement with the New York State Attorney General's office over its 2009 purchase of Merrill Lynch.

And on April 9, the bank also agreed to pay $772 million in refunds and fines to settle allegations by the Consumer Financial Protection Bureau and the Office of Comptroller of the Currency that it had bilked millions of customers with deceptive credit card practices. The agreement was "in line with what we expected," bank spokesman Tony Allen said last week.
Although many people seemed to be surprised by Bank of America's earnings, there were some of us that were expecting exactly what we got. Good underlying bank performance that was negatively affected by one time legal costs.
When the smoke cleared, the bank had beat on its revenue line - posting a number of $22.76 billion versus analyst estimates of $22.33-$22.4 billion. Ex-items, the bank wound up earning $0.35/share.
In addition to its legal costs, the bank saw its mortgage business - which it has been trimming over the last couple of years - slowing. Mortgage originations were down 65%.
The bank's balance sheet strength continued to improve. The bank had $1.4 billion in charge offs, down from $2.5 billion in the same quarter the year prior.
Some of the more important news came later on in the afternoon, as reported by Seeking Alpha - when they reported the bank was close to settling with the DOJ, a reason Seeking Alpha cited as potentially why the bank bolstered its legal reserves in Q1:
Bank of America ( -2.5%) boosted legal reserves by $2.4B in Q1, and management is playing coy about why, but the WSJ says the bank is near a multi-billion dollar settlement with the DOJ to end civil probes into a number of legacy issues. The talks have been ongoing for months, but intensified, say sources, after JPMorgan late last year settled for $13B.
If settled, it'll surely cost the bank a significant amount of money - but, it'll be over - and that's the important part. Putting their heads down and knocking each one of these out of the way until there's none left. I know it doesn't look like it, but the bank is making significant progress in this regard.
The bank continues to get leaner and meaner under the watchful eye of Mr. Moynihan. The bank's total employees were down to 238,600 from 262,800 in the same quarter a year prior. It's also operating with 5% less branch locations. This is all part of a cost cutting initiative that was put into place a couple of years ago, that is concluding during this year.
Bank of America's banking division posted a profit of $1.66 billion, as compared to $1.45 billion a year earlier. This shows underlying fundamental progress for the bank's "meat and potatoes" business.
As the bank continues to stay on the front line of the automation adoption curve in the banking sector, and continues to keep its head down and make progress, I think better days will be ahead for shareholders.
Mr. Moynihan seems to be doing a damn good job in making progress to get the bank over the hump of the 07-08 disaster, which was the main item he was tasked with as CEO of the bank.
I contend that BAC is a buy here. There's likely to be a couple more months of legalese headlines that could potentially mire the stock price, but in the long term, the bank's underlying business is performing. Better days are ahead for Bank of America, they just need to hold on and wait. Mr. Moynihan has been doing a brilliant job since he began, and my trust is with him and Mr. Buffett that Bank of America will soon rise like a phoenix from the ashes.
Best of luck to all investors.
Disclosure: I have no positions in any stocks mentioned, and no plans to initiate any positions within the next 72 hours. I wrote this article myself, and it expresses my own opinions. I am not receiving compensation for it (other than from Seeking Alpha). I have no business relationship with any company whose stock is mentioned in this article.