| | | | |
| --- | --- | --- | --- |
| AT&T By the Numbers | T | S&P 500 | Premium/Discount |
| Market Cap | 187.97B | | |
| Enterprise Value | 255.15B | | |
| Trailing P/E | 10.65 | 17.61 | -39.52% |
| Forward P/E | 12.76 | 15.44 | -17.36% |
| EBITDA | 46.73B | | |
| EV/EBITDA | 5.46 | | |
| Dividend Yield | 5.20% | 1.99% | 161.31% |
| Dividend & Buyback Yield | 12.03% | | |
| Source: Yahoo Finance & Wall Street Journal | | | |
AT&T (NYSE:T) trades at a heavy discount to the market. Looking at the numbers below T trades at a discount to the S&P 500 (NYSEARCA:SPY) on both a current and forward earnings basis. T does carry substantial debt and therefore an enterprise valuation framework applies as well. T has an EV of $255 Billion generating EBITDA of $46.7 Billion resulting in a modest EV/EBITDA ratio of 5.46
Dividend Yield of 5.45% is a substantial premium to the market dividend yield of 1.99%. T's total yield including buybacks is even more compelling with a net payout yield of 12%.
T is trading at a deep discount and while it operates in a mature business with declining landline market many growth drivers remain.
Mobile data is now $23 billion in revenue growing at 17%
U-verse is now $13 billion of revenue and growing at 28%
Business services is now $9 billion and growing at 17%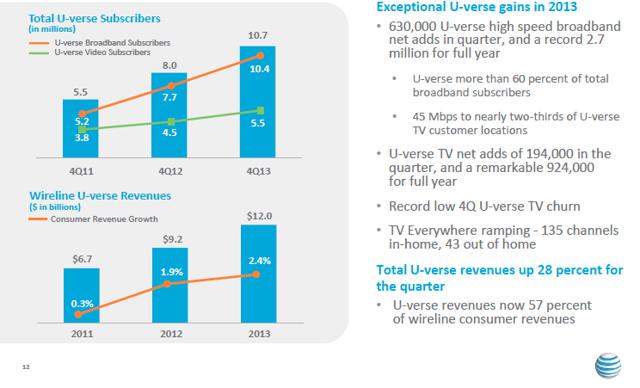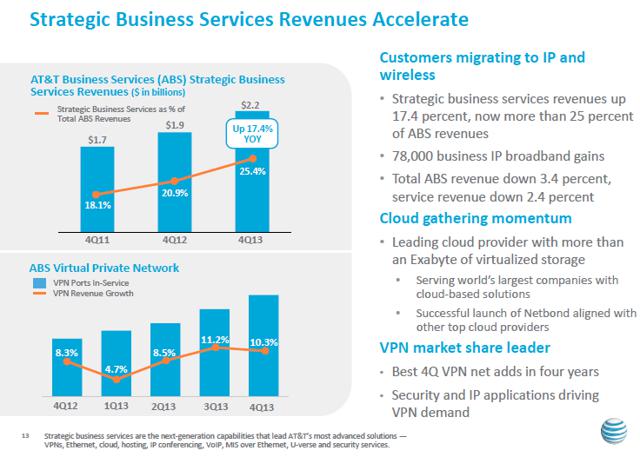 We recommend buying T based on a compelling valuation and cash returns to shareholders. Growth concerns from legacy businesses are weighing on the stock price yet management continues to invest and execute on growth drivers.
Follow us on Twitter: @glyndonpark
Disclosure: I am long T. I wrote this article myself, and it expresses my own opinions. I am not receiving compensation for it (other than from Seeking Alpha). I have no business relationship with any company whose stock is mentioned in this article.