Gulf Island Fabrication (NASDAQ:GIFI), is a worldwide fabricator of offshore platforms, vessels and structures, has a market cap of $330 million USD and operates through subsidiaries in both Louisiana and Texas. The company was founded in 1985 by a conglomerate of industry leaders including offshore pioneer Alden "doc" Laborde. Through Mr. Laborde, Gulf Island Fabrication shares lineage with other offshore companies Diamond Offshore Drilling (NYSE:DO) and Tidewater (NYSE:TDW). Along with a common founder in part, GIFI should benefit from similar industry revenue trends as Offshore Drilling continues to rise in importance.
Subsidiaries:
Gulf Island - Houma, Louisiana
Fabrication of offshore drilling and production platforms and other specialized structures used in the development and production of oil and gas reserves
Gulf Marine - Ingleside and Aransas Pass, Texas
Fabrication of offshore drilling and production platforms and other specialized structures used in the development and production of oil and gas reserves
Gulf Island Marine Fabricators - Houma, Louisiana
Marine fabrication and construction services
Dolphin Services - Houma, Louisiana
Fabrication and construction services
Dolphin Steel Sales - Houma, Louisiana
Steel plate and products sales
Gulf Island Resources - Houma, Louisiana
Labor provider with similar rates and terms as those provided by contract labor service companies
Gulf Island Fabrication recently relocated corporate headquarters to the Energy Corridor Section in Houston, Texas. This move is positive, in my opinion, as it gives management the advantage of proximity when dealing with executives of other firms. The company also spoke of the move in terms of allowing the company to explore ways of enhancing shareholder value. Reading between the lines of this statement, I think we will see both organic and acquired growth from this up and coming player in the energy industry.
Revenue:
In 2013, Gulf Island Fabrication set a record in total yearly revenue. Revenue was severely impacted in 2009 and 2010 by the Great Recession as well as the Macondo well blow-out. During the past five years, operations in the Gulf of Mexico accounted for approximately 69% of revenue, which indicates a strategic focus.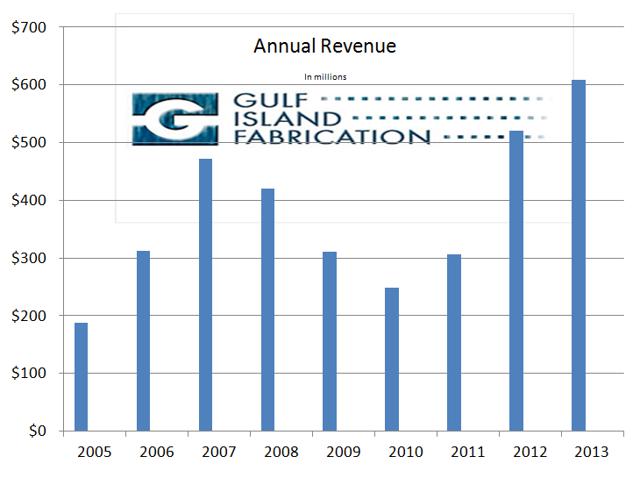 (Author's Chart)
Debt:
Gulf Island Fabrication, rightly or wrongly, maintains no debt in this low rate environment. In my opinion, this is positive for the company going forward as rates are sure to rise in the future. Debt ratios are a good indicator of financial discipline by senior management and reflect well on the company.
Share repurchase:
Gulf Island Fabrication does not have a publicly announced share repurchase program; however, they do repurchase shares to offset awards based on an approved executive compensation plan.
Earnings Outlook:
Analysts are expecting a year over year earnings increase of 100%, followed by a 71% increase the following year. Much depends on the price of oil but the long-term outlook of the oil industry along with de-scoping of less profitable projects should positively impact earnings.

Dividend:
Gulf Island Fabrication pays a dividend of $.40 annually to holders of the stock resulting in a yield of approximately 1.75% at current prices. The payment of a dividend reflects well on the board of directors' commitment of returning capital to shareholders. This is significant for the dual mandate of a small yet growing company.
Price Target and Upside/Downside Risk:
My 12-month price target on the stock is $25.50. This would result in upside of approximately 11% from today's prices, a good return in today's market. Consensus price targets indicate approximately 21% upside to the stock:

Downside risk should be contained to approximately book value of $19 excluding a WTI price of less than $75 per barrel. The stock finding support at book value has recent precedent.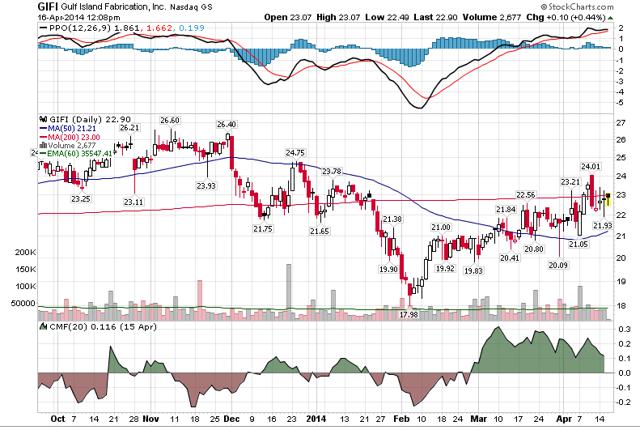 (stockcharts.com)
Conclusion:
Gulf Island Fabrication provides an excellent vehicle for investment in the offshore oil and gas industry. Offshore and especially deepwater will continue to grow in importance to overall United States oil production.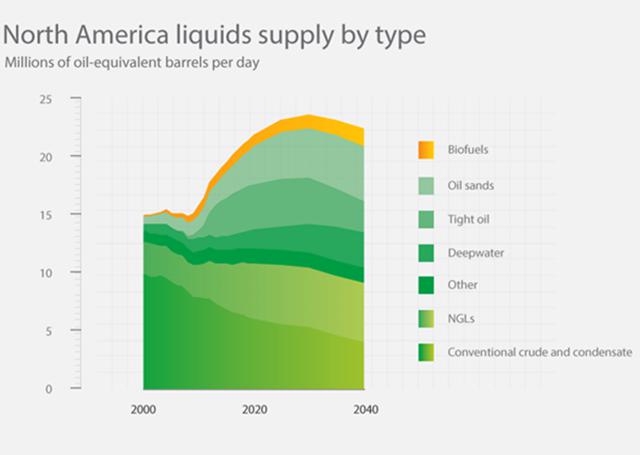 (Exxon Mobil Energy Outlook 2040)
Lastly, management has demonstrated a commitment to enhancing future shareholder growth and has expressed interest in expanding to FLNG (Floating Liquefied Natural Gas), Petro Chemical and Refinery type projects. Expect this stock to deliver both growth and income to shareholders now and in the future.
Disclosure: I am long DO, GIFI. I wrote this article myself, and it expresses my own opinions. I am not receiving compensation for it (other than from Seeking Alpha). I have no business relationship with any company whose stock is mentioned in this article.