By David Russell
Kellogg's (NYSE:K) chart is flashing bearish signals, and now traders are looking for a push to the downside.
optionMONSTER's Depth Charge tracking system detected the purchase of about 3,000 August 50 puts for $0.70 and $0.75 against open interest of just 181 contracts. Overall options volume in K is about seven times greater than average so far today.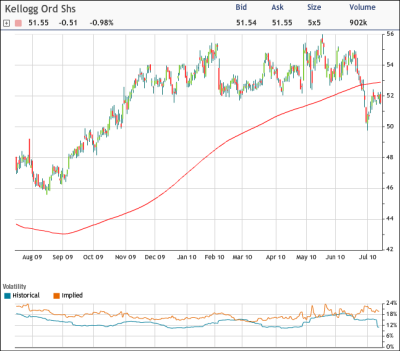 The cereal maker has had strong results for several quarters and beat estimates the last time it reported earnings on April 29. However, it spent more than seven months trapped in the mid-$50s and then broke below its 200-day moving average in late June.
K fell 0.92 percent to $51.58 in late morning trading and is down about 6 percent in the last month. If the shares remain at this level, the stock movement could be interpreted as a lower high within the context of an emerging bearish trend.
That may be what today's option traders expect. K must fall at least 5 percent by expiration for the puts to earn a profit.
The company is scheduled to report second-quarter results before the market opens on July 29. Investors may be worried because on June 30 rival General Mills issued a weak forecast due to increased competition and margin pressure.
Depth Charge shows that total put volume in K at is about 160 times greater than calls, which reflects the bearish sentiment.

Disclosure: No positions