Yesterday (April 15th) was the one-year anniversary of last April's one-day $200 hit in the gold market. Coincidentally or not, gold experienced a violent sell-off yesterday which drove it back below $1,300. This was on the heels of several bearish articles (Wall Street Journal, Bloomberg, for instance) and Goldman reiterating its $1,050 target for gold. While a lot of market participants believe that the price of gold is headed lower again, there are several indicators which I believe are signaling a strong rally this spring and into the summer.
The first indicator is the fact that the LBMA GOFO (Gold Forward Rate) has gone negative since April 3. Not only is it negative, but the degree of negativity is increasing. The GOFO rate measures the interest rate on a gold/U.S. dollar swap transaction. When this rate is negative, it means that holders of U.S. dollars are willing pay interest in order to borrow gold, using dollars as collateral. I discussed the GOFO rate in detail last July.
When the GOFO rate goes negative, it's an indication of a shortage in the availability of physical gold that can be used for delivery into buyers who want to take possession of the bars (as opposed to leaving them in a custodial vault). In other words, its an indication that there is a short-term shortage of supply vs. demand. It's rare when the GOFO is negative (see the graph in my linked article). But a negative GOFO rate correlates highly with rallies in the price of gold (graph sourced from the TF Metals Report):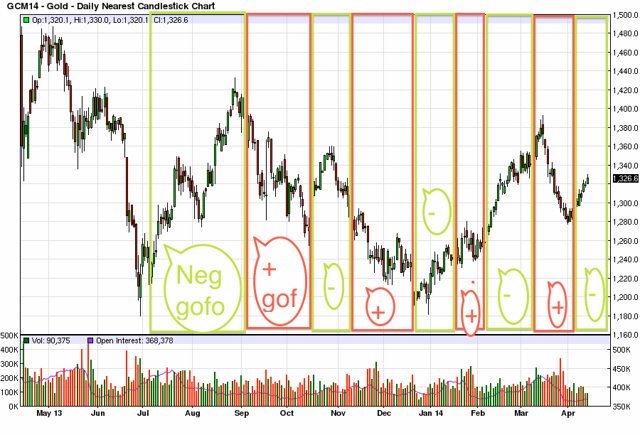 With GOFO currently having gone negative and trending more negative, I believe we will see a strong move higher from current levels.
The second factor unpinning a likely move higher in gold is the continued strength in demand for gold from China. Recently there have been articles with forecasts calling for a decline in demand for gold from China this year (see the WSJ link above). However these reports contain misleading evidence about Chinese demand this year. The analysis used in these reports is based on the downward trend in China's gold demand over the last five weeks. While week-to-week demand has been declining, it's because China's gold demand in the first two months were extraordinarily high. Contrary to the mainstream reports, China's total YTD demand in 2014 through the end of last week (April 11) was up 23% compared to last year.
In fact, if the year-over-year demand trend since 2009 continues in 2014, China will once again import and take delivery of a record amount of gold. This in turn will put upward pressure on the price of gold.
The final factor that I believe will drive gold higher is India. I have not seen the Indian gold import control situation reported on by the mainstream financial media - or Wall Street - but it looks like a new party which is "pro gold" will assume power in May. It is anticipated that most if not all of the gold import control measures will then be removed.
In fact, there are indications that some of the of import controls have already been eased. India's gold imports in March hit a 10-month high and doubled in the March quarter from the previous quarter. In addition, as discussed in the article link, it appears that the Indian Government has instructed the banks to resume more normalized import procedures. Finally, after plunging in the second half of 2013 vs. the dollar, the Indian rupee has been steadily climbing this year. That should further induce a significant increase in India's gold import appetite. If Indian import demand bounces back to its pre-import control levels, I believe it will take the western markets by surprise and could facilitate a huge rally in the price of gold.
At the end of January I wrote an article in which I suggested that gold could see $2,000 this year. Admittedly, at this point in April that forecast price target may seem completely unrealistic. However, if the factors I discussed above continue to develop and strengthen, I still believe $2,000 is possible. Whether my forecast proves accurate or not, I am confident that the price of gold will be a lot higher than now in December.
To participate in a big move in gold, I always first and foremost recommend buying and holding physical gold coins (gold eagles, maple leafs, etc). If you want to trade and "index" the price of gold, the easiest and most liquid security is the SPDR Gold ETF (NYSEARCA:GLD). In addition, you can make a leveraged bet on gold using the VelocityShares 3x Long Gold ETF (NASDAQ:UGLD).
Disclosure: I have no positions in any stocks mentioned, and no plans to initiate any positions within the next 72 hours. I wrote this article myself, and it expresses my own opinions. I am not receiving compensation for it (other than from Seeking Alpha). I have no business relationship with any company whose stock is mentioned in this article.
Additional disclosure: The fund I co-manage invests in physical gold, silver and mining stocks