Ford's (NYSE:F) earnings announcement for Q1 2014 is fast approaching. The company's stock has barely moved since late January.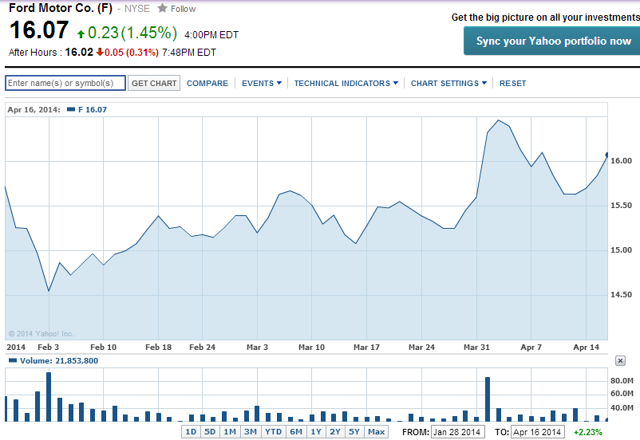 Click to enlarge
Source: Yahoo Finance
Analysts are expecting 31 cents per share in what is expected to be a year of transition into new products.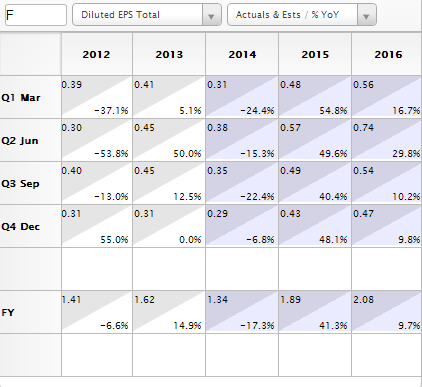 Source: Sentieo
At the heart of Ford's earnings will be its ability to generate revenue. On revenue, Ford is expected to generate flat sales for 2014, therefore a safe expectation for Q1 is zero sales growth.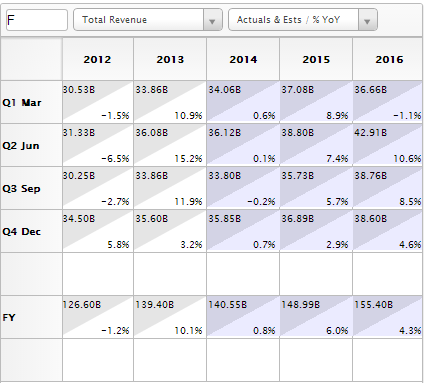 Source: Sentieo
In the United States, bad weather was to blame for Ford's bad January and February sales. While this may cause people to worry to about the company's financial performance, I believe investors should review multiple markets to see how sales are performing. To do this, I reviewed Ford Corporate web pages for the United States, India, China, and Europe. Additionally, I captured the past 15 months of sales data.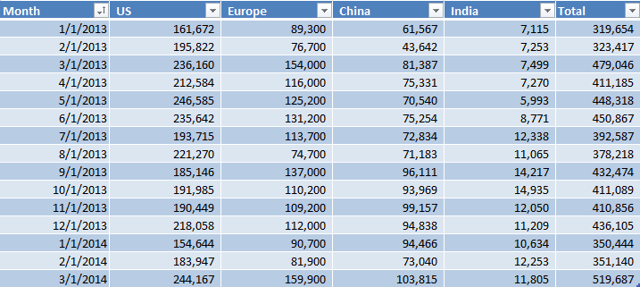 Click to enlarge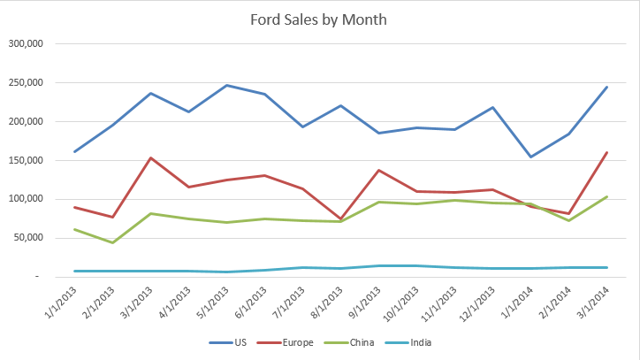 Click to enlarge
In order to better understand these numbers on a quarterly basis, I condensed the data.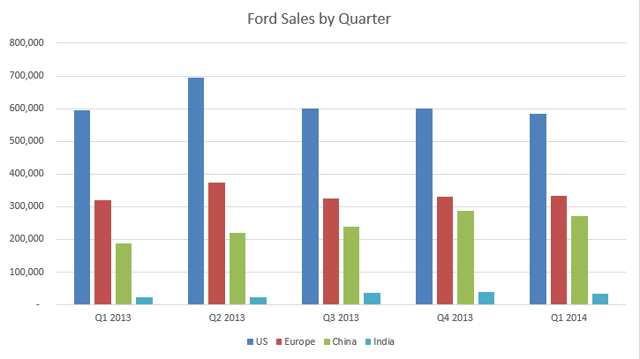 Click to enlarge

Click to enlarge
Despite rough weather in the U.S., Ford managed to sell 8.84% more vehicles in these markets in the first quarter of 2014 versus the same quarter a year ago. Does this mean that Ford's revenue will increase by 8.84%? Doubtful.
A vehicle sells in the U.S. at a different premium than in China or India, however, I believe enough sales growth has occurred internationally to make up for Ford's domestic performance.
Disclosure: I am long F. I wrote this article myself, and it expresses my own opinions. I am not receiving compensation for it (other than from Seeking Alpha). I have no business relationship with any company whose stock is mentioned in this article.