Back in 2007, when I made my first investment in Intuitive Surgical (NASDAQ:ISRG), the maker of the da Vinci surgical robotic system, it was a nondescript, up-and-coming SMidcap followed more by swing traders than sell-side analysts, institutional investors, and the traditional investing masses.
click to enlarge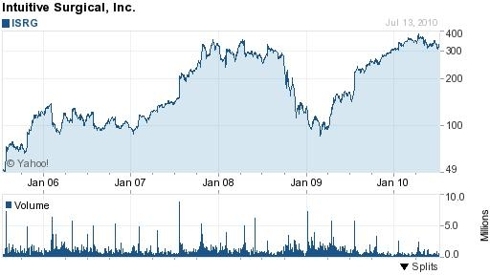 Click to enlarge
Fast forward three years - ISRG is now the second-largest medical equipment company in the S&P (yes, this is the stock that replaced Bear Stearns back in 2008), behind industry veteran Medtronic (NYSE:MDT), and is showing no signs of slowing down. Holding a rare and envied monopolistic (this is open to interpretation and your definition of monopoly, of course) position in the robotic surgery field, the company achieved sales growth in 2009, a difficult year for most product-driven companies, of more than 20% and is projecting an 38% top-line growth this year as hospital spending in global markets expand. The company is also debt-free and is sitting on more than $300MM in cash available for product expansion, marketing campaigns, and product R&D, not to mention the potential for share repurchases if prices were to dip along with market corrections.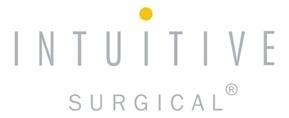 For those of you unfamiliar with the general ideas behind robotic surgery, this is a wonderful overview of what it entails, its advantages and disadvantages over traditional methods, and how it stacks up financially for a hospital administrator.
Bull and Bear Arguments Over ISRG
The growth story for ISRG is fairly clear to the average investor today: the da Vinci system is capable of performing minimum-invasive surgery (MIS) with precision impossible for the unaided surgeon to achieve, allowing procedures that require accuracy (prostatectomy and hysterectomy, for example) to be completed with higher success rates. Furthermore, as more and more surgical cases demonstrate, MIS performed with da Vinci improves many conventional procedures and allows the patient a much more rapid recovery than open surgery. As momentum gathers for further FDA clearances for the da Vinci on different procedures, demand for ISRG's machines and attachable tools will enjoy continued growth. Finally, the growing adoption of the da Vinci S systems signal both the potential for expanding ASP as well as the possibility for systems upgrades somewhere down the road, if the company can develop compelling features in newer generations of its systems.
The concern over ISRG, evidently, is in its valuation: at a price of $330 per share at the time of writing, the historically un-split ISRG shares are trading at 38.8x consensus 2010 EPS estimates of $8.50. but when you account for the almost 30% in trailing CAGR over the past 3 years, ISRG is trading at quite a reasonable PEG ratio of just around 1.3x. ISRG has traded beyond its current PPS prior to the 2008 crash; now, with a much better visibility of where the global economy is heading, I would argue that ISRG is priced quite attractively relative to the enormous growth potential highlighted in my following analysis.
Additionally, some investors are beginning to question whether the reduction in hospital capex will dampen demand for expensive da Vinci systems going forward (they cost almost $2M for the machine alone, without including costs for attachable tools, disposables, and training). Whether this is a valid concern is for you to decide for yourself: my personal take is that as more procedures become tested and proven on the da Vinci and as the base of surgeons with da Vinci training grows, ISRG's systems will transition from a luxury item in hospitals into a necessity: the cost savings in getting patients out of their beds on a rapid recovery should accrue to offset the initial investment in such high-quality machines.
The Unsung Growth Potential Embedded in ISRG
With the endless commentary and research on ISRG posted all over the internet from both cheerleaders and cynics alike, I don't feel that a further analysis of the company's financial health and consensus growth is necessary here; I merely want to show that, given the company's monopoly position, financial vigor, and brand marketing, the implicit growth power in ISRG is grossly discounted by the current share price, and that ISRG would make an invaluable growth driver in many types of portfolios today.
The growth story (and, to me, the upside driver in ISRG shares) comes from two primary sources of top-line expansion where the Street may have become overly cautious on: 1) Emerging Markets and 2) Recurring Sales Base.
1) Emerging Markets – the current breakdown of installed systems base for ISRG global is as follows: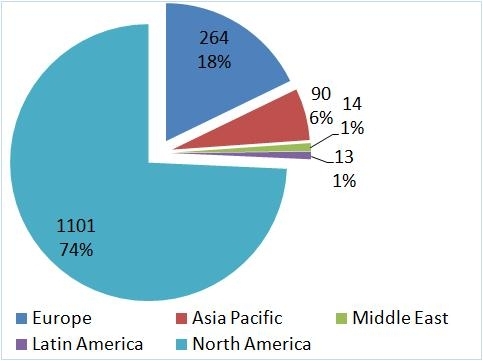 Evidently, the bulk of the installed base is located in advanced economies in North America and Europe, and neither seems to have a favorable attitude towards hospital spending with their separate legislative and fiscal issues.
What most analysts note, but do not emphasize, is the sheer market opportunity available in several high-growth countries globally that may see system adoption rates paralleling the early phases of the company's marketing efforts in North America. Among the BRICs, there are only 4 installed machines in Brazil; 6 in India; and 15 in China/Hong Kong. In fact, the nation with the most installed bases in Asia is South Korea with 27 systems. This is a result of ISRG's effort to promote the da Vinci in the tech-savvy and health care-focused nation beginning several years ago, and shows that the demand for these systems does exist in Asian countries with the right attitude and foresight with regard to their hospital systems.
China and India come to mind as the main EM drivers for ISRG going forward. Both nations are experiencing rapid GDP growth and continued population expansion, and are seeing steadily growing middle- and upper-classes. Chinese hospital spending is projected to reach $600B by 2015 with 30%+ annualized growth, and a similar story is taking root in India.
Now, most people would argue that ISRG's systems are just too expensive and limited in scope for these populous nations to adopt in the near future; I disagree. Having spent a good part of my life in Beijing and having frequently re-visited different cities in China over the past few years, I've seen that one of the most unique aspects of the Chinese growth story has been the heightened demand for premium products by an elite class that is small on a percentage basis but enormous by absolute comparison with Western numbers. These customers demand high-quality foreign imports and have been satisfied with an influx of designer clothing, jewelry, and cars; the one lagging product thus far has been the adoption of high-tech, westernized hospital care. Government control may have stalled this trend from developing, but recent pledges towards increased health care spending serves as a clear signal that the government will likely become more conducive towards technologies such as the da Vinci to satisfy the pent-up demand for quality care domestically.
What kind of sales impact does this trend translate into? Currently, 147 machines are installed globally ex-North America and Europe. Sales are projected by management to grow at 38% annually. To me, this translates into growth at around 20% in developed markets and globally at mid-to-high double digits, consistent with historical trends. We ramp down the growth numbers through 2015 to reflect both market saturation and potential impact from competing technologies, although neither in my view will have a severe impact on ISRG's sales due to the very high technological and legal moats the company has built up since its founding.
2) Recurring Sales Base - Based on our projections, I see sales of about 440 machines this year, consistent with the pace demonstrated by 1Q10 sales of 104 systems (I strongly feel that the sell-side analysts are being too conservative with their systems sales estimates due to a preoccupation with hospital budget cuts, which we will see the verdict on when ISRG reports later this month). I also expect ASP to slightly increase to $1.5MM, reflecting the product mix shifting towards the more expensive, new-generation da Vinci S systems. I believe we can see installations in the 800s 3 to 5 years out, as emerging market sales ramp up due to both growing adoption and network externalities of having more trained surgeons who can operate these machines.
All this translates into an installed systems base of more than 1,800 by the end of this year, and tripling to more than 5,000 in 2015. Not only do each of these sales translate into $1.5MM in revenue a piece, they also generate incremental recurring revenues (tied to both disposable components and added attachments for different procedures) going forward, which will likely overtake system revenues as the main top-line driver by 2012 or 2013. Here, you can see why underestimating ISRG's systems sales will doubly underestimate its earnings potential: the installed base translates into recurring revenue, which compounds system sales growth.
Earnings Impact and Valuation
So, where does all this talk translate into on ISRG's income statement? The following is a quick earnings projection for the company into 2015: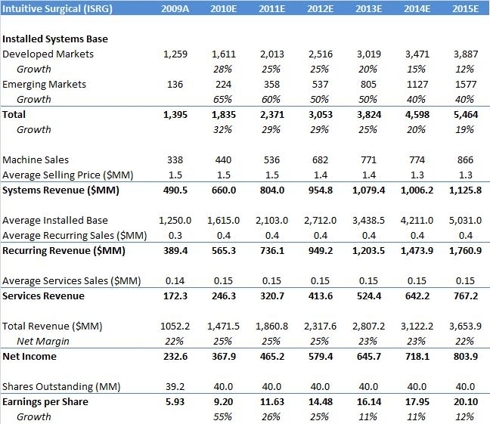 Click to enlarge
There are a few guidelines I followed in putting this together:

1) Macroeconomic conditions, especially in developing countries, will improve drastically in 2011 and 2012, leading to rapid sales expansion for ISRG.
2) ASP will increase in the proximate years as the da Vinci S gains wider adoption and as more procedures are approved on the systems; they will fall in further out-years as the company streamlines production and fights off potential entrants.
3) Net margins will recover from 2009 levels. This is already evidenced by 1Q10 results and reflects the secular economic recovery from 2009 lows.
4) Share dilution is unlikely going forward. With no debt, $300MM+ cash, and a production growth plan already in place, I find it difficult to believe that ISRG would voluntarily dilute its shares; it is in fact far more likely for some kind of share repurchase to take place and boost shareholder value.
5) Top-line to bottom-line relations will hold. Because ISRG is a monopoly in its market and have stable supplier and customer relations, I took the haircut assumption to ramp down net margins slowly in 2013 and beyond to be conservative in my estimates.
Valuation for ISRG shares are as follows:
1) Forward P/E: ISRG currently trades at 38.8x consensus 2010 EPS estimates of $8.50. Given my mid-term bullish outlook and my belief that analysts are understating ISRG's expansionary capabilities, I can see ISRG trading at higher multiples as it demonstrates its growth potential. At 45.0x my 2010 EPS estimate of $9.20, I arrive at a share value of $414, representing an 25.5% upside from recent prices of $330.
2) Discounted out-year PEG: We extrapolate an approximate 3-year profit growth of 34.7% from the above estimates. At the current 1.3x PEG ratio and our $9.20 2010 EPS estimate, the implicit share value is around $415, similar to our conclusion based on forward P/E valuation.
For the short-term traders, ISRG's second-quarter results seem poised to smash earnings projections currently out on the street; though management has generally guided with an air of caution in the past, I believe guidance will trump outdated Street figures and provide a nice gap up for the stock post-earnings, as it has consistently done in the past.
For the investors who want to look at ISRG as a long-term play, ISRG's consistent, double-digit profit surges make it a wonderful growth-oriented holding in a concentrated, alpha-hunting portfolio.
Entry & Market Timing
Contrary to my last macro commentary, I have been bullish since late May, after the initial dip in the indices as the Euro debt bucket dropped. Now, more than ever, I feel that most of the reasonable downside have been priced in after the string of bad newsflow in June. Finally, with corporate earnings underway and firing on all cylinders thus far, it seems apparent to me that the near- and mid-term outlooks for the market as a whole are quite positive.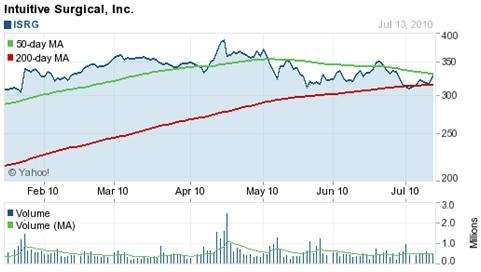 We see that the 50- and 200-day MAs in ISRG, much like those of many other solid performers in early 2010, are near a convergence point; given my bullish macro outlook, I think we are nearing a point of change in momentum rather than a crossover. I established my positions between 305 and 310 on several market-wide dips over the past 2 months, although I wouldn't hesitate to recommend entry at current levels for the investor with a long investment horizon looking to capitalize on the secular bull market currently underway.
Final Thoughts
ISRG exemplifies the kind of growth story that I have always favored in my stock picks: the kind of growth that originates from product innovation and technological evolution, rather than from some cyclical underlying factors disguised as a genuine demand for a pioneering product. The growth opportunity here, I believe, presents one of the best risk-reward scenarios for investors who are looking to participate (and actually believe) in the next wave of product innovation in our seemingly stagnant world today.
Keep in mind that ISRG competes for investment dollars from other large-cap medical equipment players including MDT and STJ - my personal opinion is that ISRG offers exposure to a much more robust market and is much better positioned in its current product cycle compared to its older competitors, but as always you should conduct some of your own research into the stock's investment substitutes.
One final thing: for those of you who have followed ISRG over the years, it should be pretty evident that the company does a phenomenal job of managing investor expecations. The pop after earnings is quite common, especially when you take the outlier quarters from the 08-09 crash out of the sample. I'm by no means suggesting that you should pile into ISRG prior to its upcoming earnings later this month: I am merely suggesting that management, similar to that of AAPL, has a very good handle of where the company is positioned and where it is going, and is prudent in long-term value creation for the company and its shareholders.
Quality stocks like this don't come around often, but when they do, the choice of whether or not to invest for its long-term transformation is, err, Intuitive.
Disclosure: Long position in ISRG shares