Baidu (NASDAQ:BIDU) will report Q1 2014 result after market close on April 24th. Earnings call will be held at 8PM (EST) the same day. Dial-in details is below:
| | |
| --- | --- |
| International: | +65-6723-9381 |
| | |
| U.S.: | +1-845-675-0437 |
| U.K.: | +44 20-3059-8139 |
| Hong Kong: | +852-2475-0994 |
| | |
| Passcode for all regions: | 28733029 |
The Street expects RMB9.5bn in revenue and RMB6.10/share EPS, compared with management guidance of RMB9.2-9.5bn. Heading into the quarter, investors should look for 1) continued strength in Baidu's organic revenue growth and 2) growth in other verticals such as group-buy, mobile maps and app distribution. However, the current investments in LBS and mobile apps will continue weigh in on margins, thereby negatively impacting EPS growth.
Continued strength in its organic revenue growth
I expect Baidu's core businesses (ie. PC and mobile search) to continue to drive the top-line growth in Q1 with online marketing services revenue driven once again by higher ARPA (average revenue per advertiser). The new verification program launched in Q3 2013 may continue weigh-in on ad customer growth and I expect Baidu to offset the soft customer adds with increased ad prices given its strong pricing power and user stickiness.
According to iResearch, time spent on Baidu's web search have stabilized despite the strong growth from Qihoo (NYSE:QIHU), which highlights that Baidu's superior search product has the ability to retain users. Higher time spent and stickier users are accretive to Baidu's pricing power and allow it to justify for a price increase to offset the advertising customer decline.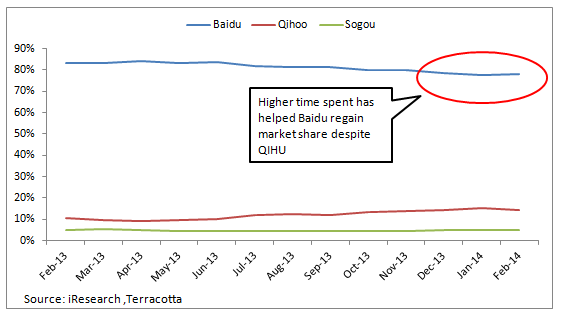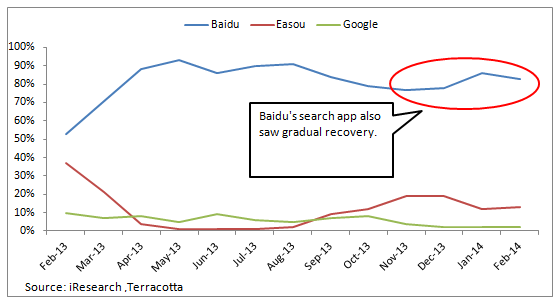 Mobile search is also expected to deliver. Last quarter, mobile search accounted for a majority of mobile revenue, which were ~20% of Baidu's overall revenue. I expect mobile search to account for over 20% of Baidu's overall revenue driven by strong mobile adoption. At the end of last year, Baidu had over 400m activated users for its search app, compared with 330m in Q3 2013. In addition, Baidu had 14 mobile apps with each having over 100m activated users. I see higher mobile app usage will be a key driver to mobile revenue this quarter.
LBS and O2O provide additional call option
Baidu's investment in LBS and O2O projects provide a nice call option into the quarter which will further drive the top-line beat. In particular, Baidu's mobile map has become the clear leader in China's mobile map industry, overtaking AutoNavi (NASDAQ:AMAP). According to CNIT, Baidu map account for 54% of market share in mobile maps in terms of users.
I applaud Baidu map's growth over the past two years and its current market share highlights the strong execution by the management. It is worth noting that two years ago Baidu lagged behind AutoNavi in terms of users in mobile maps because it sourced its map content from NavInfo, which delivers an inferior mobile map compared with that of AutoNavi. However, Baidu was able to execute over the past two years but adding rich contents and functions such as public transit, POI search, user reviews, subway map, and 3-D functions to attract users. As a result, AutoNavi gradually lagged behind Baidu in terms of map services and that negatively impacted AutoNavi's user base and mobile client base.
The recent acquisition of AutoNavi by Alibaba is positive for AutoNavi shareholders in that I am skeptical of AutoNavi's survivability in the next two years if it isn't acquired since competition from Baidu map has been intensifying. As for Alibaba, acquiring AutoNavi for $1.5bn is a hefty price tag just for the map content. If Alibaba is unable to ramp up on map services, then it will unlikely to bridge the gap between itself and Baidu.
The key point to remember is that Baidu has executed well in the area of LBS and O2O. Despite minimal monetization at present, I believe that further integration of its group-buy unit, Nuomi, and online travel, Qunar (NASDAQ:QUNR) into its LBS platform will act as a catalyst for future monetization. As Baidu continues to upgrade its map with new features such as local services, taxi calling and online travel, I expect increased user engagement and transactions, which could further accelerate Baidu's mobile revenue growth.
Margins at risk due to heavy investment
Despite strong top-line growth, I expect the quarter to see continued margin contraction as Baidu ramps up on investment in LBS and O2O. The extra investment in opex will weigh-in on margins and that will eventually impact EPS growth.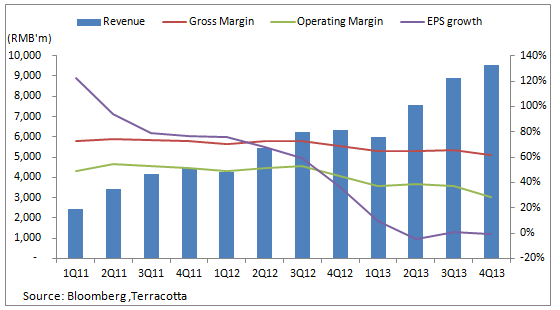 I expect Baidu's 2014 EPS growth to be flat but expect revenue growth to be ~50%. The stock trades at 28x FY14E EPS, quite pricey for a company that isn't expect any EPS growth this year. If Baidu's EPS numbers come in worse than Street estimates, investors can expect more earnings rerating, or broker downgrades, in the upcoming quarters. In my view, a better entry point for Baidu is when we see margins and earnings stabilization.
Disclosure: I have no positions in any stocks mentioned, and no plans to initiate any positions within the next 72 hours. I wrote this article myself, and it expresses my own opinions. I am not receiving compensation for it (other than from Seeking Alpha). I have no business relationship with any company whose stock is mentioned in this article.