Chinese search major Baidu (NASDAQ:BIDU) will report Q1 2014 earnings on 24 April 2014. The first half of 2014 will be a challenging period for Baidu as it contends with China's weakest economic phase in recent times. How the company emerges from Q1 could set the tone for investor expectations for the rest of the year.
Q1 2014 Guidance
Baidu's revenue growth guidance for Q1 2014 ranges between 54.8 - 59.5% representing a potentially strong quarter if the guidance is met.
Baidu's Robust Financial Track Record
Baidu has an impeccable track record when it comes to revenue growth and profitability. Over a 3 year period, Baidu has recorded a revenue growth of about 64% CAGR with operating profit margins and net profit margins averaging about 46% and 42% respectively.
In Q4 2013, Baidu's revenue grew by over 50% to reach $1.55 billion with net profit margins of 29%, beating estimates on both fronts. The key highlight on the growth front is that 20% of Baidu's revenue came from mobile vs. 10% two quarters ago, reflecting the success of its aggressive spends to achieve the same.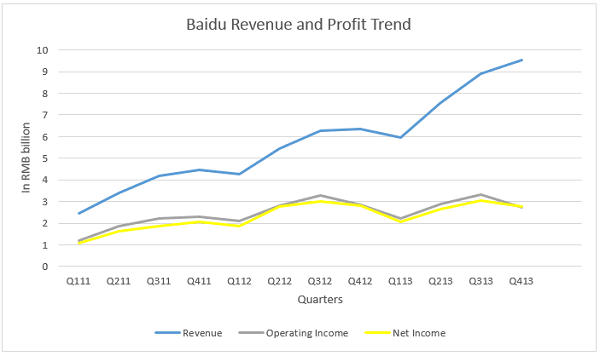 Source: Amigobulls
Baidu's profit margins have declined in the last one year. However, the decline has come on the back of its aggressive reinvestment targeted at future growth.
In Q4 2013, selling, general and administrative expenses (SG&A) increased by 135% largely due to promotional spends on mobile products. The company also saw higher bandwidth costs while its acquisition of "iqiyi" drove content costs higher. The company also saw an increase in hiring and encountered higher Traffic Acquisition Costs (TAC).
That said, as highlighted in the comparative table, Baidu still has the best (by a fair margin) revenue growth and profitability among its peers Google (NASDAQ:GOOG) and Yandex (NASDAQ:YNDX).

Source: Amigobulls
Baidu: Future Outlook
In the coming quarters, profit margins will not be the key focus of the company's management, and so, a rebound in margins is unlikely.
In FY 2014, Baidu is expected to invest aggressively in key areas like mobile platforms. To start with, in Q1, it will spend on sales & marketing to drive mobile app installations. Among those is an app that enables users to check train ticket availability and complete bookings.
An increase in Traffic Acquisition Cost is expected, especially with the company's keenness to leverage its ad-network to promote products. The company has also indicated a potential increase in tax rates and further investments in infrastructure and content.
Further, Baidu has explicitly stated intent to diversify and invest in non-search businesses, implying that profit margins are likely to remain subdued (by Baidu's high standards).
Potential Drivers of Baidu's Future Growth
Apart from being the largest search engine in China, Baidu has a presence in a large number of online properties and businesses which can drive future growth at Baidu.
Baidu has acquired "91 Wireless" to boost its presence in mobile app and game distribution, mobile advertising, payment app platforms and cloud storage.
Baidu is leveraging its popular maps application to deepen its location-based-services (LBS). The integration of its group buying platform "Nuomi" saw LBS transactions jump 60% in Q4 vs. Q3. Baidu has now bought out "Nuomi" completely to drive its e-commerce and LBS ambitions.
Baidu's 55% stake in Chinese travel and e-commerce business Qunar gives it access to China's online travel industry which is growing at 22% annually. Further, apart from buying iQiyi, China's biggest online video site by unique mobile users, Baidu is dabbling in fashion retail, and hardware under the brand Xiaodu.
Baidu's recently launched mobile payment service "Baidu Wallet" will allow it to bite into China's $199 billion mobile payment market which grew by 700% in one year.
With its repertoire of online businesses, we feel Baidu has bright prospects in the rapidly growing Chinese internet economy.
Baidu Valuation
Baidu currently trades at a higher Price / Earnings and Price / Sales multiples when compared to its peers.

Source: Amigobulls
At its current price of $158, Baidu has fallen by over 16% from its 52 week high less than 2 months ago. The current P/E and P/S multiples might seem higher when compared to its peers, however, its far superior revenue growth and profitability makes Baidu an attractive long term investment at current valuations.
Disclosure: I have no positions in any stocks mentioned, and no plans to initiate any positions within the next 72 hours. I wrote this article myself, and it expresses my own opinions. I am not receiving compensation for it. I have no business relationship with any company whose stock is mentioned in this article. The article was written by Vikram Nagarkar, Equity Analyst at Amigobulls.com. Amigobulls Mediatech Pvt. Ltd. is not receiving any compensation for this article (other than from Seeking Alpha). Amigobulls Mediatech and Vikram Nagarkar do not have any business relationship with any of the companies mentioned in the article.