There may be several specialized coffee players in the market these days, but one cannot overlook the magnitude of success and grandeur that Starbucks (NASDAQ:SBUX) has achieved over the past few years. Below I provide reasons why this fast-growing coffee house, along with its tea and sandwich restaurant chain, now makes a dazzling investment idea.
More than just coffee
The company's founder and CEO, Howard Schultz, has been successful in creating Starbucks into something that we didn't really know we needed until we had it. He has meticulously crafted a brand for the company that adds a psychological value to its offerings. Thereby, when you buy a cup of coffee at Starbucks, you buy an experience. The somewhat quiet, not-so-rushed atmosphere along with a dimmed ambiance and friendly staff found at Starbucks' stores add to the "feel-good factor" of your purchase. As a result, people are willing to pay a premium for their Starbucks' coffee even if McDonald's (NYSE:MCD) was running a promotion offering free coffee. These premium prices, in turn, translate to superior margins for its investors.
Quality with difference
The key to a company's success lies not only in the quality of its products, but also in the ability to differentiate itself from the competition. With Starbucks, it has always been about quality. The company manages stringent quality control measures for sourcing the finest coffee beans, roasting process as well as customer service and ancillary products. As for differentiation, Starbucks is unquestioningly among the most differentiated specialized coffee brands in the world that is apparent through its market control. From the design of its coffee shops to the music played to the types of products offered, everything has a touch of uniqueness.
Innovation
Starbucks is among the most innovative names in the industry. It was ranked 19th on Forbes' list of most innovative companies in 2013, up from No. 21 in 2012. It understands that to remain ahead of the curve it has to remain forward-looking, in terms of its offerings on the menu as well as technology. It is evolving into new areas such as premium juice, pastry and specialized tea with acquisitions of Evolution Fresh, La Boulange and Teavana, respectively. Tea is the second most consumed beverage in the word, after water, therefore the move to cater to the tea market holds a lot of promise for the company. In the West, where coffee is more popular, the company aims for a paradigm shift in consumer demand toward tea, so as to make it an as-popular consumer choice. Further, the company has launched new La Boulange breakfast and lunch items intended to lift its comps, and despite a few bumps in the road, the new menu rollout has been a success.
On the technology front, the company is revolutionizing retail through its mobile application. Accordingly, its loyalty cardholder can earn rewards and pay through its mobile phone application. Recent updates to the app enable customers to pull up their card by shaking their mobile device and also tip baristas on their smartphone. Results show that one in every seven Starbucks' customers in the US is transacting with mobile phones.
International Expansion
From a small group of coffee stores in Seattle, Starbucks has turned into a global chain with 20,184 stores in as many as 60 countries at the end of last quarter. For fiscal 2014, the company targets to unveil approximately 1,500 net new stores, and 750 of those would be opened in the China/Asia-Pacific (CAP) region while another 150 in Europe, Middle East and Africa (EMEA) region. This should give you an idea of the immense growth potential the company has in the overseas market. As a matter of fact, the coffee house giant has a burgeoning market in countries that prefer tea like China and India. During the fiscal first quarter of 2014, it opened two-thirds of its 417 stores outside the Americas. In doing so, it surpassed three milestones: 4,000 locations in CAP, 2,000 locations in EMEA and 20,000 total locations worldwide. With a good start to the year, the 1,500-store target in the current fiscal seems easily achievable.
Solid fundamentals
As illustrated in the chart below, Starbucks has continuously grown its revenue for several years now. In comparison, Dunkin Brands Group (NASDAQ:DNKN) and Krispy Kreme Doughnuts (KKD) have observed, if at all, ordinary revenue growth. In the most recent quarter, the company's revenue increased 12% to $4.2 billion and earnings increased 25% to $0.71 per share. The results were in line with analysts' expectations of $4.29 billion and $0.69, respectively, for the top line and bottom line figures. Driven by a 4% increase in traffic, global comparable store sales grew 5% during the quarter. Consolidated operating income rose 29% to $813.5 million and operating margin expanded 260 basis points to 19.2%.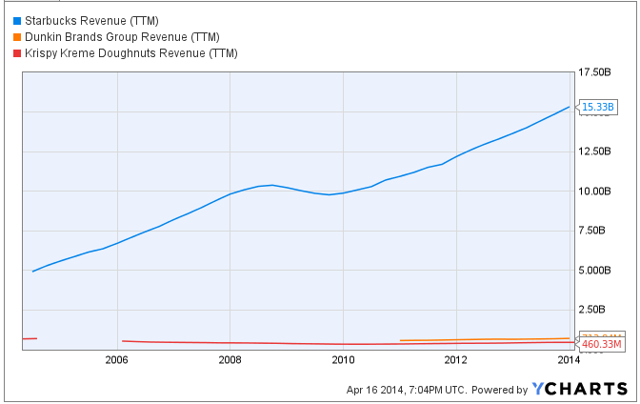 Click to enlarge
If you discount the one-time litigation charge that resulted in a negative free cash flow (FCF) of $1.7 billion, the FCF has grown about 34% during the quarter. The ample FCF allowed the company to repurchase roughly 0.6 million shares of its common stock and maintain its quarterly dividend of $0.26.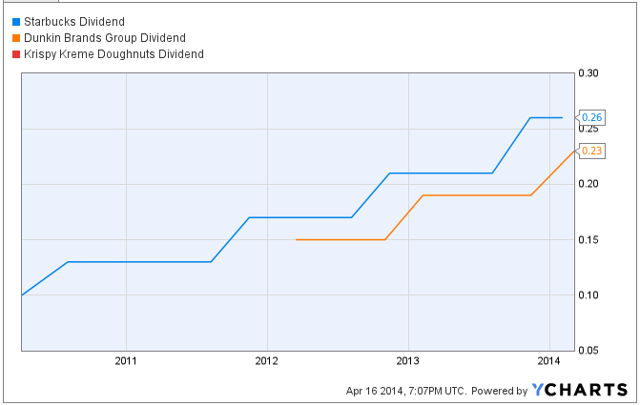 Click to enlarge
Starbucks announced its first ever cash dividend in March 2010 and, sunsequently, hiked its payouts in each of the three years thus far. This also makes it an interesting brand-dividend play as explained in one of my prior articles. It is ranked 76th on Forbes' list of the world's most valuable brands and has about 42.5 million fans on social media, second to only Coca-Cola (NYSE:KO).
Expectations
Starbucks will announce its fiscal-second quarter results on April 24 and analysts estimate double-digit growth in both revenue and earnings. The company is expected to report revenues of $3.95 billion and earnings of $0.56 per share.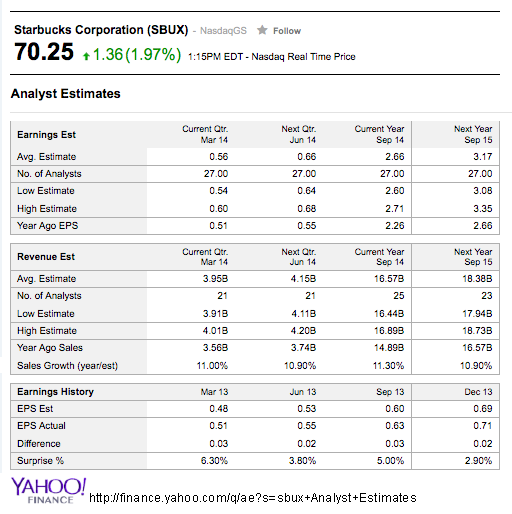 Besides the above-said metrics, it will be important to note if the company raises its earnings guidance range of $0.64-$0.66 per share for the third fiscal quarter or $2.59-$2.67 per share for the current fiscal. Also, one could expect Starbucks to raise its expansion projections for the year, considering it had nearly achieved a third of its annual target in the first quarter itself.
Bottom line
Starbucks is a dominant coffee house with enormous potential ahead. With forward estimates or store targets well within reach, backed by its quality premium products, constant innovation, international expansion and solid fundamentals, it certainly deserves a spot in your portfolio. Moreover, the stock has corrected sharply of late, down by more than 14%, and with results due next week, it forms a strong buying opportunity. In my view, the company should outperform the boarder market in both the short- and long-term. Recommended trade: Long Starbucks at current market price ~ $70.40 and cover it with PUT, strike $67.50, for $1.05.
Disclosure: I have no positions in any stocks mentioned, and no plans to initiate any positions within the next 72 hours. I wrote this article myself, and it expresses my own opinions. I am not receiving compensation for it (other than from Seeking Alpha). I have no business relationship with any company whose stock is mentioned in this article.