It's rare when a well-known name can be as far under-the-radar as Value Line (NASDAQ:VALU) is right now. This company was incredibly mismanaged due to the former CEO being installed due to family connections rather than on merit. That CEO is no longer attached to the company.

VALU is debt free and held $64.89 million in treasury cash as of January 31, 2010. Dividends have been paid each year since 1983 with the most recent normal quarterly payout at $0.20 /share. A Special one-time dividend of $2.80 was declared and paid in the most recent quarter [$3/share including the normal payout].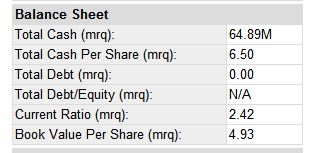 The company is solidly profitable. Fiscal Q2 came in at $0.23 and Q3 at $0.36/share. Here is the latest estimate information for the FY just concluded and the current FY.
click to enlarge

There is only one analyst even bothering to cover VALU right now. Based on the expected results VALU, now trading at $14.60, is offered for 10x last year's operating earnings (excluding a non-recurring SEC settlement charge) and 9.6x forward EPS. Compare those multiples with their historical norms from the chart below to see just how cheap they are selling for right now.
If the present rate of dividends continues their current yield is a well-covered and very attractive 5.48%.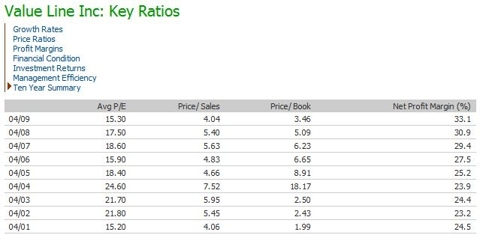 Value Value Line's P/E, P/S, and P/BV have never been as low as they are today and the yield has never been as high. Why is that? Simple. The shares have fallen off a cliff recently for no particular reason. Here's a long-term chart to illustrate the magnitude of the fall.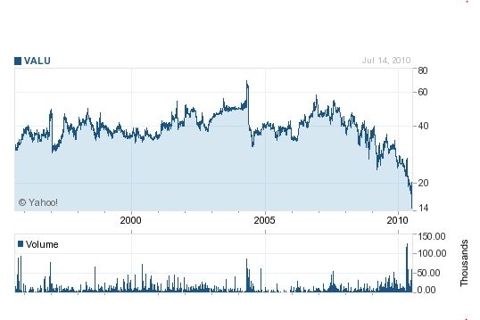 This is not a troubled company on the verge of bankruptcy. You can find their flagship products in virtually every decent sized library in America, in most brokerage offices and on the desks and computers of financial professionals around the world.
While earnings are lower than they were pre-2008 they are still solid and the brand value is likely to be enhanced and better marketed by the newly installed top brass than under the old management. A sale of the entire company is certainly a possibility as well.
VALU shares never once traded below $24.50 in the 15 years preceding 2010. They often hit highs in the $40 - $55 range (with a 2004 surge to $74.20). From today's quote of $14.60 I see very little risk and tremendous upside albeit without a specific catalyst.
This is ostensibly a low-Beta issue with an official 0.8 rating. It trades so thinly that I seen days where just 20,000 – 60,000 shares can see $2 – $4 daily moves though. My advice is to buy with limits and sell the same way. Set your orders and just leave them alone to hit your buy and sell triggers as the sporadic trading dips and surges are impossible to predict.
Value Line is the ultimate 'bad momentum' play having declined steadily since the ex-dividend date from their $3 special payout last April. Pick up some shares, collect your better than 5% yield and sell the next time the shares get into the $20 - $30 range.
Disclosure: Author is long VALU shares.