(Editor's Note: Investors should be aware of the risks in trading in highly-illiquid tickers such as ITEGY. ITE Group PLC's listing on the London Stock Exchange, ITE.L, offers better liquidity.)
Situation:
After reaching an all-time high of £323.00 in October 2013, ITE Group PLC (OTCPK:ITEGY) has fallen 35% as the Crimean Crisis may lead to economic difficulties within the region. With 65% of gross profits coming from Russia, economic sanctions may hurt the Company's bottom line. However, as fears of a slowdown in the Russian economy outstrip reality, investors have excessively sold off ITE, which provides an opportunity.
Note: The US ADR does not trade. The stock is active on the London Stock Exchange (ITE.L-Yahoo! Finance/ITE LN-Bloomberg).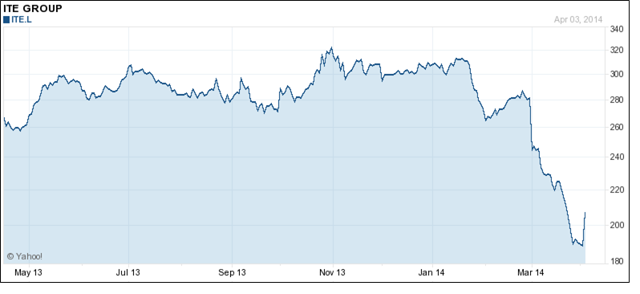 Company Background:
Established in 1991 and listed on the London Stock Exchange in 1998, ITE is an organizer of business to business (B2B) exhibitions and conferences specializing in emerging and developing markets. ITE organizes high-quality events of an international standard throughout the 17 countries in which it operates. As an exhibition organizer, ITE hires venues at which it stages its events and markets the events to both exhibitors and visitors. Exhibitions and conferences provide an opportunity for participants from national and international companies to meet, network and transact business.
The Company operates within five geographic segments (Russia, Central Asia, S/E Europe, UK & W. Europe, and Asia). According to the Company's 2012 annual report, ITE is the sixth largest organizer in the world by revenue, and the third largest in emerging markets. ITE remains the largest exhibition organizer in Russia with an estimated market share of 22%.
The Crimean Crisis:
Political unrest in Ukraine began with a protest of 300,000 people in Kiev's Independence Square on December 1, 2013 rallying against the Yanukovich government.
On January 30, 2014, ITE announced strong Q1 results, but noted that the Company was monitoring, "the political uncertainty in Ukraine which could affect international sales into the country," which marked the start of the precipitous decline in ITE's share price.
On February 23, 2014 a protest in the port city of Sevastapol formed as residents spoke out against the new regime in Kiev, which would look to consolidate power and effectively reduce the influence of the Kremlin in the region. As Ukraine became further divided, the political upheaval in the country entered a new phase with Russia establishing a physical presence in the Crimea on February 28. With Russian forces in place, Crimean residents went to the polls on March 16; voting to leave Ukraine and join Russia (official results indicated that over 95% of voters supported the union with Russia). The following day, the US and Europe issued sanctions against Russia, primarily in the form of asset freezes and visa bans on individuals involved in the Crimean situation.
Since the beginning of the Ukrainian political crises, Russian markets are down significantly (MSCI Russia Index is down more than 19.5% since November 29, 2013) and the Russian Ruble has weakened by more than 9% against the US dollar.
Opportunity - Upside (40%+):
There are two critical questions for potential investors in ITE to answer. Firstly, how bad is the situation in Ukraine/Russia? And secondly, is the current price of ITE attractive given the risks?
To answer the first question I looked at the two most significant events since ITE's IPO, which are the 1998 Russian Currency Crisis and the 2008 Global Financial Crisis. As shown below, the stock collapsed ~75% in both situations.
| | | | | |
| --- | --- | --- | --- | --- |
| Crisis | Peak Prior Price | Low Price | % Fall | Recovery Duration |
| 1998 Russian Currency Crisis | £93.00 | £22.50 | 75.8% | 514 days |
| 2008 Financial Crisis | £181.50 | £45.25 | 75.1% | 581 days |
| 2014 Ukrainian Crisis | £323.00 | £188.00 | 41.8% | N/A |
I would argue these two situations were far more financially significant then what has unfolded in Russia today. My belief is that a fall of 50% would be a very major move, a downside of ~24% from current levels.
To answer the second question, I have looked at a few trading metrics since April 2011 and current levels are significantly away from their historical averages as shown below: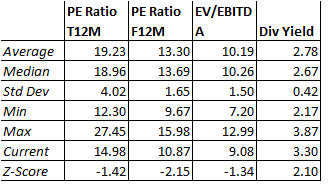 If ITE can just return to its historical averages on each metric (and given their expected growth profile I argue there is additional upside), the upside is £251 (~18% up from current levels), which is conservative. With average sales and EPS growth of 12% and 18% respectively in the past eight years, ITE should comfortably trade at a premium to the market (13.5x CY14 EPS for FTSE 100 Index), which assuming 16.5x (still below where it traded before the crisis began) gets me to ~£300 (~41% up from current levels).
Other Considerations:
There are a few other fundamental positives to ITE that should be pointed out. While the Company operates the majority of its business within Russia, the Company actively hedges its currency risk and in FY13, 49% of the Company's sales were in "hard" currencies (e.g. Euros, Dollars or Sterling) and 30% in Rubles.
Additionally, business seems to be holding up with the Company announcing that as of March 26, 2014, "the Group has contracted revenues of £146m for the full year which on a like-for-like basis is 4% less than this time last year. On a constant currency basis like for like revenues would be 8% ahead of revenues for this time last year."
Furthermore, while analysts have reduced their EPS numbers for FY14 and FY15 by 8.6% and 11.5% respectively, the average target is still £267.80 (26% upside) and there are four buy and three hold recommendations without any sells.
Conclusion:
ITE Group's recent fall has provided an excellent opportunity for contrarian investors who believe that the Crimean Crisis will not devolve further (which would ultimately have significant economic consequences throughout Europe). The Company has a clean balance sheet, consistent sales, earnings and dividend growth and is in a position to grow with emerging markets generally. With a downside of ~20% and an upside of 40%+ this is an opportunity to buy a solid company at a discounted valuation.
Disclosure: I am long ITEGY. I wrote this article myself, and it expresses my own opinions. I am not receiving compensation for it. I have no business relationship with any company whose stock is mentioned in this article.
Additional disclosure: I may change or exit my position without updating this article and without informing the Seeking Alpha community.I am long ITE.L, not the US ADR.