Time to Buy Best Buy?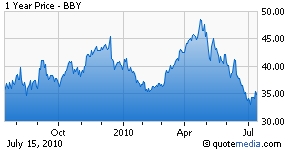 Company Overview: Best Buy Co. (NYSE:BBY), Inc. operates as a retailer of consumer electronics, home office products, entertainment software, appliances, and related services. The company''s stores offer video products, such as televisions, navigation products, digital cameras and accessories, e-readers, and DVD and Blu-ray players; and audio products comprising MP3 players, home theater audio systems and components, musical instruments, and mobile electronics. Its stores also provide home office products comprising notebook and desktop computers, monitors, mobile phones and related subscription service commissions, hard drives, and networking equipment; entertainment software products, such as video gaming hardware and software, DVDs, Blu-rays, CDs, digital downloads, and computer software; and small electric appliances.
Prognosis: The stock is down approximately 30% since its high of late April. This is primarily due to concerns about consumer spending and an earnings miss, which seems to occur on this equity one quarter a year. We think this could be another buying opportunity, as has previously been the case during these occurrences.
Valuation: BBY is selling for approximately 10 times this year's consensus earnings and 9 times next year's projected earnings. It is also selling at the low end of its five year range based on Price to Sales and Price to Cash Flow. This is the leader in consumer electronics retailing and has a pristine balance sheet with no net debt.
Catalysts: There are several factors that we believe should provide support for a higher stock price in the near and medium term:
1. Overreaction to earnings miss should dissipate as it hits or exceeds earnings targets over next several quarters
2. Barring double dip, revenues and earnings should continue to grow at reasonable pace
3. Firm should continue to benefit from the bankruptcy of the second biggest retailer in space (Circuit City)
4. Growing international sales including China
5. Should benefit from mobile market growth as well as a mini gaming cycle
6. Just restarted its stock repurchase program
7. Company seems to hit a bump once a year but its long term track record is impressive (see chart)
click to enlarge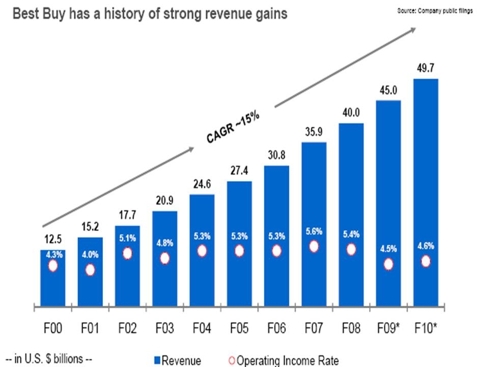 Click to enlarge
Recommendation(s): Given its growth prospects, international expansion, and industry leadership; we believe Best Buy is undervalued. In our opinion, the stock should be trading at a more reasonable rate of approximately 12-13 times next year's projected earnings of around $3.80. Our target Price is $45-$49, up from the current price of $34.80.
Disclosure: Long BBY