By Jeffrey P. Snider
Related to yesterday's observations about corporate cash, the broken record of IBM (NYSE:IBM) revenue continues to demonstrate the unwillingness of American businesses to freely spend on capex. While attention continues to focus on China and Asian results, not without good reason, the domestic and larger "Americas" segment continues to drag.
Revenue in China is down 20% Y/Y, reflecting both economic and political unease. Revenue in the overall Asia-Pac geographic segment was down 12% Y/Y. But more meaningful, in domestic macro terms, revenue in the Americas region was down once again, 4% Y/Y this time. The company singled out hardware sales in the United States for responsibility.
And that is a common theme as the trend of software-as-a-service shows both cost-conscious customers and an emerging technical competency. Companies are willingly forgoing some of the higher margin bells and whistles of in-house systems and opting for the bare minimum of functionality. That does not exactly portend free-spending preferences right around the corner.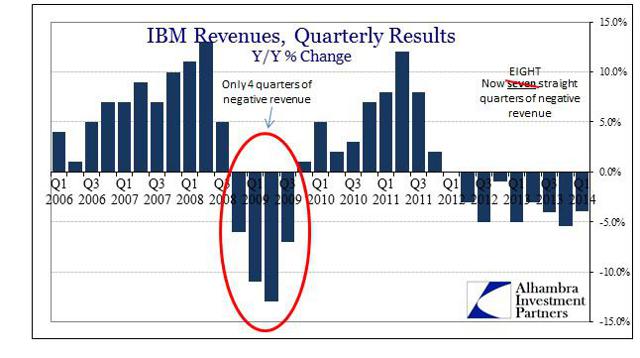 As a reminder, IBM's struggles align exactly with that early to mid-2012 slowdown - which has yet seen positive resolution. Instead, the company can only look back at the first half of the Great Recession in relative fondness. True and sustainable growth is a far more distant memory.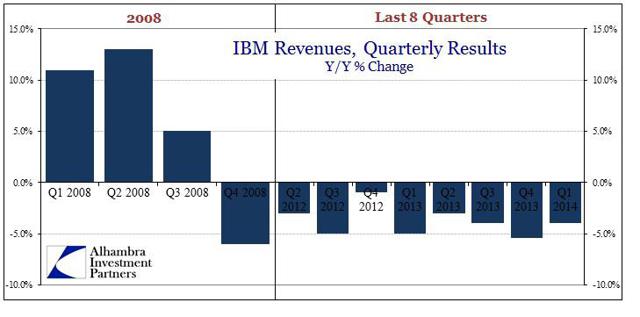 Disclosure: None.