By Jim Ryan
Since our last industry update in late 2009, specialty insurer stocks (mortgage, bond and title insurers) have ridden the wave of speculative fever that is generally associated with companies in industries that face an extremely uncertain future. In some cases, stock prices tripled by the end of April, only to come falling down by half within a month. At the heart of this phenomenon are expectations regarding the health of the housing market, as most of these stocks are wed, in one way or another, to the ability of consumers to repay mortgage debt. Most likely, some investors jumped on board with the view that most of these stocks represent a call option that could pay off big time in the event the situation improves and the specialty insurers (primarily the mortgage and bond insurers) find a way to survive. On the basis of fundamentals, however, we don't see that much has changed since our last appraisal of these industries, and we think this is still an area investors should avoid, with some exceptions.
Mortgage insurers are still biding their time as the large inventory of delinquent mortgages--particularly those that are more than 60 days overdue--remains in limbo. Though mortgage lenders have pushed forward to resolution a little bit, there is still a significant overhang of loans awaiting foreclosure, which will add to the shadow inventory. What's more, it is estimated that at least 20% of all residential homes with mortgages have negative equity (underwater mortgages), a factor that could induce even more homeowners to default on the monthly payment. We think the situation could get even worse in the second half as more homes are added to inventory, exerting pressure on prices and putting more homeowners underwater.
The three monoline mortgage insurers we cover, MGIC (NYSE:MTG), PMI Group (PMI), and Radian (NYSE:RDN), had a total of about 530,000 delinquent loans insured, or just fewer than 20% of their total book of business at the end of the first quarter of 2010. If we allow for a 40% cure rate (mortgages that get back on track), and another 20% are claims denied for fraud or misrepresentation, that leaves about 200,000 policies that will likely need to be paid. At an average of $45,000 per claim (the first-quarter average for the three firms), the ultimate total payment for loans that are currently delinquent would be about $9 billion. The total reserves for the three companies stood at just under $14 billion at the end of the first quarter. While that would not completely bankrupt the companies, it would leave just $5 billion in reserves standing behind the remaining 88% of the current policies in force. Even worse, although new delinquencies have leveled off a bit, the primary causes of the problem, lack of jobs and the growth in underwater mortgages, have yet to really abate, which could result in even more delinquencies going forward. We think the mortgage insurance industry is still too uncertain for investors.
Bond insurers are in even worse shape. Claims from insuring toxic mortgages contained in residential mortgage-backed securities and collateralized debt obligations (CDOs) have stressed capital to the point that the two largest companies lost their AAA ratings, a must in order to continue writing new business. Although two of the mortgage insurers have reached the maximum risk-to-capital ratio allowed under the law of many states, they are still issuing new policies, which is not something that can be said of MBIA (NYSE:MBI) and Ambac (ABK). Of the two, MBIA may be in slightly better shape, but both still seem to be like death row inmates waiting for a commutation that extends their existence. Only Assured Guaranty (NYSE:AGO), the bond insurer that refused to insure toxic mortgage-backed securities, is still writing new municipal bond insurance. Yet even an investment in Assured is not without elevated risk because it did insure securities containing second-lien mortgages. Additionally, Assured is still at risk on its large and growing municipal bond insurance policies. The faltering economy continues to weigh on state and local municipalities that are piling up deficits at an alarming rate, setting the stage for possible bond defaults. What's more, the market for new bond insurance has diminished. A few years ago about half of all new municipal bonds opted for insurance. Today, the number is less than 10%. Overall, we think the best days of this industry are behind it, at least until industry confidence is restored. Like the mortgage insurers, the future of the bond insurers (with the possible exception of Assured) is so clouded that there is no margin of safety large enough for us to recommend the stocks to investors.
In our view, title insurers are the lone investment opportunity in the specialty insurance sector. Unlike the mortgage and bond insurers, title insurers are not on the hook for insurance claims arising out of the housing market crisis. Claims losses in this industry vary from 5% to 9% of premiums over time, with staff and occupancy costs being the largest expense. Instead, title insurers have suffered from lack of transactions, the driving force behind their profits. Consequently, the firms have slashed costs to match a trimmed down market as opposed to the mortgage and bond insurers, whose existing policies weigh on any financial progress. First American Financial (NYSE:FAF) and Fidelity National Financial (NYSE:FNF) have both significantly reduced costs to levels where they can still profit from a much smaller market than that of two years ago. But that is where the similarity ends.
Fidelity National leaped above First American in 2008 by buying the distressed number-three company in the industry, pushing its market share to about 45% following the acquisition. Since then, however, Fidelity has lost a large chunk of the acquired business through agent defections and employee terminations. At the end of the first quarter of this year, the American Land Title Association estimated Fidelity's market share at 37%. While Fidelity presumably anticipated some loss in share from the merger, we doubt management thought it would be to this degree. Still, given the rock-bottom price Fidelity paid, this acquisition added significant shareholder value, in our opinion.
First American Corporation was recently split into two separate companies; an information solutions company that was renamed CoreLogic (NYSE:CLGX) and a title and specialty insurer now known as First American Financial, which retained the FAF ticker. First American Financial is the second largest title insurer with about 28% of the market. Prior to the Fidelity National acquisition mentioned previously, First American was the nation's largest title insurer, a distinction earned over a long history of aggressive marketing and business savvy. Because of its actions to grow organically, First American has not been quite as profitable as Fidelity National over the years, but it seems to have cultivated better business relationships, resulting in stickier customers.
Of the two title insurers we prefer First American, as we think it can, over the long run, continue reasonable growth with above-average profitability. Like Fidelity National, First American has reduced costs dramatically over the past three years, a factor that allowed it to book a small underwriting profit in the first quarter of this year. In time we think it will gradually increase margins as real estate transactions, the lifeblood of the business, increase slowly. First American, like its competitors, earns title insurance premiums on almost all real estate transactions, including foreclosures and short sales as well as from standard residential and commercial sales and refinancings. While we do not expect a quick turnaround in transactional volumes, we do think the situation will improve in the coming years, rewarding patient investors. (Click to enlarge)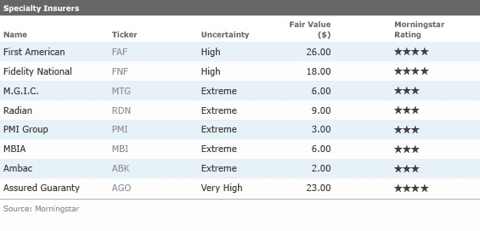 Disclosure: Morningstar licenses its indexes to certain ETF and ETN providers, including Barclays Global Investors (BGI), First Trust, and ELEMENTS, for use in exchange-traded funds and notes. These ETFs and ETNs are not sponsored, issued, or sold by Morningstar. Morningstar does not make any representation regarding the advisability of investing in ETFs or ETNs that are based on Morningstar indexes. Tim handles their stock strategist posts (separate feed) if you need help formatting or have other Morningstar-related questions.