Vanguard Natural Resources, LLC (NASDAQ:VNR) is a high-yield, diversified Master Limited Partnership that is worth a look for serious income investors determined to build long-term growth. Oil and gas companies make for excellent income vehicles for a variety of reasons: First, I expect domestic oil and gas production growth to be higher than domestic GDP growth. Second, intense drilling activity leads to strong reserve growth, which leads to future cash flow and supports distribution growth. Third, the energy exploration sector is likely to go through a consolidation phase in which acquisition-savvy energy businesses have a good shot at strengthening their market position (for instance, Linn Energy (LINE) (LNCO) is another energy player that could excel in such an environment).
I believe oil and gas equity investments like Vanguard Natural Resources offer investors a combination of high current income with prospects of an increasing distribution stream, and the potential for solid capital appreciation underpinned by strong reserve and cash flow growth. In addition, Vanguard Natural Resources' focus on strategic acquisitions suggests that investors could benefit from accretive portfolio acquisitions as well.
Share performance
Vanguard Natural Resources has had a solid unit performance over the last twelve month. Units are up approximately 8% over the last twelve month and 3% YTD.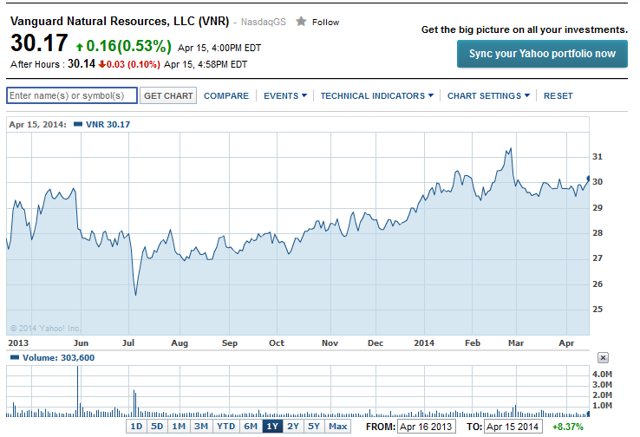 (Source: Yahoo Finance)
Attractive asset footprint
Vanguard Natural Resources' strategic acquisitions have led to a geographically diversified reserve base that consists of mature assets in most high-impact Basins in the United States. Vanguard Natural Resources is an active acquirer of oil and gas assets and has shelled out approximately $3.4 billion since its IPO in 2007 to build a diversified, growing resource base. The following chart provides an overview of Vanguard Natural Resources' asset footprint and proved reserves: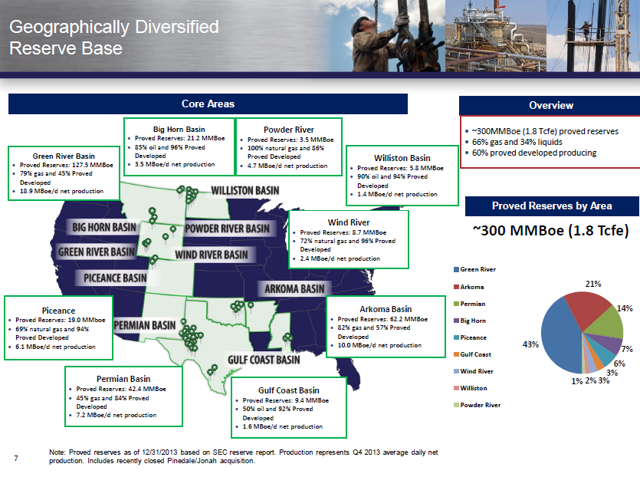 (Source: Vanguard Natural Resources IPAA Conference Presentation April 9, 2014)
Background
Of all the sectors in the economy, the oil and gas industry offers investors the most attractive risk/reward ratio. The United States is well on its way to achieve energy independence, driven by strong drilling activity in the most promising shale regions in the country (Permian Basin, Arkoma Basin, Piceance Basin, Williston Basin etc.).
I believe the United States is currently in the early stages of a larger oil and gas production boom that could last several years if not decades. Proved reserves in the high-impact shale regions continue to grow and offer investors a decent shot at capital appreciation. The slide below from Vanguard Natural Resources IPAA Conference Presentation suggests that the oil and gas industry is expecting a solid capex boom, which, ultimately, also offers acquisition opportunities.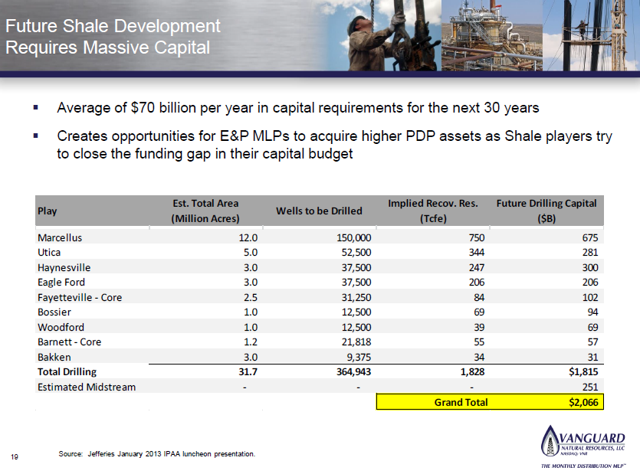 (Source: Vanguard Natural Resources IPAA Conference Presentation April 9, 2014)
Resource companies combine what I like most about equity investments: They have high distribution yields -- in the case of Vanguard Natural Resources, 8.35% -- and give investors exposure to a growing reserve base which, theoretically, should be reflected in the unit's price appreciation.
Distributions and yield
Vanguard Natural Resources currently pays investors $0.21 per unit monthly, which translates into annual payments of $2.52 per unit (equivalent to an annualized forward distribution yield of 8.35%). I also really like that Vanguard Natural Resources pays its distributions monthly, which opens up more reinvestment opportunities for investors and allows them to better match expenses and liabilities.
Reserve, production and distribution growth
A savvy acquisition policy and strong execution skills have led to an explosive rise in Vanguard Natural Resources' reserves, average annual production and distributions.
Proved reserves stood at 11 MMBoe in 2007 and have increased a whopping 2,627% to 300 MMBoe in 2014. Average annual production is also expected to increase spectacularly from 1,935 Boe/d in 2007 to 53,550 Boe/d in 2014 -- a hike of 2,667%. Vanguard Natural Resources has increased distributions by 48% since it conducted its IPO in 2007.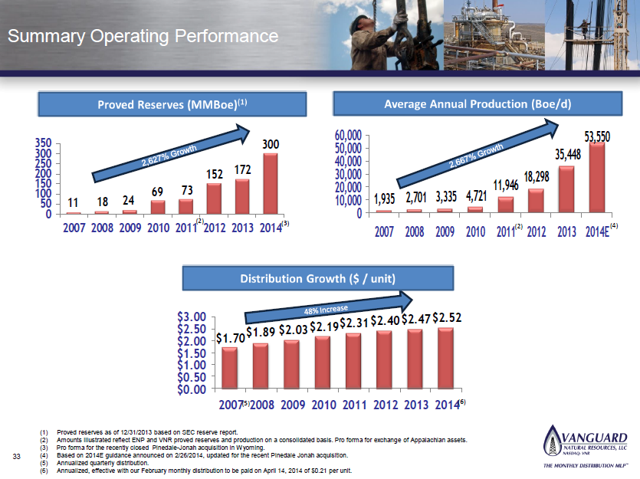 (Source: Vanguard Natural Resources IPAA Conference Presentation April 9, 2014)
Challenges
Like any company that focuses on an acquisition strategy to deliver shareholder value, there is a very real risk that companies grow too quickly and undervalue the importance of proper asset integration. In addition, firms in a buoyant industry often run the risk of overpaying for properties, which could lead to impairment charges down the road.
Conclusion
I think investors do not need to be concerned that the oil and natural gas bonanza in the United States will come to an abrupt end in the near future. Quite the opposite: Serious amounts of capital expenditures are required to develop shale assets around the country, offering both organic growth and acquisition opportunities for companies with strong balance sheets and available cash.
In addition, Vanguard Natural Resources' proven reserve growth and distribution growth record highlight that the energy company can create substantial cash value for unitholders. With expected tailwinds in the energy sector, a strong production growth record and an 8.4% distribution yield, Vanguard Natural Resources is a great income vehicle for investors who want to build long-term wealth. Long-term BUY.
Disclosure: I am long LINE. I wrote this article myself, and it expresses my own opinions. I am not receiving compensation for it (other than from Seeking Alpha). I have no business relationship with any company whose stock is mentioned in this article.