Monday, April 28 will mark the end of the 180 day lockup period, following the October 30, 2013 IPO of Surgery Care Affiliates Inc (NASDAQ:SCAI). At this point, major pre-IPO shareholders in the national surgery center operator will be allowed to begin selling their outstanding shares. These shareholders include private equity firms and the company's directors and executives.
The sudden increase in SCAI shares available for sale after the unlocking will likely cause a temporary dip in the price of shares, possibly opening up a short opportunity for aggressive investors.
After the firm's IPO priced at $24 per share, at the high end of the expected range, SCAI made steady gains through mid-January, peaking at $37.69 per share before cooling to hover between $30 and $32 per share. SCAI closed at $29.40 per share on April 16.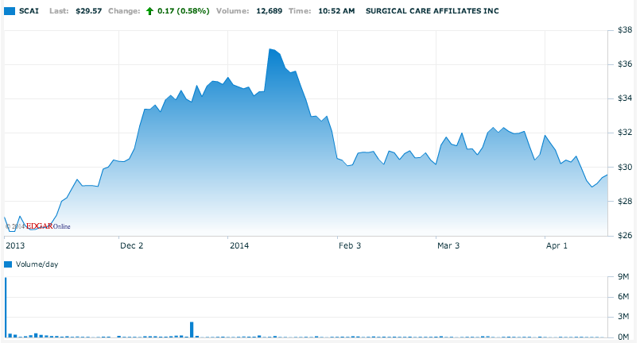 Click to enlarge
Approximately 28.4 Million Shares Could Be Unloaded
The April 28 unlocking will allow approximately 28.4 million shares of SCAI stock to be potentially sold, far exceeding the 9.8 million shares that SCAI offered in its IPO.
By far the largest shareholder is private equity firm TPG Funds, with some 25.3 million shares. Though SCAI has generally performed quite well on the market, TPG is likely to sell off some of its shares in the interest of returning capital to its investors.
SCAI directors and executives will also be able to sell their shares beginning on the 28th, and will likely capitalize on their first opportunity to sell since the IPO.
Overview Of SCAI's Surgery Facilities
SCAI provides surgical care for physicians, health systems and payers nationwide, essentially allowing its partners to outsource their surgical functions.
The firm's network of outpatient surgery facilities includes 167 ambulatory surgery centers, five surgical hospitals and an 11-location sleep center. The firm owns and operates facilities across 34 states in partnership with 42 health systems and some 2000 physician partners.
This large scale allows SCAI to provide comprehensive services at a far lower cost than its partners would pay to replicate the same functions in-house.
Along with its low-cost ambulatory surgical centers, SCAI provides tools for clinical benchmarking, operating efficiency, care coordination, clinical best practices, and supply chain management.
Competitors
SCAI competes with firms that offer similar ambulatory surgery center partnerships, including Kaiser Permanente, HCA Holdings (NYSE:HCA), Symbion Healthcare, Amsurg Corp (NASDAQ:AMSG), and Ambulatory Surgical Centers of America. Some of these competitors have access to greater financial resources than SCAI.
Conclusion For Investors in SCAI
Despite SCAI's relatively strong performance post-IPO, the chance to sell for major shareholders is a possibility that could impact the stock price negatively.
Investors should watch for this upcoming unlocking and consider an impending, temporary short opportunity on EIGI.
Disclosure: I am short SCAI. I wrote this article myself, and it expresses my own opinions. I am not receiving compensation for it (other than from Seeking Alpha). I have no business relationship with any company whose stock is mentioned in this article.