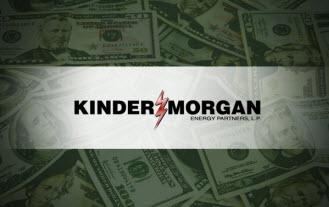 Kinder Morgan, Inc. (NYSE:KMI) has been on my radar screen for quite some time. I like Kinder Morgan's business model. Kinder, for the most part, operates like a giant toll road and receives a fee for the company's services. This significantly reduces commodity price risk. The company's customers include major oil companies, energy producers and shippers. I posit the current US oil and gas renaissance will augur the company's bottom line, providing the opportunity for both capital appreciation and dividend yield growth. In the following sections, I will lay out my bull case for the stock.
Kinder Morgan Inc. delivered strong earnings results
Kinder Morgan, Inc. reported first-quarter 2014 earnings from continuing operations of 73 cents per limited partner unit, beating consensus estimates. The quarterly results were 10.6% higher year-over-year. Revenues increased 37.2% to $3,652.0 million year-over-year as well. The strong performance was due to higher volumes in its interstate pipeline network. Chairman and CEO Richard D. Kinder stated,
"KMI had an excellent first quarter led by continued strong performance at Kinder Morgan Energy Partners (NYSE:KMP) and solid results at El Paso Pipeline Partners (NYSE:EPB). We are excited about the future as we own and operate what we believe is a great set of midstream assets spanning the United States and western Canada. We have identified approximately $16.4 billion in expansion and joint venture investments at the Kinder Morgan companies that we are confident they will come to fruition and drive growth at KMI for years to come."
Results directly related to the US Oil and Gas renaissance
With new oil and gas plays being discovered on a regular basis, Kinder Morgan has plenty of runway ahead. Billions of dollars each year to build new energy infrastructure and expand existing assets will need to be invested by the company just to keep pace. Not a bad problem to have. This should underpin the company's results for some time to come.
The company increased the quarterly dividend
The company increased its quarterly dividend to $0.42 per share, 11% higher year-over-year. The company reported cash available to pay dividends of $573 million, up 12% from last year. Kinder Morgan remains on track to meet or exceed its published full-year budget of $1.78 billion in cash available to pay dividends. The company's strong cash flow enabled it to raise its dividend. Kinder Morgan's strong cash flow this quarter was directly related to the company's interest in Kinder Morgan Partners. Kinder Morgan Partners reported strong quarterly results, allowing the partnership to raise its distribution by 5% to $1.38 per unit.
Kinder Morgan is a model stock for income and dividend investors
A model investing approach is to construct a diverse portfolio of stocks with significant capital gain potential and exceptional dividend yields. Kinder Morgan definitely fits the bill.
With the Fed keeping interest rates at all-time lows for the foreseeable future, investors are being driven to dividend-paying stocks in a search for yield. This should create substantial demand for Kinder Morgan's stock over the coming years.
Furthermore, Kinder Morgan is a dividend-paying stock with the potential for both capital gains and income production. This combination of capital gains and income production will be necessary to fund the lengthening retirement that comes with a greater life expectancy for investors.
There may be more volatility in front of us with this year, as the Russia/Ukraine situation is still unresolved. Nevertheless, this may be a good point to start a position in this high-yield dividend-paying opportunity.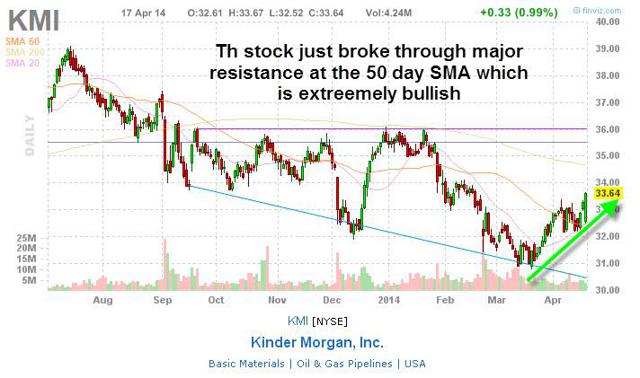 (Chart provided by Finviz.com)
The stock is trading just 10% off its 52-week low. Further, it has reversed trend and broken through major resistance at the 50-Day SMA mark. This appears to be a buying opportunity at this level.
The Bottom Line
Kinder Morgan is a solid long-term growth story and pays a hefty dividend. These facts, coupled with the Fed's announcement that rates will remain at ultra-low levels for at least the foreseeable future leads me to believe the company is a better hedge against inflation than fixed income instruments such as bonds and CDs. Factor this in with the statistic that historically, dividend-paying stocks have outperformed non-dividend-paying stocks, and you have a recipe for outstanding returns. Nevertheless, if you choose to start a position in any stock, I suggest layering in a quarter at a time at a minimum to reduce risk.
Disclosure: I have no positions in any stocks mentioned, and no plans to initiate any positions within the next 72 hours. I wrote this article myself, and it expresses my own opinions. I am not receiving compensation for it (other than from Seeking Alpha). I have no business relationship with any company whose stock is mentioned in this article.