Shares of Apple (NASDAQ:AAPL) have gone nowhere in the last two years, currently trading at ~$520, not too far above its price in the $570's at this time in 2012, an appreciation of about 10% in two years (see chart). This comes after a blistering near-hundred-fold move from the $7 lows in 2003 to its all-time high of ~$705 in Sept. 2012. While long-time Apple holders may be sitting cozy even with the meager returns recently, the question for newer investors rightfully is whether Apple shares after this long-term consolidation are ready to make a secular move higher, or whether the heyday is over for Apple and any rise above the recent $570's highs is likely to meet a wall of selling.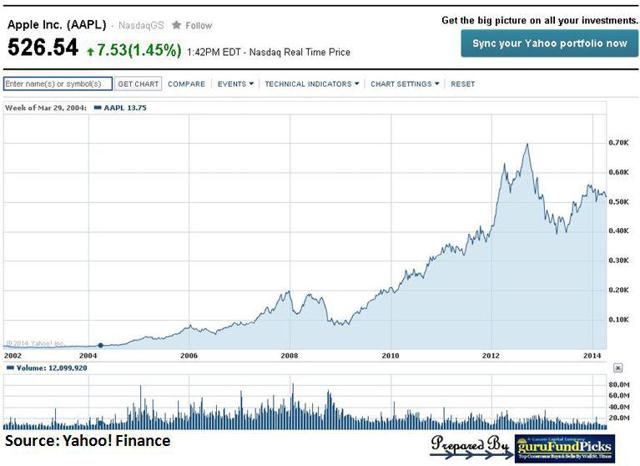 Certainly, there are compelling arguments on both sides. On the bearish front, an argument can be made that maybe Apple has a hangover from its past unrivaled leadership in the smartphone market, and it has been slow to adapt to consumer needs. Its products are priced way too high (by some accounts, as much as 50% to 100% higher based on comparable features), given that its competitive advantage in the smartphone market has all but disappeared, and in fact, features on many high-end Androids can leave iPhone users salivating. Also, Apple's ecosystem is nowhere near as superior as it once was to its competition, as almost all iPhone app developers also have comparable versions for the android. And on certain features, like display size, for instance, it is sorely behind its competition. The thinking then goes that either Apple will have to cede market share and profits due to its lack of comparable features that smartphone users have come to expect (display size, for instance), or it will price itself even more out of the market, thereby still ceding market share and profits. It is a lose-lose situation for Apple, if you believe that thesis.
On the other side, Apple bulls will make an argument based on valuation, new product launches that can reinvigorate growth, its brand equity or cachet, and its large cash hoard. An interesting article in Business Insider this month may blow aside the price leadership edge of Android smartphones by demonstrating that in their words, "Android is For Poor People" by painstakingly mapping where tweets are coming from, and their source devices, to what we know about demographics about those areas. You can take that study and make an argument that even if Android were poised to become the dominant OS for smartphones, that Apple can preserve its turf among high-end and wannabe high-end users, and that even with the higher pricing, it can preserve and increase its market-share globally as an aspirational brand.
On the product front, Apple is poised for a strong slew of product launches soon, that may reinvigorate growth. Among the many talked-about launches is its entry into the wearable tech category, with an iWatch, that could be a game-changer. Also, it is scheduled to soon release upgrades to many of its existing products this year, including an upgrade to Apple TV and an all-new iPhone with a larger display that could help it recapture some of the lost share in the smartphone market. In terms of valuation, Apple trades at near bottom given its high growth and promise of future growth. At current prices in the $520's, shares trade at just 12.9x TTM earnings, 7.8x current EV/EBITDA and 2.6x current PSR (price-to-sales ratio), while 5-year growth estimates are at 19.1%, an acceleration from the current single-digit growth rates (based on the latest quarter).
We can see strong merits in both arguments, and it is in these kinds of situations where there is tremendous uncertainty that we have found strong merit in analyzing the collective or consensus buying and selling by leading fund managers, especially legendary or guru fund managers, including icons such as Buffett, Icahn, Klarman, Paulson and 74 others, that have a long-term track record of consistently beating the markets. On our site, we track the collective or consensus buying and selling of over 330 of our hand-picked leading Wall Street fund managers, based on their latest 13-F and SC 13D/G 5% ownership filings. Their ownership change over multiple quarters, and net buying and selling, both in shares and in number of funds, and the percent outstanding shares held by these leading funds, especially when compared to similar sized peers in the same industry, is like reading tea leaves. It gives us the extra edge, increasing the probability of making the right decision, and in many cases saving us from making a wrong decision on a stock.
The collective or consensus buying and selling activity of guru fund managers in Apple in the last six quarters, up to 3Q'12 is shown in the Table below.

As illustrated in the Table, guru fund managers added aggressively to their positions in the latest two quarters, 3Q'13 and 4Q'13, buying a net 3.91 mill. shares, an increase of 42% in just the last two quarters from the 9.38 mill. shares they held at the end of the prior 2Q'13. The largest guru fund holders of Apple shares at the end of 4Q'13 were:
Deep value and shareholder-activist hedge fund manager Icahn Capital Management, led by billionaire Carl Icahn, and with $30.5 bill. in 13-F assets, that holds 4.73 mill. shares, including adding 0.86 mill. shares in 4Q'13;
Value-oriented shareholder activist hedge fund Greenlight Capital, co-founded by billionaire David Einhorn, and with $7.29 bill. in 13-F assets, that opened a new 2.40 mill. share position in 4Q'13; and
One of the world's largest hedge fund managers Citadel Advisors, led by billionaire Kenneth Griffin, with $76.8 bill. in 13-F assets, that holds 1.59 mill. shares, including adding 1.05 mill. shares in 4Q'13.
Other large holders of Apple include Vanguard Group and BlackRock among mega funds, that hold 44.15 mill. shares and 43.98 mill. shares resp.; and tech-focused hedge funds Coatue Management and Ashmore Wealth Management that hold 1.51 mill. shares and 0.8 mill. shares resp.
You can view complete summarized 13-F's of all of these funds, and over 330 more for free on our website, GuruFundPicks.com.
In our experience, the large 42% increase in guru fund ownership in such a short period of time in the last two quarters is uncommon and significant for a company Apple's size, conveying in no uncertain terms the bullishness of guru fund managers on Apple shares. Furthermore, looking at the Table, this accumulation by guru fund managers in 3Q'13 and 4Q'13 followed a long period of selling in prior quarters from 3Q'12 to 1Q'13 during which the collective ownership fell by 35%. This fall in ownership among guru funds starting in 3Q'12, and even earlier by our handpicked 27 of the world's largest or mega funds starting in 2Q'12, preceded and coincided with the fall in Apple shares from the $700 level two years ago.
We have learned to heed to these signals from leading fund managers, especially when they buy or sell collectively or in consensus. In our research, we have observed strong correlation between leading fund manager ownership, including their consensus buying and selling activities every quarter, and the stock's immediate and long-term performance. We have documented many such cases on our website and in our archive of articles on Seeking Alpha, including five cases we discussed in just the last two weeks on Gilead (NASDAQ:GILD), Facebook (NASDAQ:FB), BlackBerry (NASDAQ:BBRY), Mannkind (NASDAQ:MNKD) and Micron (NASDAQ:MU).
The strong buying by guru funds in the latest quarter, and also by our 42 tech sector-focused funds, 59 billionaires, 54 new masters and 40 tiger fund managers, that collectively bought 9.52 mill. shares in the latest 4Q'13, signals to us that leading fund managers, with the vast resources and market intelligence at their disposal, and their sector and industry-specific knowledge have been collectively betting on Apple shares as it traded in the $450 to $550 range in the second half of the year. With Apple shares currently in the $520's, only slightly above the mid-point of their buying range, we are more inclined to agree with the bulls that Apple's discount valuation, projected strong growth, and the upside related to upcoming product launches, especially with respect to wearable tech (starting with the rumored iWatch) will likely mean higher share prices going forward.
The market is currently in turmoil, and buys in the tech sector, that also have held up well in the correction, are scarce. Apple shares have hardly budged while the tech sector has gone into meltdown. Even shares of mighty Google (NASDAQ:GOOG) have fallen off 12% off their early-March highs, while Apple shares are down about 1%-2%. This relative strength of Apple shares gives us additional technical confirmation that the larger market sees little downside from current levels. Meanwhile, the upside continues to be promising due to both re-invigorated growth associated with future product launches and its discount price. We believe that Apple can easily trade at 15x earnings based on its projected growth, and using FY 2015 earnings of $46.61, we come up with a target price close to its prior $700 high that it can attain in the next 12-18 months, an attractive proposition given the limited downside.
Disclosure: I have no positions in any stocks mentioned, but may initiate a long position in AAPL over the next 72 hours. Additional Disclosure: Use of GuruFundPicks' research is at your own risk. You should do your own research and due diligence before making any investment decision with respect to securities covered herein. You should assume that as of the publication date of any report or letter, GuruFundPicks, LLC, has a position in all stocks (and/or options of the stock) covered herein that is consistent with the position set forth in our research report. Following publication of any report or letter, GuruFundPicks intends to continue transacting in the securities covered herein, and we may be long, short, or neutral at any time hereafter regardless of our initial recommendation. To the best of our knowledge and belief, all information contained herein is accurate and reliable, and has been obtained from public sources we believe to be accurate and reliable, and not from company or persons who have a relationship with company insiders. Also, in our preparation of this article, we referred investor resources such as Zacks.com, Marketsmith and Sentieo.
Business relationship disclosure: Business Relationship Disclosure: The article has been written by the Hedge and Mutual Fund Analyst at GuruFundPicks.com. GuruFundPicks.com is not receiving compensation for it (other than from Seeking Alpha). GuruFundPicks.com has no business relationship with any company whose stock is mentioned in this article.