Once again, it's earnings season. For us, PNC Financial Services Group (NYSE:PNC) provided a pleasant surprise by beating estimates.
The company reported a 6.5 percent surge in first quarter income, reflecting lower credit loss-provisions and a drop in expenses. This percentage translates to a $1.06 billion profit, compared with $995 million this time last year. For shareholders this was a spike from $1.74 to $1.82 a share. (Wall Street analysts were anticipating $1.66 a share.)
PNC Profile
PNC is among the ten biggest US banks. This Pittsburgh bank operates in 15 states, stretching from the Atlantic area to the Midwest, with 2,500 branches.
The bank offers a diverse range of financial services, including:
• retail banking
• corporate banking
• insurance
• investments
• personal asset management
• institutional asset management
• capital markets services
Currently, PNC owns the investment bank Harris Williams and has a quarter share in the money management firm BlackRock (NYSE:BLK).
Although PNC also owns Global Investment Servicing, it is selling this division for $2.3 billion to Bank of New York Mellon (NYSE:BK), which will pay in money, stock, and debt.
Q1 Highlights
Highlights from PNC's first quarter include:.
• A 6.3% increase in loan portfolio to $198.3 billion.
• A 9.5% spike in commercial loans.
• A 1.6% increase in consumer loans to $77.4 percent. (Analysts attributed this slow growth to a lethargic mortgage market.)
While analysts projected $3.85 billion in revenue, PNC missed this target by 4.5%, due to lower than expected yield on purchase accounting accretion, loans, and securities. In addition, PNC saw a 4.4% fall in non-interest based expenses, to $2.26 billion, due to reduced personnel costs and marketing expenses. PNC also saw a $4 million drop in residential mortgage banking revenue.
These losses, however, are minimal, compared with other American mega-banks'. J.P. Morgan (NYSE:JPM), for example, paid out $6 billion-just in legal fees and fines and Bank Of America (NYSE:BAC) also contributed heavily to the American taxpayers and the legal community by paying massive fines and legal fees.
Performed Better Than Expected
Overall, PNC performed better than we expected. Regional banks are experiencing slow revenue growth, due to low interest and weak loan demand. In order to boost the bottom line, many have resorted to a defensive strategy of cutting expenses, rather than aiming for more revenue. In addition, many have also resorted to experimenting with consumer offers to increase income from fees and/or relying on wealth management strategies, rather than aggressive marketing for financial services.
Blackrock, for example, has been able to weather the challenging environment, relying on its core advisory services.
Historically, PNC stock has shown a strong, steady increase.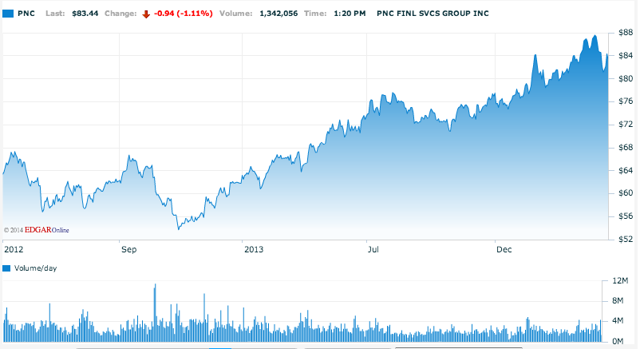 (Nasdaq.com)
Slashing Expenses With New Technology
PNC has been led by William Demchak, who has held the position since last year. Demchak's approach has been to focus on improving how the bank's delivery of basic retail services, via increasing accessibility to physical branches, and simultaneously promoting mobile banking. Mobile retail banking in particular has been a simple yet elegant way to slash expenses and appeal to a broader consumer base.
Investors Should Step Up To What PNC Offers
The bank has some positive plans for its investors, starting with an increase quarterly dividends to 9 %, or 48 cents, per share. As seen below, PNC has continued to steadily increase its dividends in recent years.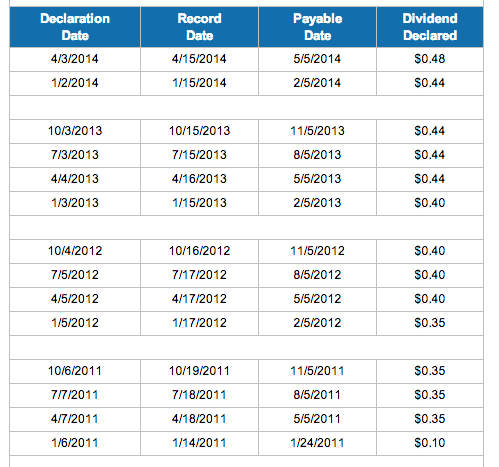 (phx.corporate-ir.net/phoenix.zhtml?c=107...)
The bank is currently awaiting approval on this by the Federal Reserve; however, PNC has already been noted as able to pass the bank stress test (a hypothetical drill to see if a bank can handle an economic calamity).
In addition, PNC will buy back $1.5 billion stock, increasing PNC value for current investors.
We strongly recommend investors consider buying into PNC and BLK, over JPM and BAC.
Disclosure: I have no positions in any stocks mentioned, and no plans to initiate any positions within the next 72 hours. I wrote this article myself, and it expresses my own opinions. I am not receiving compensation for it (other than from Seeking Alpha). I have no business relationship with any company whose stock is mentioned in this article.