By Craig Bowles
Overview
Netflix, Inc. (NASDAQ:NFLX) is slated to report 1Q2014 earnings after the bell on Monday, April 21. The earnings release is expected at approximately 4:05 p.m. EST with a conference call to follow at 5:00 p.m. that is webcast through Netflix Investor Relations. The company operates in three segments: Domestic Streaming, International Streaming, and Domestic DVD.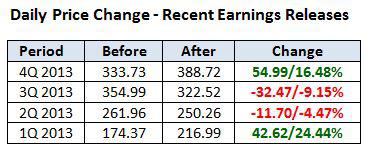 Outliers & Strategy
Key measures:
Earnings Per Share: Netflix typically reports a "clean" number that is comparable to consensus estimates but will exclude items when necessary. Company guidance in January was for $0.78. The current Street estimate is $0.83 (range $0.76 to $1.01) (Source: Yahoo! Finance).
Revenues: Analysts expect an increase of 23.6% y/y to $1.27 bln (range $1.24 bln to $1.28 bln).
Earnings Per Share Guidance (2Q 2014): Analysts expect Netflix to earn $1.01 with a range of $0.65 to $1.50, so guidance outside of this range could impact shares.
Insiders sold 1,067,870 shares during the past six months.
Netflix shares have shown a 1-day average price change on earnings of 13.3%. Options are pricing in an implied move of 13.21% off earnings.
Recent News
04/15: Netflix recently agreed to pay Comcast for a more direct route through its network and now speed is up 65 percent if Comcast is your ISP, according to a post at Wall St. Cheat Sheet.
04/15: Pay TV subscriptions expected to rise through 2019, according to an article by USA Today.
04/14: Wedbush says 1Q advertising spending estimates may be too low with a high sign-up rate for House of Cards. Eventually, the Comcast deal will force a price increase, according to a post on Benzinga.com.
04/10: The European Union's tough new rules enforcing net neutrality could make it easier for Netflix to cost-effectively compete for business, according to a post on TheMotleyFool.com.
02/25: Netflix could lose House Of Cards and Orange Is The New Black by 2015, according to a post on Benzinga.com.
Technical Review
After gapping up on last quarter's earnings release, Netflix shares are trading at similar levels as prior to that upside move, which is also where the CEO previously sold $5.3 mln in stock. The stock price is testing below its 200-day MA. Volatility is part of this stock's profile but the last five years have been more of a multi-year boom/bust cycle where the 200-day MA has been an accelerator point in direction change. Short-term moving averages are still above the long-term averages leading technicians into a chorus of "oversold." Around $320 remains support, below which finds very little support down to $250. Conversely, a strong report has possible resistance at the 20-day MA's $361 and then the 40-day MA's $405. (Chart courtesy of StockCharts.com)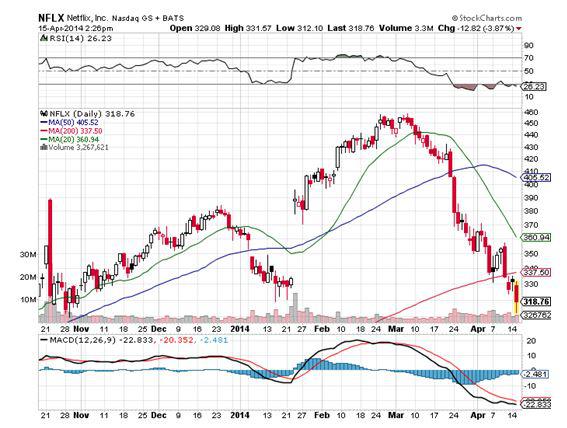 Summary
Netflix shares have already had their biggest decline since rising from the late 2012 low when trading at just over $50. Expectations were running high ahead of the previous release but this quarter hasn't seen consensus budge the last two months. A combination of increased competition and sheer magnitude of the previous stock price rise are possible considerations. Netflix has beaten earnings consensus by a minimum of 3c the last three quarters with mixed results in the stock price. A beat by more than 10c with solid subscriber additions would probably support a short-term oversold bounce. A bearish report might worry even long-term bulls with the decade uptrend line closer to $100 than $300.
DISCLAIMER: By using this report, you acknowledge that Selerity, Inc. is in no way liable for losses or gains arising out of commentary, analysis, and or data in this report. Your investment decisions and recommendations are made entirely at your discretion. Selerity does not own securities in companies that they write about, is not an investment adviser, and the content contained herein is not an endorsement to buy or sell any securities. No content published as part of this report constitutes a recommendation that any particular investment, security, portfolio of securities, transaction or investment strategy is suitable for any specific person.
Disclosure: I have no positions in any stocks mentioned, and no plans to initiate any positions within the next 72 hours. I wrote this article myself, and it expresses my own opinions. I am not receiving compensation for it (other than from Seeking Alpha). I have no business relationship with any company whose stock is mentioned in this article.
Editor's Note: This article covers one or more stocks trading at less than $1 per share and/or with less than a $100 million market cap. Please be aware of the risks associated with these stocks.