Western Asset Mortgage Capital Corporation (NYSE:WMC) is a real estate investment trust, or REIT, focused on investing in, financing, and managing primarily Agency Residential mortgage-backed securities. Although our core investment strategy will be focused on Agency RMBS, we also opportunistically supplement our portfolio with residential mortgage-backed securities that are not guaranteed by a U.S. Government agency or sponsored entity, commercial mortgage-backed securities, and other asset-backed securities.
There are two news releases on the Western Asset website here. The articles are pop-ups on its news page shown here.
I track Western Asset closely, as I hold this stock myself. I like to buy more shares after the ex-dividend date, when the price drops, then ride the price appreciation up for the next 60 days leading to the dividend. You always hear the saying, "Buy low, sell high." Here is the perfect stock and the timing in the market to buy low. I recommend you hold this stock for the double-digit dividend it pays.
In my chart, I display the highlights of the last 90 days, where the last ex-dividend date was December 26, 2013, with investors bidding up the price to $17.40 on December 23, 2013. The price dropped into the $14 range in January 2014, then began a 60-day climb to a high of $17.05 on March 19, 2014 just before the ex-dividend date on March 27, 2014. You can check any website that shows the stock price history, but you should appreciate the roller coaster ride and learn to get on and get off for the maximum profit.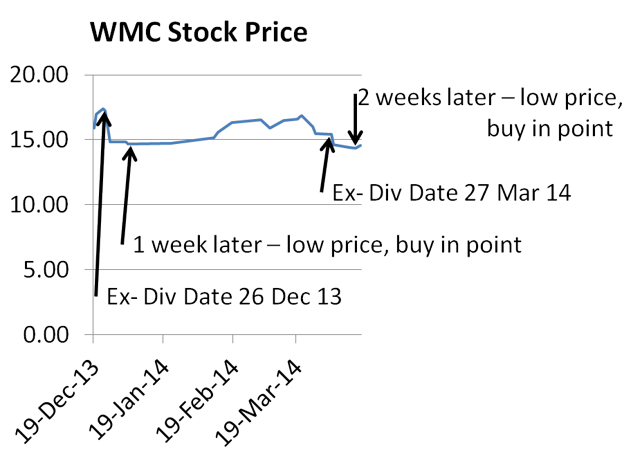 Click to enlarge
Another news release from the company's website listed above reads:
On March 20, 2014 Western Asset Mortgage announced that its Board of Directors declared a cash dividend of $0.67 per share for the first quarter of 2014. The dividend takes into account the approximately 10.5% increase in shares outstanding resulting from the stock portion of the Company's 2013 fourth quarter dividend. Today's dividend is payable on April 29, 2014 to common shareholders of record as of March 31, 2014, with an ex-dividend date of March 27, 2014.
The stock price had climbed from a low of $14.64 on January 2, 2014 to the high of $17.05 on March 19, 2014. Profit-takers sold, and the price settled near $16.00 on March 26, 2014 before the ex-dividend date. Since the stock price has dropped to a low of $14.18 on April 15, 2014. Now is the time to buy. Over the next 75 days, the price will once again climb near $17 dollars, and you can either take the dividend, or sell prior to the ex-dividend date for a healthy profit.
On April 10, 2014 the company announced that on April 9, 2014 it closed a public offering of 13,000,000 shares of its common stock. The 13 million shares of common stock for total estimated gross proceeds of approximately $193 million. The Company has also granted the underwriters an option to purchase up to an additional 1,950,000 shares of common stock. The Company intends to use the net proceeds of the offering primarily to purchase Agency RMBS (residential mortgage-backed securities), Non-Agency RMBS and CMBS (commercial mortgage-backed securities), focusing primarily on Agency RMBS and for general corporate purposes.
The company just gained $193 million dollars to invest, but also gained 13 million stock holders to share the profits with. This should equate to a non-issue, as the additional funds will be invested in similar investments that create a similar return for all investors.
Western Asset Mortgage Capital is a strong buy with a strong upside, whether you buy to hold and take the dividends (paying an 18.37% return), or buy now and sell prior to the ex-dividend date 75 days from now. Our recommendation is to buy and hold, as the company has solid investments and a good strategy for the near term. The Federal Reserve has committed to holding interest rates low for the remainder of 2014, and hinted that the 2014 policies may remain through 2015 to maintain stability in the markets.
Disclosure: I am long WMC. I wrote this article myself, and it expresses my own opinions. I am not receiving compensation for it (other than from Seeking Alpha). I have no business relationship with any company whose stock is mentioned in this article.
Additional disclosure: I purchase more stock in WMC after the ex-dividend date, as this is the best time to buy in.