I finally had the opportunity to speak with management at Costar Technologies (OTCPK:CSTI) last week, following the release of 2013 Q4 results on March 31, 2014. Admittedly, fourth-quarter results were disappointing on two fronts. In my initial investment review of the company, I forecast Q4 revenue of $5.1 million. Q4 is traditionally the company's softest seasonal quarter given that its retail customers are more focused on holiday sales, and I underestimated the degree to which business would slow collectively with Wal-Mart Stores, Inc. (NYSE:WMT) and Diebold, Incorporated (NYSE:DBD). For the full year, revenue from these top two customers advanced by more than 75% to $16.2 million. Revenue from other customers was down 1% in 2013 to $10.3 million. The second disappointment for the quarter was a one-time write-down of cost of goods sold of $551,000 related to the prepayment of inventory. This came as a surprise to me, but I suspect it explains some of the stock's price weakness over the past couple of months.
I think it is important to note management's comments about revenue growth in the fourth-quarter press release. Specifically, James Pritchett, President and CEO of the Company noted:
"One of our largest retail customers significantly increased their remodel program in 2013, making up for a limited number of remodels in the prior two years due to a weak economy. We are pursuing additional revenue opportunities in 2014 to offset the temporary increase in sales caused by this "catch up" period, which we estimate increased 2013 revenue by approximately $3,000 to $4,000." (Source: Q4 Press Release)
Financial figures in the press release are in 000's, so excluding the $3-4 million in 2013 contribution, a normalized revenue growth rate for the company in 2013 was between 15-20%. Reported revenue for the year was $26.5 million, up 35% from $19.6 million in 2012 revenue. I'm currently estimating 2014 revenue of $26.9 million, a relatively modest uptick from the $26.5 million reported in 2013, but up about 15% after adjusting for the $3-4 million in catch-up revenue. I have a 2014 EPS forecast of $1.50.
For the first quarter, I'm not expecting a significant improvement from last year's Q1 revenue of $7.3 million and $0.41 in EPS. However, I expect free cash flow generation will be impressive, as the year-end inventory level of $7.2 million is reduced. I expect free cash flow for the quarter will exceed $1.5 million, bringing CSTI's cash balances to over $2.00 per share. The company has no long-term debt.
I recognize that CSTI has significant customer concentration, illiquidity in its stock trading, and the company's stock is listed on the OTC Markets. However, with the stock at around 6x my 2014 earnings estimate and hopefully over $2.00 a share in cash as of the end of March, I find the stock to be quite inexpensive. If investors gain confidence in the strategic value and longevity of the relationships with WMT and DBD, I continue to see a discounted cash flow value for CSTI of around $15 per share. I expect first-quarter results will be reported in about a month, based on prior earnings releases.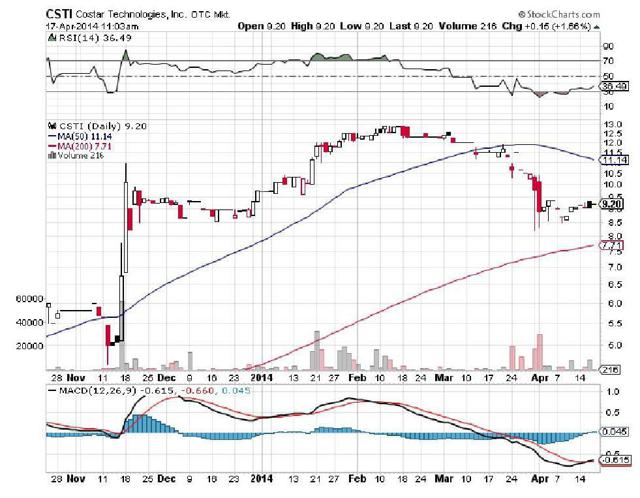 Disclosure: I am long CSTI. I wrote this article myself, and it expresses my own opinions. I am not receiving compensation for it (other than from Seeking Alpha). I have no business relationship with any company whose stock is mentioned in this article.