European Union Public Enemy #1: Deflation
European Central Bank officials have been talking a lot about fears concerning the possibility of the EU moving into a state of deflation. Even agencies such as the International Monetary Fund (IMF) have attempted to warn the ECB of the consequences of deflation on the fragile EU economy. However, these risks often lack transparency. The primary concern of deflation in the EU stems from the region's debt load and the effects of deflation on efforts of countries such as Greece to repay creditors. Since Greece's debt is denominated in Euros--and therefore goods--accelerating price levels will aid in easing the debt burden since in a year for example the debt will be worthless. Deflation counteracts this easing of the debt burden, and an already fragile financial system could be at risk for another crisis. Many economists argue that deflation also discourages spending based on the same premise. If one's money will be more valuable in the forthcoming year, as it is in states of deflation, one will be incentivized to save rather than spend. This will have negative consequences for economic growth despite record low interest rates within the economic bloc. Finally, the recent strength in the Euro (EUR) has come under scrutiny as a possible cause of deflation. A stronger currency hurts the region's exporters, and causes import prices to drop as foreign goods become relatively cheaper. Below is a chart of the last 6 prints of the EU Flash Consumer Price Index and a chart of EU Harmonized Index of Consumer Prices.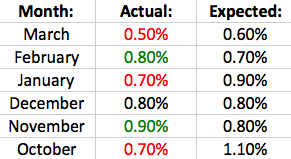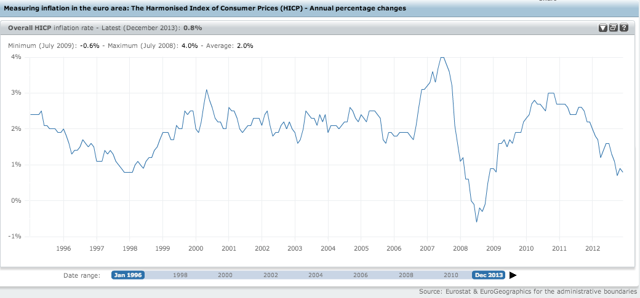 Future ECB Policy and Its Implications on the Euro:
The bottom-line is that the economic and political risks that deflation presents the Eurozone are too great for the ECB to ignore. Although ECB chief Mario Draghi has refrained from building up investor expectations for further monetary policy, this week he has recently changed his tone to a more dovish stance. Last weekend, Mario Draghi spoke about the strength of the Euro, and its detrimental effects on inflation and the EU. Thus, he hinted that further appreciation of the common currency will be combated by further central bank policy. These attempts to 'talk down' the Euro have made ripples in FX markets, but the EUR has remained firm thus far. There are two main possibilities for further ECB monetary policy, and both are bearish for the EUR. First, the ECB could introduce a quantitative stimulus program similar to the Fed's quantitative easing. However, with demand for German, Spanish, and Greek debt staying strong, each country's 10-year has been pushed to multi-year lows. The ECB may not choose this path since the yields on these securities are already quite low. The other option is an unprecedented cut of the ECB's deposit rate to a negative number. I see this as the more appropriate route to lowering interest rates further, and encouraging consumers to spend more and save less. This pick-up in consumption induced by either policy will lead to an increase in the price level, and the EU will gradually back away from the feared deflationary ledge.
And on the Other Side of the Globe… Australia
The Australian economy has remained one of the best performing developing economies despite the slowdown in China, its largest trade partner. After the Reserve Bank of Australia (RBA) cut rates from 3.0% to 2.5% currently, they have signaled in their statement on monetary policy that further rate cuts are not necessary to bolster their economy. The rate cycle is finished. RBA officials were also using rhetoric within the statement to talk down their currency in order to boost exports. Theory says that a cheaper Aussie dollar (AUD) allows foreign entities to import Aussie exports for cheaper products, and thus Australian exports increase. However, with exports slated to rise 19% this year, and the price of their largest export, iron ore, to fall to 103/ton in 2015, the RBA has decided although AUD levels are "historically high," they are not a risk to the economy. Also, note that the AUD/USD, which used to trade around 1.05 last year has fallen all the way to 0.88 only to recover currently to around the 0.94 level. So what's next for the RBA? Well a rate hike may be in the card in the near future depending on if the Aussie housing market continues to be on fire. Capital city home prices are up 10.6% since last year, and last month capital city home prices rose 2.3%, the most in 18 years. If the RBA believes a housing bubble may be afoot, they will be quick to tighten policy, hike rates, and discourage lending to unworthy borrowers. A rate hike in the Australian Official Cash Rate is very bullish AUD. Below are charts of the capital city Australian housing index with y/y and YTD price changes.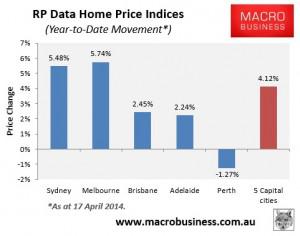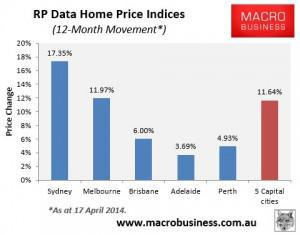 Conclusion:
We believe that the obvious diversion in central bank policies will allow the EUR/AUD to fall further as it corrects the rally that has occurred in the past 8-12 months. The risks to this trade are mostly based in the possibility that the ECB vehemently denies expectations of further policy, but we see this as very unlikely. Lastly, this trade carries positive interest rate differential as the Aussie 10-year yields over 250 basis points more than its German counterpart. If we see the EUR/AUD exchange rate to move in the direction we expect, we will add to our position. One can play this position in ETFs by shorting the long Euro ETFs FXE or ULE or by buying the short Euro ETFs EUO or DRR. For a bullish AUD position, one could go long the bullish AUD ETF FXA.
Disclosure: I have no positions in any stocks mentioned, and no plans to initiate any positions within the next 72 hours. I wrote this article myself, and it expresses my own opinions. I am not receiving compensation for it (other than from Seeking Alpha). I have no business relationship with any company whose stock is mentioned in this article.
Additional disclosure: Heights Capital is a team of students interested in active investment within financial markets. This article was written by William Farley, one of our financial journalists. We did not receive compensation for this article (other than from Seeking Alpha), and we have no business relationship with any company whose stock is mentioned in this article. Heights Capital currently has a short position in EUR/AUD.