Apple's (NASDAQ:AAPL) fall from Wall Street darling to Wall Street whipping boy has been largely documented. Pundits have decried that Apple lacks an innovative edge and that growth has plateaued. Do the public denouncements lack substance? The following points dispel common misconceptions of the technology behemoth.
(i) Profit Share Is More Important Than Market Share
I'm defining Profit Share as the portion of profits that is attributable to a company, relative to the industry. Market share pertains to the portion of units or revenue.
Many analysts have raised concerns that Apple's market share is declining, citing competition from Samsung and Chinese brands including Lenovo. The primary objective of any public company is to maximize profitability and Apple has achieved this goal. Despite enduring a smartphone Market Share decline from 20.9% to 17.9%, Apple's Profit Share increased from 77.8% to 87.4%. The figures correspond to the fourth quarter for CY 2012 and 2013, respectively and were released by IDC.
The market is not looking at the big picture by emphasizing Market Share. Apple is capturing 87.4% of profits because it is selling fewer products but at higher margins, relative to competitors. Samsung may sell more widely appealing products such as 'Phablets' but such product releases aren't astute business moves if favorable margins are not realized.
The market has been clamoring for a substantially cheaper version of the iPhone. Whilst such a move may boost Market Share, Apple's business model would begin to reflect its competitors. Margins would surely drop and sales of the more expensive iPhone models would be cannibalized. Also, Apple's brand name would deteriorate due to the lower build quality found in cheaper phones.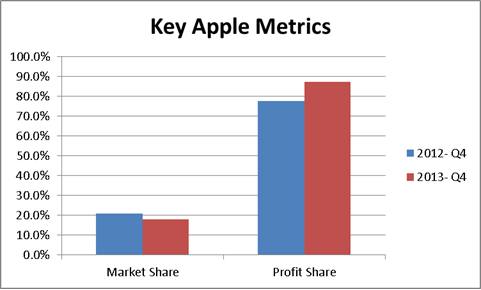 The table above indicates increasing Profit share, despite falling Market Share.
(ii) Emphasizing Percentage Change Can Be Misleading
The latest earnings cited quarterly revenue as $57.6B, translating to 5.7% year over year growth for the period. Basic math dictates that as revenue increases, a fixed dollar revenue amount accounts for a smaller percentage of total revenue. The fallacy for fixating on revenue or earnings percentage change is that it can undermine a significant change in actual revenue.
Such is the case for Apple. Analysts denounced the 5.7% revenue growth as flat, without fairly giving credence to the $3.2B increase. Here are a few facts to place the $3.2B into perspective:
$3.2B equates to 19% of total Google (NASDAQ:GOOG) (NASDAQ:GOOGL) revenue based on the most recent quarterly earnings
$3.2B equates to 41% of Facebook (NASDAQ:FB) revenue for the entire 2013 Calendar Year
Apple's revenue growth may not be relatively significant, but the actual increase in revenue is impressive, especially when considering the revenue metrics of other technology stalwarts.
(iii) The Market Needs To Exercise More Patience For New Products
2001: iPod released
2007: iPhone released
2010: iPad released
The iPod, iPhone, iPad were released during the years indicated above. The arithmetic average of the duration between each product release is 4.5 years. Extrapolating for actual experience, Apple's next product should be released during 2014 to be consistent with history. Some analysts have been complaining for years that Apple has lost its knack for innovation, due to the lack of recent new product categories. To be fair, Apple hasn't deviated from its historical release schedule. The market should have realistic expectations and temper its patience. Talks about a potential iWatch have been gaining traction. If such rumors spawn into fruition during 2014, Apple will be on track. Tim Cook recently announced that the company will release new product categories during 2014.
(iv) Apple Is Still Growing
Research and Development (R&D) spending has surged over the last few years. The graph below indicates over 30% annualized growth. The data is based on Apple's Income Statements and pertains to Year Ending Q3. Increasing R&D is a precursor for accelerated growth.
Apple has strengthened its intellectual property and future opportunities through a variety of recent acquisitions including Topsy and Primsense.
Apple has recently hired accomplished business leaders such as Burberry's Angela Ahrendt to improve business practices.
Apple's immense cash pile grew 9.5% to reach $147B during 2013. This translates to 10% of all cash held by non-financial entities within the US. This figure would be higher if the company did not engage in stock buybacks and dividend payouts.
A myriad of Apple patents have been granted that implies technological improvements and competitive advantages. Apple was granted 37 patents on April 15th, 2014.
A number of moves indicate Apple will delve into the Healthcare industry. The company recently hired numerous medical experts, met with the FDA and filed for healthcare-related patents. It is believed that the iWatch will incorporate health monitoring technology.
A number of high-profile partnerships are being forged. Apple is negotiating with Comcast for a streaming-TV service. Such agreements should improve the experience quality of Apple TV that would ultimately lead to increased profits. Also, CarPlay essentially turns user cars into iPhone accessories. CarPlay will be available for the gamut of cars from Hyundai to Ferrari.
Profit Margin has reversed its downward trend and has increased since mid-2013, as indicated in the graph below.
Conclusion
Successful equity investing involves identifying inefficiencies in the market and capitalizing upon those inefficiencies. Apple is a prime example of a market inefficiency, as indicated above. Since market sentiment governs short-term stock price, Apple stock should continue to be undervalued until the noted growth indicators are allowed to mature. I recommend purchasing AAPL and holding for sizeable, long-term gains. The 12.9 relative valuation is favorable and at a 30% discount to the S&P 500. The $12.20 dividend per share is an attractive stream of income that should satisfy most investors until a desirable return can be achieved.
Disclosure: I am long AAPL. I wrote this article myself, and it expresses my own opinions. I am not receiving compensation for it (other than from Seeking Alpha). I have no business relationship with any company whose stock is mentioned in this article.