Before conducting my analysis of Amazon (NASDAQ:AMZN), I must shed some insight into my personal approach to identifying investable opportunities. Call it my strategy disclaimer if you will. I have decided to reference this on all future articles to avoid any confusion.
Unlike the vast majority out there, I am not concerned about narratives. I understand there are multiple reasons why for example Amazon's earnings could go up and I equally accept there are multiple reasons why earnings could disappoint. Although I sometimes find the debates on such matters interesting from a psychological level, in so far as making money in the stock market goes, it is completely meaningless to me. For some peculiar reason, investing has turned into fortune telling and for the life of me, I still can't figure out why.
My approach is simple. I look for opportunities that appear to be undervalued as of that moment in time. I don't try and predict what future earnings will be, I simply acknowledge the current price and quality ratios to get an overall picture of how it compares to historical levels. Once I have these valuation indicators at hand, I look to determine my entry and exit points. This is done through a simple trend following process. Therefore, if what I originally deemed to be a value opportunity turns out to be a value trap, my trend exit point will trigger and I will exit a position. On the other hand, if the value opportunity plays out, I let my position ride out the trend. By doing this, I am following what I deem to be the most important rule of investing - letting winners run and cutting losers quickly.
Combining this method of valuation and trend analysis has given rise to an approach that I call Value in Trends (VIT). In this article, I will apply this ViT approach to Amazon. However, first, let me give you some insight into the recent accuracy of the Amazon fortune tellers and what they are predicting next.
CONSENSUS OUTLOOK
The company reported an EPS of $0.51 in Q4FY13, which was 58% below the consensus estimate of $1.23. Sales of $25.6 billion were also on the lighter side of the $26.1 billion expected figure. As a result, the lagging analysts were forced into action and cut significantly their outlook for Q113. As early as mid-January of this year, the consensus expectation was for an EPS figure of $1.03 but now, with just over a week until Amazon reports, the expectation has been slashed 30% to $0.72. As can be seen below, the EPS estimates for Q214 and Q314 have also been cut quite considerably.
Fig.1 - Company Share Price (LHS) and Consensus EPS for Q1FY14, Q2FY14 and Q3FY14 (NYSEARCA:RHS)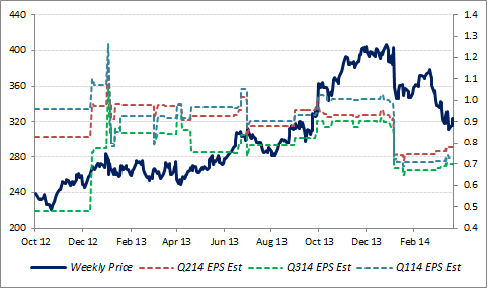 Source: Bloomberg
Despite these EPS revisions, analysts are still overwhelmingly bullish on Amazon, with an average price target of $434, 34% higher than the current price. Furthermore, of the 48 brokers covering Amazon, 37 have a buy rating and only 2 analysts have a sell rating. This optimism is reflected in the annual EPS estimates for the coming years (Fig.2). Despite the recent warning signs that Amazon may struggle to convert market share into significant profits, analysts are unnerving in their degree of confidence that this will not be the case over the coming years. While they have reduced their 2014, 2015 and 2016 EPS estimates, the 2016 EPS expected figure is $11.34. That's a 284% increase on the actual 2013 EPS of $2.95 and a 179% increase on the expected 2014 EPS of $4.06.
Fig.2 - Company Share Price (LHS) and Consensus EPS for 2014, 2015 and 2016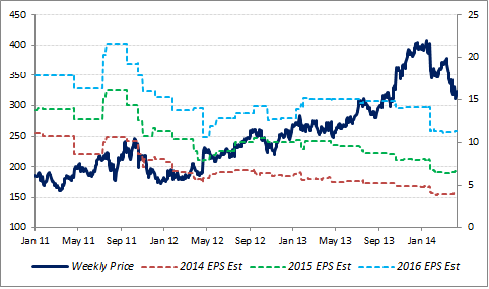 Source: Bloomberg
Even if analysts are correct and Amazon does deliver on its 2016 expected EPS of $11.34, that still puts the company on a three-year forward P/E of 28x. Seems expensive to me but let's now delve into current valuations to get a better handle on where Amazon is right now.
VALUE ANALYSIS
I define value companies as those that combine an attractive price with quality factors. Quality can be further broken down into profitability, health and efficiency.
Price
To examine price, I use the conventional approach of analyzing price multiples. I rank these into deciles with one being the cheapest 10% and 10 indicating the most expensive 10% of companies based on that specific multiple (Fig.3).
Then, I backtest the performance of each of these deciles going back over the past 14 years (end March 2000 to end March 2014) to determine whether the company is attractively positioned based on the historical returns. I conducted my tests across the Russell 3,000 index.
Fig.3 - Amazon (lower rank = more attractive valuation)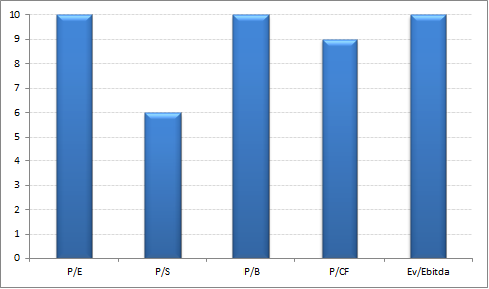 Source: Bloomberg
Price/Earnings
With a P/E of 599x, it is no surprise to learn that Amazon is among the most expensive across the Russell 3,000. Ranked in the 10th decile, this has been the worst performing over the past 14 years, delivering a CAGR of a meager 1.8%.
Price/Sales
From a P/S perspective, the valuation of 2.1x is still high but not at the extreme levels witness on a P/E multiple. This places it in the sixth most expensive decile across the Russell 3,000. Although this decile has only been the sixth best performing over the past 14 years, it has produced a solid CAGR of 7.9%.
Price/Book
Amazon once again reaches extreme levels on a P/B basis, with a reading of 15.9x. This puts it among the top 10% most expensive stocks across the Russell 3,000. The historical CAGR for this decile is 0.6%, the worst performing over the period in question.
Price/Cash Flow
Amazon's P/CF of 28.4 gives it a rank of nine, placing it among the top 20% most expensive. Companies in this second most expensive decile have produced a CAGR of only 1.0% over the past 14 years. This has been the second worst performing decile over that time period.
Ev/Ebitda
In keeping with most of the other extreme valuations, Amazon's Ev/Ebitda of 36.6x gives it a rank of 10, highlighting the expensive relative price valuation. Over the period in question, companies in this rank have been the worst performers, destroying investor wealth with a CAGR of -1.8%.
Quality
For quality purposes, I first analyze profitability and break down the calculation of Return on Equity through DuPont analysis. The resulting figure for Asset Turnover then measures efficiency while the reading for Leverage is an indication of health. Combined with profit margins, this gives a good overview of company quality.
Once again, I rank the components into deciles from 1-10 (Fig.4). Then, I backtest the performance of each of these deciles on the Russell 3,000 going back over the past 14 years to determine whether the company is attractively positioned based on the historical returns.
Fig.4 - Amazon Quality Analysis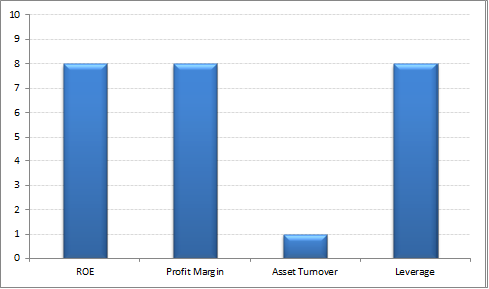 Source: Bloomberg
Return on Equity
Amazon has a ROE of only 3.0%, giving it a rank of eight and putting it among the lowest 30% of companies across the Russell 3,000 in terms of ROE. Conventional wisdom would suggest such companies should be avoided. However, my tests revealed that companies that ranked in the eight decile actually were the best performing over the past 14 years, producing a CAGR of 9.2%.
Profit Margin
Once again, with a profit margin of only 1.0%, Amazon is ranked eight. Again, this would detract most investors but over the time period in question, companies in this decile produced an impressive CAGR of 12.2%, making it the best performing decile.
Asset Turnover
Considering the low profit margins but high valuations, it should come as no surprise to learn that Amazon has an impressive asset turnover of 2.1x. This ranks it the top decile across the Russell 3,000, which has also been the best performing over the 14 years, producing a CAGR of 10.8%.
Leverage
Immediately post 2008, investors became more aware and cautious of companies with high levels of debt. However, this does not appear to be the case with Amazon as it is priced expensively but has leverage of 3.8x, giving it a high rank of eight. Incidentally, companies in this decile produced a CAGR of 11.6% over the past 14 years, the best performing of all deciles.
TREND ANALYSIS
I break down the examination of a company's trend into three components:
Direction of the trend
Momentum of the trend and;
Condition of the trend
I examine the direction of the trend by simply analyzing price, the momentum of the trend through moving average convergence divergence (MACD) and the condition of the trend through the RSI.
Trend Direction
Amazon's share price has been on a spectacular uptrend since late November 2008, up over 1,000% to the week ending 21st January 2014. Since then, there has been signs that the recent uptrend may have finally come to an end with the share price having shed 24% in just over two and a half months.
During the up trending period, the 50-week and 100-week moving averages (MA) have offered considerable support during times of a correction. April 2014 is seeing the first of these levels being tested, with the price breaking below the 50-week MA on the week ending 4th April. This was reinforced by further losses the following week.
Therefore, the next juncture will be crucial for Amazon's overall trend. The 100-week MA is currently at $289, while the stock trades at $323. It would not surprise me to see this level tested but provided it can hold this $289 handle, this recent move lower could be viewed as a healthy correction rather than a major trend reversal.
Indeed, Amazon's share price faced similar difficulties in December 2011 when it broke below the 50-week MA and threatened to breach the 100-week MA support on several occasions until the end of January 2012. Ultimately, the 32% fall proved to be a correction that paved the way for the next move higher. If Amazon's share price corrects to the 100-week MA, that would mark a 29% correction, similar to the late 2012 move.
Fig.5 - Amazon Share price with 50 and 100-week MAs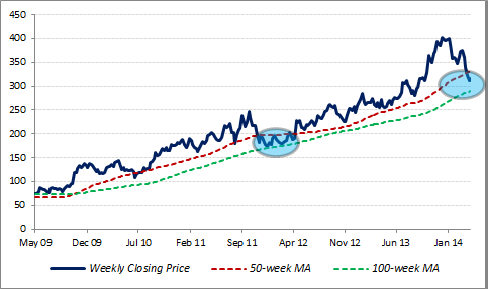 Source: Bloomberg
Trend Momentum
The price correction since late January of this year has also caused a considerable decline in momentum, with the MACD measure plunging into negative territory. Once again, it is interesting to look at the similarities in the latest move with that of December 2011. Back then, the correction in price to the 100-week MA coincided with the fall of momentum in negative territory and the subsequent bottoming out of momentum. Today, Amazon is displaying similar characteristics. The price is threatening to challenge the 100-week MA at the same time momentum has fallen to similar levels to that of late 2011.
Fig.6 - Amazon Weekly Price Momentum using MACD (12,26)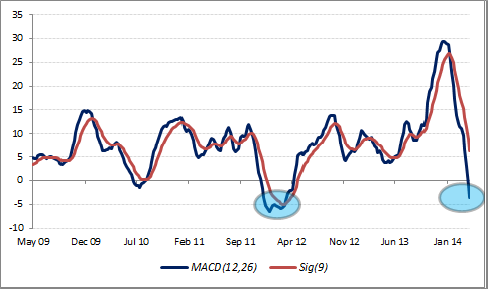 Source: Bloomberg
Trend Condition
The key levels to look out for on the RSI chart are 70 and above, which equates to an overbought condition. Meanwhile, a reading of 30 or below reflects an oversold condition. Interestingly, the last time Amazon's share price was in an oversold condition was the week ending 21st November 2008.
Today the reading on the RSI is 41, still above oversold territory so still, some might argue, room to fall further. Incidentally, the last time the RSI breached a reading of 40 was, yes you guessed it, December 2011.
Fig.7 - Amazon Weekly Price Condition using RSI (14)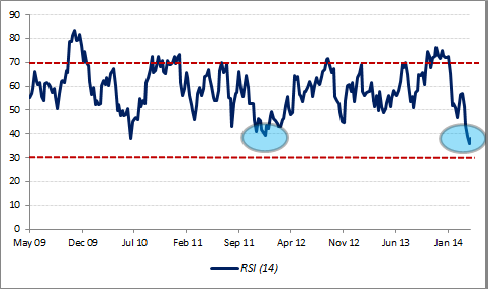 Source: Bloomberg
Combining these three trend factors, it appears that while Amazon's uptrend is being challenged and the share price is under threat of suffering what could prove to be a very painful experience for Amazon investors, there is evidence to support that the recent weakness may soon turn. The momentum and condition elements are similar to that of December 2011, suggesting the 100-week MA at $289 could hold. This would mark a further 11% correction from the current price. However, should the price fail to hold these levels, it would suggest something far more worrying and signal an exit point for existing investors that have been so well rewarded in recent years.
CONCLUSION
The first issue I have with Amazon relates to the consensus expectations for earnings. It makes me uneasy that brokers are forecasting three-year EPS growth of over 200% for Amazon and yet still the company trades on almost a 30x P/E with this figure incorporated.
I know many will argue that it has great growth potential but remember these same analysts are suggesting that EPS growth for the S&P 500 as a whole will continue through to 2016, marking eight consecutive years of EPS growth. Not once since 1951 have earnings grown consecutively for more than six years and even at that, only once has there been a period where earnings have actually grown for six successive years.
So, from the outset, I am questioning just how much value does Amazon offer today?
What I find is that upon examining the price multiples, Amazon is not compelling. Across each of the P/E, P/S, P/FCF, P/B and Ev/Ebitda multiples I tested, Amazon ranked poorly. It is among the top 10%-20% most expensive across the Russell 3,000, suggesting low future returns.
However, from a quality viewpoint, things are quite different. One would expect a growth stock like Amazon, trading on such high price multiples, to have high ROE and profit margins. However, this is not the case. Instead, what we see with Amazon is impressive asset turnover, ranking it among the top 10% across the Russell 3,000 in this category.
Therefore, the strategy is quite clear.
Amazon is looking to increase market share at the expense of margins in the belief that eventually brand loyalty will enable them to increase market share. Regardless of the arguments for or against this approach, the reality is that no one knows whether their strategy will work or not. However, based only on the current price multiple and quality ratios, I would have to determine that as a value investor, Amazon does not tick enough boxes for me personally.
That is not to say that long-time investors in Amazon should sell. The goal with any initial value buy is to hold onto it and watch it become a momentum play. Amazon is now strictly a momentum play for those invested in it. Based on today's trend direction, momentum and condition indicators displaying similar characteristics to that of late 2011, when the price corrected 30% before resuming its uptrend, investors have some hope to cling onto.
The longer-term trend remains up but the support at the 100-week MA at $289 is critical. If we breach these levels, not only would I suggest Amazon is a sell but it would be a stock I would consider shorting. Discretionary and IT sectors have led this market higher over the past 5 years. The likelihood is that if the market trend as a whole turns down, they will lead the market lower too and Amazon, with a market cap of almost $150 billion, must be one of the primary candidates to lead the charge.
Disclosure: I/we have no positions in any stocks mentioned, and no plans to initiate any positions within the next 72 hours.
I wrote this article myself, and it expresses my own opinions. I am not receiving compensation for it (other than from Seeking Alpha). I have no business relationship with any company whose stock is mentioned in this article.