Intel (NASDAQ:INTC) is a blend of growth, income, tech, major market indices and several other portfolio segments. Today, I will examine value pricing and provide an example of how pure income investors can strip out all non-income value from the price to maximize income and yield rate, converting the $0.90 annual dividend into $3.05, boosting yield from 3.34% to 11.32% and multiplying income 3.39-fold.
Finding Value: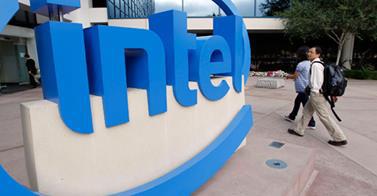 Intel's first-quarter earnings season is over without any big surprises, beating estimates by 1 cent. Across the board in all categories, expectations were met, even in the horrible mobile segment.
A review of fundamental value metrics shows the company shares to be a bargain for a blended growth and income tech giant that dominates its field. Whether comparing to other chip makers or to tech mega-giants, Intel's 14.44 P/E ratio is only rivaled by Apple (NASDAQ:AAPL) at 12.87, leaving Google's (NASDAQ:GOOG) 28.72, Yahoo's (NASDAQ:YHOO) 30.17, NXP Semiconductors' (NASDAQ:NXPI) 43.07 and Applied Materials' (NASDAQ:AMAT) 48.54 way behind.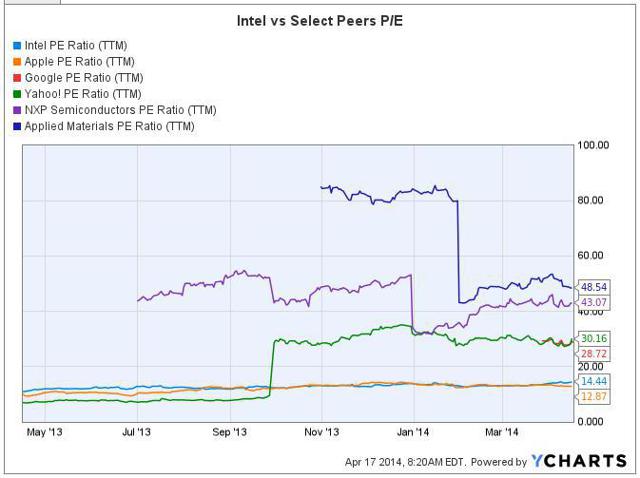 The Price/FCF shows similar value for Intel shares, ranking them far ahead of other chip makers and tech giants, again matching only Apple.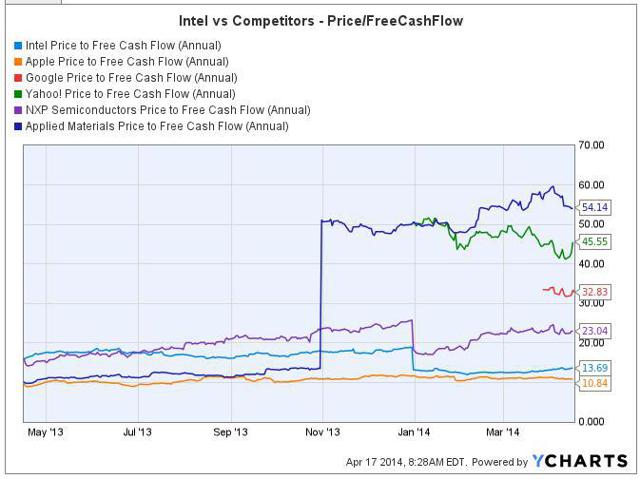 A look at Price/Book again shows the same pattern, with Intel beating all others, including Apple, by a significant margin.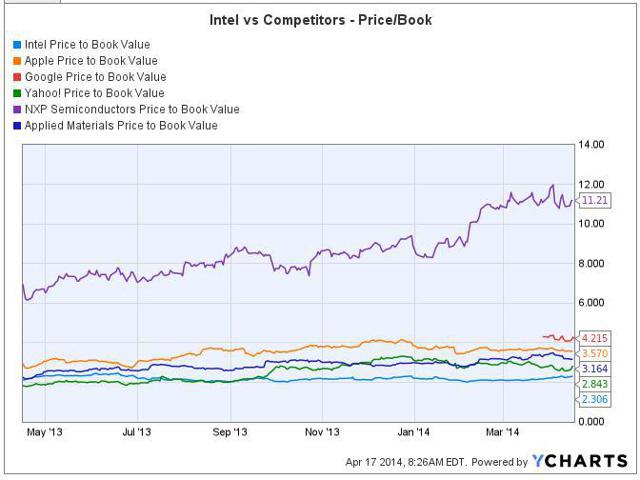 Beyond the classic fundamental value metrics, another useful tool when comparing equities that a large share of investors target for income is the YDP Chart. Investors bid price up and down in reciprocal response to dividend distribution growth, so as to yield a result of relatively stable trends of effective yield rate. The correlation of these 3 variables is defined by the mathematical Y = D/P (Y is yield, D is dividend distribution, and P is share price). This is characteristic of dividend income equities and indicative that yield rate can be a measure of value. For those not familiar yet with YDP charts, I refer you to my introductory article on YDP chart analysis and its precursor article with several YDP chart interpretation examples, along with my Tortoise Series which includes the application of YDP chart analysis in each of parts 4 through 19.
The YDP chart for Intel shows a strong history of rising dividends outpacing share price. Yield continued to rise under these circumstances, without coming into equilibrium with distributions until recently. Since the late part of 2009, the yield has flattened, with a focus around 2.85%. Shares have lagged distribution increases again, allowing yield to rise as high as 4.38%, before prices began firming and catching up in a trend established since November 2012.
Currently, with a yield of 3.34%, the units remain a bargain to the calculated fair value of $31.57 based on historical 2.85% yield rates. This represents a $4.64 discount from fair value, a 14.7% discount.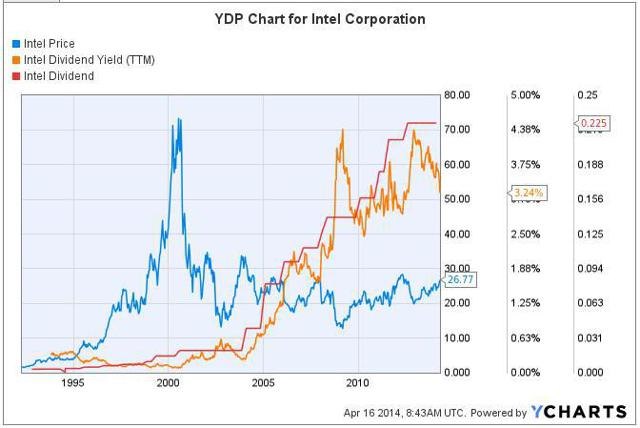 A look at technical chart patterns, trading channel trends together with support and resistance levels, is a useful check for idealizing entry pricing. Shares have been trading in a rising channel since the middle of August 2013. The upper limit of that channel is currently at $27.20 and the lower at $24.30, rising about $0.35 per month. Recently, short-term resistance at $26 was broken and has become weak support. The upper limit of the channel is now being tested, with a breakout possible now that first-quarter earnings have been released with no surprises and favorable forward guidance.
Intel shares are currently at an attractive price

(Source: yahoo.com)
Value Summary:
Intel shares are currently at an attractive price, $26.93 being a 14.7% discount from fair value.
Classic fundamental value metrics of P/E, P/B and P/FCF demonstrate the units are currently priced well below competition and peer groups, as well as historical trends within Intel's performance.
Income value pricing analysis indicates investors favor a 2.85% yield rate for INTC shares.
$31.57 is fair value based on the current $0.90 dividend at a 2.85% yield.
As a blend of growth, dividend growth and value investment, price builds in future growth expectations and thereby suppresses yield rates.
Pure income investors can unlock the maximum income and yield by writing Covered Calls to convert the future growth components of price into current income (as shown below).
Convert Future Growth to Income Now:
Pure income investors by definition are not seeking future growth, nor do they target value from the returns from that future share price growth. They are targeting yield from dividends. Income is what they crave, now is good, more is better. Covered option writing can be used to convert that component of the price into current income, instead of leaving it as present unrealized value.
By purchasing Intel shares at the $26.93 current market price, and concurrently selling the 1/17/2015 $27.00 Call with a premium at $1.62, investors maintain the $27.00 value of the shares. This is the basis upon which they bought the shares purely for a safe and reliable 3.34% dividend yield. This strategy converts the future growth prospects of the shares into $1.62 ($2.15 annualized) in cash income now for the 275-day contract, while allowing the investor to also harvest the $0.90 annual dividends. The results of this conversion are far from trivial, more than tripling the total income on an annualized basis.
$1.62 premium / 275 days => 0.0058909090909091 cents/day X 365 =>| $2.15 annualized income.
$2.15 + $0.90 = $3.05 annualized income per share.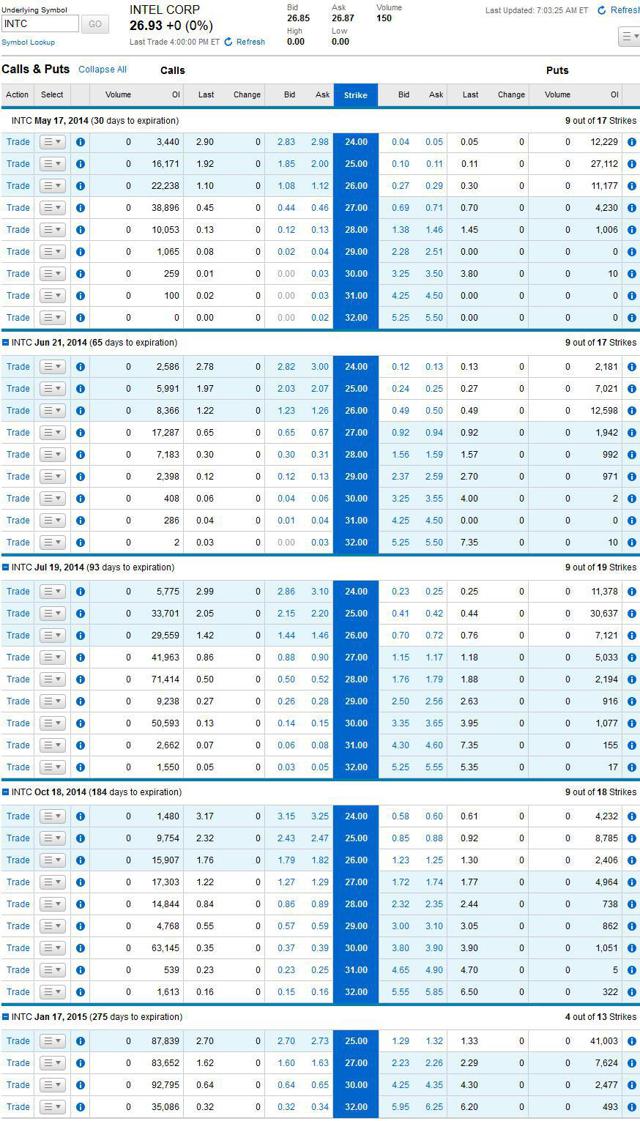 (Source: schwab.com)
Conclusions and Recommendations:
Intel shares are trading for a 14.7% discount currently, at $26.93.
Fair value is $31.57 per share.
Pure income investors can convert the growth and other non-income portion of the share price components into current cash, boosting income, yield and net cash in pocket and reducing market risk 8.25%.
Pure income investors can buy today at $26.93 and concurrently sell the 1/12/2015 $27.00 Covered Call for $1.62 ($2.15 annualized), boosting annual income to $3.05/share from $0.90.
New investors for growth or blended income and growth can purchase today at market of $26.93 for good value and a 3.34% yield. Covered Call writing with Strikes above $32 may be considered for additional yield boost and minimal call away risk, insuring a sale price above current fair value.
Existing holders should continue to hold and accumulate as appropriate to their own portfolios while prices remain below $31.57.
Always be aware of ex-dividend dates and the potential for call, dividend capture, and Strike price adjustments by the option clearing house when writing contracts across dividend months.
This article is part of an ongoing series of Value Income investing with Covered Option boosts. Each subsequent part of the series will discuss and evaluate one ticker identified as an income or blended income and growth equity. Yield and income boosts using covered option writing will be evaluated. Additionally, conversion of future growth into current cash income via at the market share purchase and matching at the money Covered Call writing will be explored, where appropriate.
I hope you will join me as I detail the use of covered option writing on quality dividend income equities to develop a model portfolio for the Super Tortoise. Simply click on the bold link labeled FOLLOW above the title at the top of this article to get an email notice of my new articles when they are published. Others may check my article index at any time to find links.
Disclaimer: I am not a licensed securities dealer or advisor. The views here are solely my own and should not be considered or used for investment advice. As always, individuals should determine the suitability for their own situation and perform their own due diligence before making any investment.
Disclosure: I have no positions in any stocks mentioned, but may initiate a long position in INTC over the next 72 hours. I wrote this article myself, and it expresses my own opinions. I am not receiving compensation for it (other than from Seeking Alpha). I have no business relationship with any company whose stock is mentioned in this article.