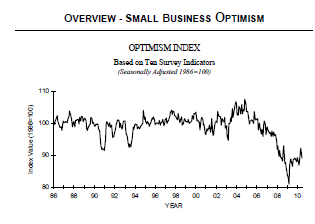 Click charts to enlarge
The National Federation of Independent Businesses is out with their monthly optimism index, which fell 3.2 points in June indicating that small businesses are still under considerable strain. Unlike multinationals, small business can't offset weakness in the US economy with growth from Asia or emerging markets. Thus, this is an important economic indicator that shows that the US economy remains weak at least for small businesses. From the chart below you can see that small businesses have a decisively negative outlook regarding the US economy and do not plan on expanding their operations in the near future.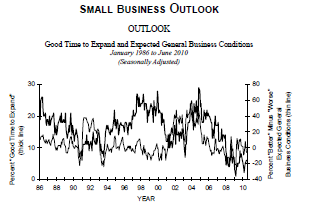 The main reason cited for the reduced optimism was weak demand and a deflationary price environment. The FRIB noted that:
The weak economy continued to put downward pressure on prices. Seasonally adjusted, the net percent of owners raising prices was a negative 13 percent,a two point increase in the net percent raising prices. June is the 19th consecutive month in which more owners reported cutting average selling prices that raising them. Widespread price cutting contributes to the high percentage reporting declining sales revenues. Plans to raise prices fell three points to a net seasonally adjusted 11 percent of owners.
Since small businesses have had to lower prices, they face shrinking profit margins and revenues. Furthermore, small businesses cited the expiration of the Bush tax cuts and the recently enacted healthcare bill as reasons for the reduction in optimism. Another major factor was the fact that small firms have trouble getting credit to finance operations. This shows that there is a dichotomy between large and small businesses when it comes to accessing credit. A full 30% of small businesses noted that it was hard to obtain credit in June.
In conclusion, small businesses are not benefiting from the recent upturn in the economy, unlike their multinational peers. Weak overall demand is still widespread, which has forced price reductions and led to decreased optimism. I believe that small businesses are a better indicator of how the US economy is doing because they account for the majority of new job creation. With optimism as low as it is, don't expect small businesses to be hiring anytime soon. This does not bode well for future employment in the US.
Disclosure: No positions