Analysts covering the U.S. mining industry no doubt spend a great deal of their time monitoring activity in resource rich South America and searching through the latest bulletins out of Beijing for hints on the strength of China's raw materials appetite. But the future of the industry may depend on an escalating conflict in a tiny West Virginia town, where the coal industry and Environmental Protection Agency (EPA) are locked in a struggle that could have major ramifications for mining operations throughout the country.
In 2007, the Army Corps of Engineers approved a permit to blast for coal in an Appalachian valley known as Pigeonroost Hollow. But now the project, known as Spruce 1, is in serious jeopardy. The Obama administration's EPA has broken with the more coal-friendly policies of the Bush era, and is threatening to drastically scale back the mining operation or veto the permit altogether. Although the looming decision would only impact one project directly, some believe it will set a precedent that could shift the industry. "Because it is one of the largest mountaintop mining projects ever and because it has been hotly disputed for a dozen years, Spruce 1 is seen as a bellwether by conservation groups and the coal industry," writes Erik Eckholm.
A decision isn't yet imminent–many believe that an official announcement will be conveniently delayed until the mid-term elections have passed–but the ultimate resolution of this stand-off could be big news in the mining space. The Obama administration's EPA has already made it more difficult for coal companies to acquire new mining permits and beefed up protections of streams. If the EPA scales back Spruce 1, as many suspect it will, mining sites will be exposed to a new form of political risk that hadn't been a concern previously.
ETFs In Focus
As this saga plays out, we highlight a few ETFs to keep an eye on:
SPDR S&P Metals & Mining ETF (NYSEARCA:XME)
In the past two years, several corners of the U.S. economy have seen operations impacted by an increasingly involved government. Most notably, a comprehensive regulatory overhaul shifted the landscape of the health care industry, and its appears that the financial sector is on the verge of a similar development. In light of recent events, the energy industry is almost certainly heading towards legislation that has an adverse impact on profitability. And now it appears that the U.S. mining industry may be in the same boat.
It's difficult to estimate the impact that an unfavorable decision would have on the industry. But a suspension of Spruce 1 would certainly alter the risk profile of the sector, making coal and mining companies more vulnerable to an ongoing push for further regulation.
An interesting alternative to XME is the Dow Jones Emerging Markets Metals & Mining Index Fund (NYSEARCA:EMT), an ETF that offers exposure to mining firms in emerging markets. The knock on emerging markets historically has been an increased amount of risk, including risk of government intervention. Many have noted that this specific risk component has skyrocketed in the U.S., causing the "risk gap" between developed and emerging economies to shrink considerably. For those interested in pairs trading ideas, long EMT/short XME might be an intriguing play.
click to enlarge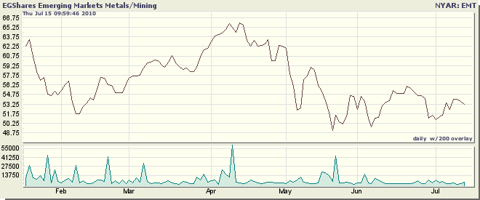 Click to enlarge
Market Vectors Coal ETF (NYSEARCA:KOL)
This ETF tracks the Stowe Coal Index, a benchmark that measures the performance of publicly traded companies worldwide that derive greater than 50% of their revenues from the coal industry. It's estimated that mountaintop mining accounts for a relatively minor 10% of U.S. coal output, so any resolution of the Spruce 1 conflict won't necessarily have a huge impact on KOL. But an adverse ruling would be at least the second blow the EPA has taken towards a controversial corner of the economy.
About half of KOL's holdings are in U.S. stocks, with the remainder spread across China, Indonesia, Australia, and others.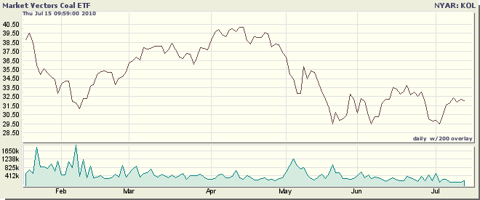 Click to enlarge
Disclosure: No positions at time of writing.
Disclaimer: ETF Database is not an investment advisor, and any content published by ETF Database does not constitute individual investment advice. The opinions offered herein are not personalized recommendations to buy, sell or hold securities. From time to time, issuers of exchange-traded products mentioned herein may place paid advertisements with ETF Database. All content on ETF Database is produced independently of any advertising relationships. Read the full disclaimer here.