By Sumit Roy
Natural gas was last trading up by 4.5 percent to $4.73/mmbtu after the Energy Information Administration reported that operators injected 24 billion cubic feet into storage last week, below the 34 that most analysts were expecting.
The latest injection was below last year's build of 31 bcf and above the five-year average build of 38 bcf.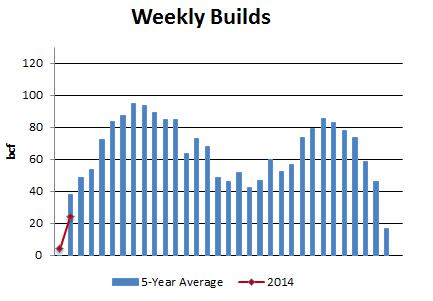 In turn, inventories now stand at 850 bcf, which is 854 bcf below the year-ago level and 1,003 bcf below the five-year average (calculated using a slightly different methodology than the EIA).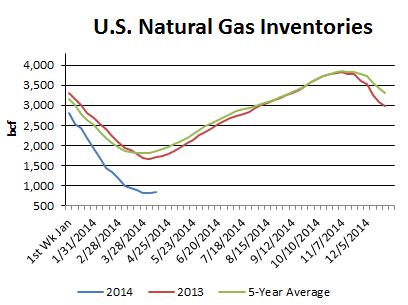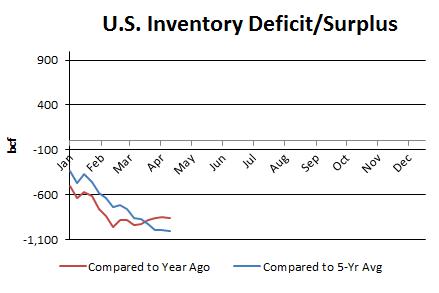 The weather last week was close to seasonal norms.
According to the Edison Electric Institute, utilities generated 67,967 GWh in the week ending April 12, which was 1.3 percent below the same week a year ago.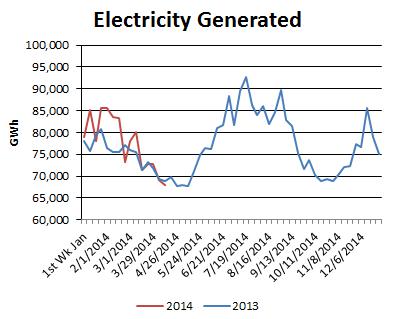 Looking forward, the NOAA's 6- to 10-day outlook calls for warmer-than-normal temperatures across much of the country.
NOAA 6- TO 10-DAY OUTLOOK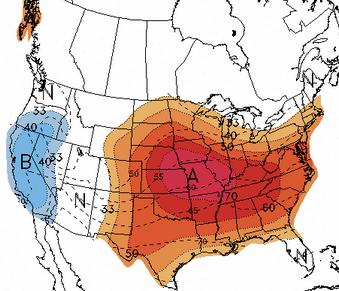 Meanwhile, Baker Hughes reported that the number of rigs drilling for natural gas in the U.S. rose by six to 316, up from the lowest levels since 1995.
Natural Gas Rig Count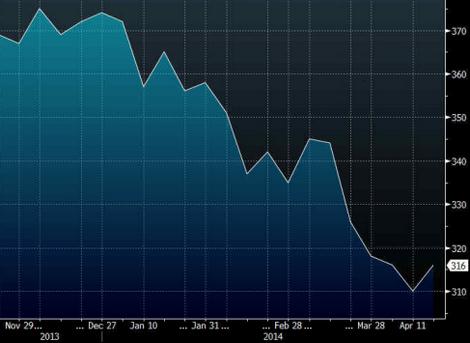 NATURAL GAS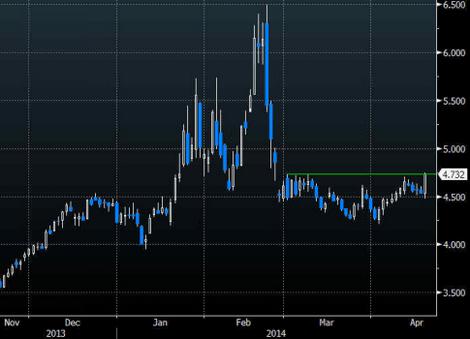 Bottom Line: The latest inventory data from the EIA were bullish, as the inventory deficit against the five-year average rose from 989 to 1,003 bcf and the deficit against last year rose from 847 to 854 bcf.
Expectations heading into this spring were that we would see record injections and that the inventory deficit would be quickly erased. On the contrary, last week's small build led to an increase in the inventory deficit. Naturally, natural gas prices responded by rallying to a two-month high.
We still see the bias as higher for prices. In particular, there is the risk that a hot summer could send prices spiking significantly in the coming months.
From a technical perspective, natural gas faces a bit of resistance near current levels at $4.75/mmbtu. A breakout would expose a clear path to the psychologically significant $5 mark.