There may be more than 1000 ETFs worth $850 billion in assets. However, when you remove leveraged "long"/"short" investments, and when you discard those with limited assets under management (i.e., less than $100 million), you pare that list down to 380 ETFs.
Most of the themes for 2010 are readily recognizable in this ETF roll call. Current prices for Materials ETFs, Traditional Energy ETFs and Alternative Energy ETFs remain well below respective trendlines. Europe ETFs are still submerged in the deep end of the pool. Meanwhile, the brightest stars have been individual country ETFs from Asia and South America.
Are there any major surprises on the catalog of 380 names? Put another way, have there been any ESPY-like performance winners that some might regard as having bucked the trend?
Here are 3 quasi-shockers:
1. First Trust DJ Internet Fund (NYSEARCA:FDN). This fund has restored its long-term technical uptrend. While there are a few other tech ETFs that have recently climbed back above respective long-term moving averages (e.g., Rydex Equal Weight Tech, iShares Semiconductor, etc.), most of the big boys haven't held up to selling pressure as well. SPDR Select Tech (NYSEARCA:XLK), iShares DJ Tech (NYSEARCA:IYW), Powershares Aerospace/Defense (NYSEARCA:PPA) – each of these tech sector ETFs dropped below their February lows in July.
You'd have to be a believer in the "Internet 2.0″ revolution. The collective P/E with Google (NASDAQ:GOOG), Amazon (NASDAQ:AMZN), e-Bay (NASDAQ:EBAY) and Salesforce.com (NYSE:CRM) is hardly "cheap." When tech rallies, though, the FDN component standouts seem to fly the highest.
2. WisdomTree Brazilian Real (NYSEARCA:BZF). Throughout 2010, we've heard a great deal about the European debt crisis and the unsustainable nature of the euro. Investors abandoned CurrencyShares Euro (NYSEARCA:FXE), seeking refuge in the perceived safety of CurrencyShares Yen (NYSEARCA:FXY) or PowerShares Dollar Bullish (NYSEARCA:UUP).
And yet, year-over-year, few currency funds have experienced as much capital appreciation as the WisdomTree Brazilian Real (BZF). Brazil's genuine GDP growth coupled with above-desired inflation is a signal that the "real's" uptrend is likely to continue.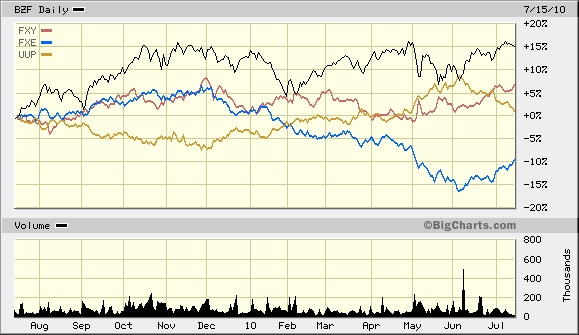 3. SPDR Pharmaceuticals (NYSEARCA:XPH). This investment has been such a stunner, it's bucking more than just the trend of its health care segment. It's achieved remarkable separation from other Pharma ETFs like the Pharmaceuticals HOLDRs (NYSEARCA:PPH).
XPH is attractively priced with a forward P/E at 11.5. It is roughly 20% less volatile than the S&P 500. And its equal weighting methodology has helped it rocket past the Pharmaceutical HOLDRs (PPH)… a fund that is heavily committed to present-day underachievers like Johnson & Johnson and Pfizer.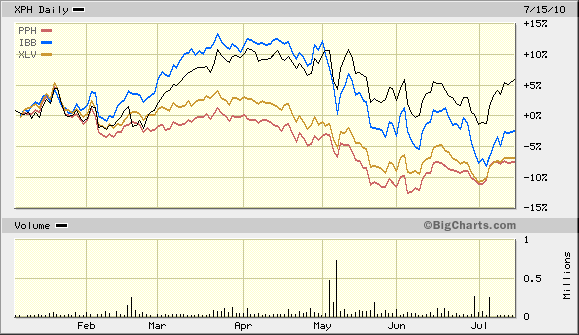 Disclosure Statement: Gary Gordon, MS, CFP is the president of Pacific Park Financial, Inc., a Registered Investment Adviser with the SEC. The company and/or its clients may hold positions in the ETFs, mutual funds and/or index funds mentioned above. The company receives advertising compensation at the ETF Expert web site from Invesco PowerShares Capital Management, LLC. The commentary does not constitute individualized investment advice. The opinions offered herein are not personalized recommendations to buy, sell or hold securities.