Morningstar has tried to be a content provider of consequence for ETFs, yet somehow after years of trying it stills appear to be clueless. The latest piece of work is this post that Seeking Alpha titled "Sizing Up the Industrials ETF Landscape."
The article makes two main points, neither of which are very helpful. The first point can be dissected quickly: that "for most investors, such niche funds are rarely an appropriate choice." Anyone using an S&P 500 Index fund has about 10% in industrials. Any broad based, actively managed mutual fund anyone might be using benchmarks against some index that probably has a similar industrial sector weighting so there is a good chance of that actively managed fund having something like 10% in industrial stocks.
So if instead someone puts that 10% into an industrial sector fund it is far from inappropriate. Further, the ETFs focused on in the article were all the big cap sector funds which are heavy in names like General Electric (NYSE:GE), Minnie Mining (NYSE:MMM) and UPS (NYSE:UPS). People could easily make mistakes with these but "rarely appropriate" strikes me as a CYA comment which, if true, would leave me asking why they even wrote the article?
Even less helpful was the bigger point that "industrials-sector ETF offerings remain remarkably scarce relative to other sectors." This point is so ignorant that I wanted to quote it so as not to muddle the meaning. The author would like to see a machinery ETF and a railway ETF and he thinks that the iShares Transportation ETF (NYSEARCA:IYT) provides a good alternative.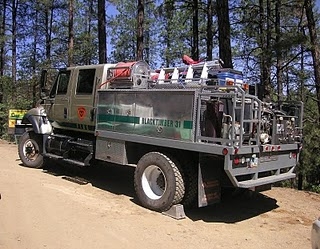 Conversely, long time readers of this blog might be used to hearing me say that the industrial sector offers more choice than quite a few other sectors--far from "remarkably scarce." I've been saying for years that client holding PowerShares Water Portfolio (NASDAQ:PHO) is a proxy for small cap industrial exposure; the current weight to that sector is 77%. Staying at the PowerShares site, the PowerShares Aerospace & Defense Portfolio (NYSEARCA:PPA) is 78% industrial stocks. There are several other funds from PowerShares with 40-50% in industrial stocks.
Then there is the iShares Dow Jones U.S. Aerospace & Defense Index Fund (NYSEARCA:ITA) which is 99% industrials. The iShares S&P Global Infrastructure Index Fund (NYSEARCA:IGF), which some clients own, is about 40% industrials. The Market Vectors Global Alternative Energy ETF (NYSEARCA:GEX) has 70% in Alternative Energy Sources and 19% in Environmental Efficiency which if you look includes heavy exposure to turbine makers like Vestas Wind (OTCPK:VWDRY), meter makers like Itron (NASDAQ:ITRI) and water treatment like Kurita Water Industries. One client gave us a mandate to buy GEX--not sure if that requires disclosure.
Moving on to First Trust, the First Trust ISE Global Engineering and Construction Index Fund (NYSEARCA:FLM) is 93% industrials, the First Trust ISE Global Wind Energy Index Fund (NYSEARCA:FAN) is 44% industrials but is heavier in utilities, the First Trust ISE Water Index Fund is 51% industrials and the First Trust NASDAQ Clean Edge Smart Grid Infrastructure Index Fund (NASDAQ:GRID) is 78% industrials.
The Global X China Industrial Fund (NYSEARCA:CHII) is, um, all industrials. Claymore has a solar ETF (NYSEARCA:KWT) with 84% industrials, airlines (NYSEARCA:FAA) 100% and water (NYSEARCA:CGW) 43%.
There are probably others as well. While the 40-50% funds are in the eye of the beholder the article misses the concept entirely of specialized funds as proxies for sector exposure. Just as ABB (NYSE:ABB) is an infrastructure stock so too is it an industrial proxy, same as that First Trust Engineering and Construction ETF above. In addition to the concept not being understood I believe it is reasonable to conclude the article was poorly researched given there are some funds with 80-100% exposure to the sector not mentioned.
Neat looking fire trucks are part of the industrial sector, aren't they?