Nexen Inc.'s (NXY) second-quarter results significantly exceeded our expectations on the heels of higher production volume and lower operating costs.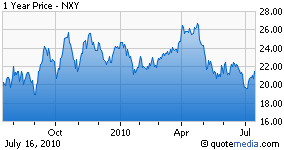 Recurring earnings from continuing operations were 46 Canadian cents (45 US cents) per share versus the Zacks Consensus Estimate of 31 US cents and last year's earnings of 4 US cents. Quarterly cash flow from operations was C$1.06 ($1.03 US cents) per share, up approximately 25% year over year.

The company has shown solid signs of turning the corner, including significant exploration successes in the Golden Eagle area in the North Sea, Appomattox in the Eastern Gulf of Mexico and Owowo in offshore West Africa.

Operational Performance

During the quarter, production before royalties averaged 248 thousand barrels of oil equivalent per day (MBOE/d), or 218 MBOE/d net of royalties, comprising 82% liquids and 18% natural gas. Production before royalties increased more than 3% year over year and on a net-of-royalty basis, it increased 5%.

With production growing impressively at Long Lake, Ettrick and in the Horn River, we believe that the company is on track to meet its original guidance of 230–280 MBOE/d even after the sale of its heavy oil assets. Importantly, the company stated that the six-month drilling moratorium has had no significant impact on Nexen to date except a delay in appraisal drilling programs.
Nexen's average oil price realization during the quarter was C$76.23 ($74.26) per barrel, up approximately 12% year over year. Natural gas average price realization during the quarter was C$4.42 ($4.31) per Mcf, up 17% year over year. Operating cost was down nearly 6% at C$1.15 billion ($1.12 billion).
Nexen spent C$817 million ($796 million) on capital programs during the quarter. At the end of the quarter, the company had C$970 million ($945 million) in cash and C$6.3 billion ($6.1 billion) in long-term debt, with a debt-to-capitalization ratio of 43.7% (down from 48.3% in the previous quarter).

Outlook
To increase value for its shareholders, Nexen is monetizing non-core assets. Following the sale of part of its marketing business, the company recently completed the divestiture of its heavy oil assets. Nexen has increased its original non-core assets sale target of $1 billion to $1.5 billion by accounting for the sale of its Canexus investment.
On the exploration and production (E&P) front, Nexen has been consistently gaining momentum at the Long Lake project with second-quarter production having ramped up significantly.
While success on the exploration front improves investor sentiment on the stock (up more than 9% in the last two weeks), the company continues to trade at a discount to the peer group. We believe some of the discount is warranted due to historical mistakes, including slips in the production guidance.
As problems of execution in the company's line-up of long-cycle projects persist, we prefer to stay on the sidelines by maintaining our Neutral recommendation with a Zacks #3 Rank.