Console wins have been a major lifeline for Advanced Micro Devices (NYSE:AMD). Pundits against AMD have argued every angle against consoles, citing both margin concerns and debating the volume of the win.
AMD's report tonight, while not stellar, was solid. AMD came in above guidance on revenues, beat on non-GAAP EPS, and more importantly, forecast slight growth for Q2.
I'm sure there will be numerous articles dissecting AMD's report, so rather than simply rehashing the numbers, I would like to explain why consoles demonstrate that analyst estimates for 2014 are likely too low. I will add to this discussion by touching on some of AMD's recent developments and announcements from tonight that bolster the argument that revenue estimates seem too low.
Looking At Past Console Trends
I was first attracted to AMD from an investment standpoint simply due to the console wins and low share price. If you read through any of my previous articles, you can easily see how my long thesis has evolved over the past year. But after this report, I would like to come full circle to show how my original interest in AMD will continue to be a major factor going forward.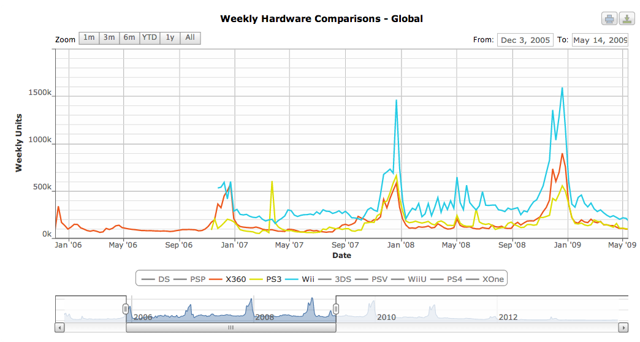 VGChartz has an extremely useful tool that can allow the user to select various consoles over differing time frames to review trends. I have first set the graph to show that with the prior generation, consoles exhibited growth into the third year, and fairly substantial growth at that.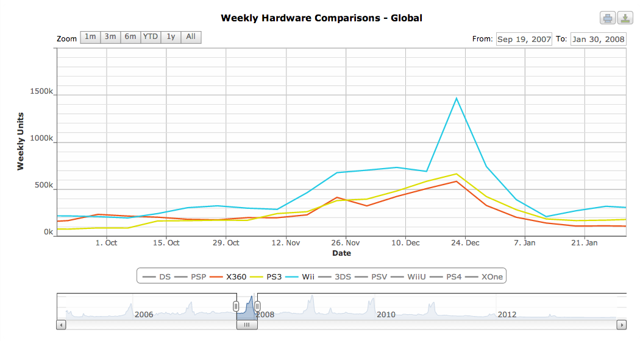 This graph was isolated to show how console sales typically build going into the back half of the year. This is what I refer to in my title as the "scariest graph" for shorts. Console sales typically peak in the back half of the year, but this peak is substantial; nearly 2x to 3x the volume of Q1 through Q3.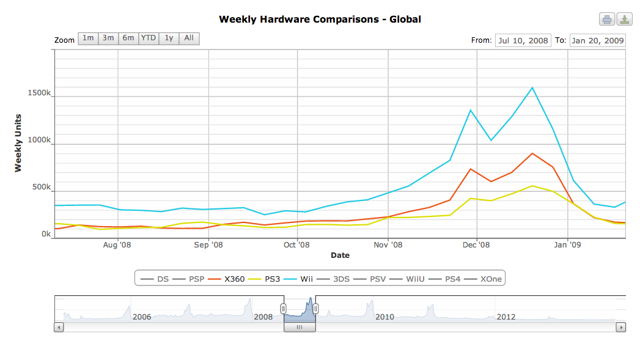 Here, I have shown the same trend of console sales building by 2x to 3x going into Q4 for the following year. Year after year, last-generation console sales go up as Santa delivers presents to all the good girls and boys, demonstrating repeatability.
Relating Console Sales to This Quarter's Earnings and Outlook
AMD reported revenue that came in well above guidance, and forecast revenues to be slightly up during Q2.

Yahoo is reporting an analyst estimate for 2014 of $5.75B, which would work out to be a quarterly average of $1.43B.
Now factor in that consoles typically go up by a factor of 2x or so during Q4, and that the inventory build by Sony (NYSE:SNE) and Microsoft (NASDAQ:MSFT) will likely begin in Q3 for this Q4 time frame I mention.
This points to a significant revenue increase in the back half of the year during Q3 and Q4 in preparation for the holidays.
Given AMD's forecast for revenues of $1.44B at the midpoint of guidance for Q2, and consoles alone likely generating significant revenue growth in the back half, consoles alone easily have the potential to generate enough revenue growth to trump analyst estimates.
$5.75B full-year 2014 revenue guidance implies a quarterly average of $1.43B per quarter, which implies no room for growth in the back half.
Taking the Straw Men Apart, One Straw At A Time
Together is a list of arguments I frequently see against AMD, combined with counter-arguments showing why they no longer hold water:
AMD is mainly dependent on PCs - This has not been the case for two consecutive quarters, and is something I called attention to prior to Q4.
Console margins are "bad" - Bears typically try and draw the discussion to a debate of gross margins, as console wins have "dragged" AMD's GMs down to ~35%. However, there is minimal MG&A expense, and the customer pays for the NRE (non-recurring engineering) associated with these designs, so there is minimal OPEX. As a result, while GMs are lower than the corporate average, operating margin is substantial and accretive to earnings. As a point of contrast, Intel's (NASDAQ:INTC) blended operating margin is ~20% (source: INTC.com, calculated from $12.8B in revenues and $2.5B in operating income). Operating margins in the high teens are, in fact, quite good.
Wafer concerns - AMD has started to shift manufacturing to GlobalFoundries, with part of this production being console chips. These are large chips that are in high demand, so this will help AMD meet its target.
AMD has taken steps throughout this year to ensure that some of the issues that have been dangling overhead are no longer a concern.
Semi-Custom and Other Tidbits
AMD's CEO, Mr. Rory Read, and SVP, Dr. Lisa Su explained during the conference call that there are 1 to 2 semi-custom designs that seem to be at the later stages of negotiation. However, bear in mind these deals are not inked, so therefore, they could fall through.
It was also explained that these deals would be in the range of $200M to $500M over the lifetime, and that these are typically 3 to 5-year deals. Assuming a midpoint of $350M and a 4-year lifetime, this would put each deal at ~$20M per quarter. Although not extremely significant (both together would constitute an increase of quarterly revenues of ~3%, if using Q1's revenue as a baseline), this would be a contracted win with what Mr. Read refers to as "sticky revenue."
Tonight, AMD also stated the company expects CS revenues to grow from Q1 to Q2, which makes sense given recent and upcoming product launches. AMD launched Kaveri for desktop last quarter. In Q2, we have the new AM1 platform, along with Beema and mobile Kaveri products coming to market. Furthermore, it was stated that we should see more commercial products coming to market in the back half of the year.
Although I wholeheartedly see Intel's contra revenue plan giving AMD heartache in the lower end of the PC market, the product launches mentioned above will serve to offset some of this competition. Even if AMD doesn't manage to grow CS revenues and they only remain static, console sales alone are likely to propel revenues past current expectations.
Although I don't expect significant revenue from the ARM Opteron chip this year, it was stated this will launch in Q4. The revenues may not be significant, but any traction for this chip will give credence to the story behind ARM (NASDAQ:ARMH) in the data center.
Conclusion
For the first time since I have been writing about AMD, the company is up, rather than being down, after reporting. As I said above, the report was not stellar, but it was very good. It may not have been the huge beat that some bulls were hoping for, but more importantly for those with a longer-term view, it shows that AMD's turnaround is still on track.
This is the second quarter in which AMD's GVS revenues accounted for a higher overall percentage of revenue. Two of the larger growth drivers for AMD are also happening in the GVS segment: consoles and professional graphics. And these are driven by well-recognized and premium products. For example, Apple's (NASDAQ:AAPL) Mac Pro. Betting against AMD's ability to drive professional graphics market share this year is betting against an industry leader that currently has a product in such high demand that the demand cannot be met.
Various other concerns, such as not meeting production requirements at GlobalFoundries, are much smaller for this year. This is my speculation only, but AMD took no penalties from GlobalFoundries this year, despite taking fewer wafers than projected. This could signal a deeper level of collaboration between the entities, but this is only speculation. At any rate, it signifies that even if AMD is on track to miss production, that does not necessarily translate into a penalty. So the vultures circling for blood via a big EPS miss stemming from penalty payments have to look for a meal elsewhere.
I have referred to AMD as a speculative play before, and I still feel no different. Although recent moves from AMD have eased some concerns, there is still competition from both Nvidia (NASDAQ:NVDA) and Intel. And in particular, competition in the low end of the PC space.
But these concerns need to be put into perspective. Consoles, along with various other prospects for growth during 2014, put AMD on track to come in above the $5.75B average revenue estimate. There are a few unknowns as well, such as if AMD manages to ink the potential semi-custom wins, that could drive the share price higher.
I am personally bullish on AMD, but because of PC concerns, along with various others, I can understand a hesitation to take a long position in AMD.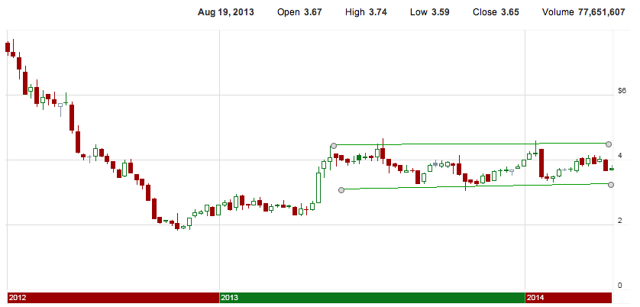 I am by no means a technical trader, but after closely observing AMD's price action over the past year, after each sell-off post earnings, the stock has established and tested support around the $3.20 level and then tends to trend back to the $4.00 level.
Looking at the upside potential, AMD managed to run up to nearly $4.50 twice during the past year, and both of these events were driven with no real news catalyst, as far as I can recall. The run-up was driven more by what seemed to be longs hoping for a bigger beat that never materialized. However, bear in mind that both of these times at ~$4.50, the sell-off was driven by news and earnings reaction, not technicals. This makes it harder to predict where AMD would encounter resistance to the upside.
The share price for AMD at the time of submission was $3.91. Based on the current share price, a downside to $3.20 implies an ~18% gain for shorts if AMD were to drop when the market opens. However, given that AMD has managed to hang on to most of the gains after-hours, combined with the potential for sequential revenue growth in subsequent quarters and mitigation of other risk factors, AMD seems like an unlikely short from its current share price.
Disclosure: I am long AMD, INTC. I wrote this article myself, and it expresses my own opinions. I am not receiving compensation for it (other than from Seeking Alpha). I have no business relationship with any company whose stock is mentioned in this article.
Additional disclosure: I own both shares and options in AMD and actively trade my position. I may add or liquidate shares/options at any time.