By Brenon Daly

Japanese telecommunications giant Nippon Telegraph and Telephone (NYSE:NTT) has made a surprise offer for one of its existing partners, Dimension Data Holdings, an LSE- and Johannesburg Securities Exchange-listed IT services firm with roots in South Africa. This is an unusually large acquisition for a Japanese company, worth 120 pence per share, approximately £2.12bn ($3.2bn) in cash. That's just over a 15 times EV/EBITDA multiple and 18x the closing share price before the announcement. (NTT has plenty of cash, with about $10bn on hand).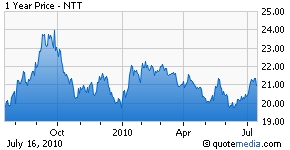 The Dimension Data board has recommended the offer and NTT has assurances from the directors and major shareholders Venfin DD Holdings and Allan Gray covering 52% of Dimension Data's issued shares. The deal is expected to close by the end of October.
NTT cited the cloud computing opportunity as the main motivation behind the transaction. It brings to NTT specialist managed IT infrastructure and services capabilities that can now be rolled out on a global scale. NTT has its own managed network services, datacenters, system integration and mobile services, but Dimension Data adds to the development, operations and maintenance side of IT infrastructure, including network devices and servers running in customer sites. Geographically, NTT's main strengths are in Asia, followed by Europe and the US; Dimension Data is strongest in Africa, the Middle East and Australia. NTT rival China Mobile has been making noises recently about investments in South Africa.
Dimension Data was founded in 1983 and listed on the JSE four years later. A series of acquisitions, including that of Plessey South Africa in 1998 and the European networking business of Comparex Holdings in 1999, helped it grow to over $2bn in revenue by 2003. (The deals have continued, with eight listed in The 451 M&A KnowledgeBase since 2004). At the end of fiscal 2009, revenue hit nearly $4bn and net profit was $135m. The company has 11,500 employees and more than 6,000 clients. JPMorgan Cazenove advised on the transaction for Dimension Data and Morgan Stanley for NTT.