Readers that follow my regular income investing articles know that I am a huge fan of Kinder Morgan Energy Partners (NYSE:KMP). About 20% of my income portfolio consists of units of Kinder Morgan Energy Partners and so far I just love the remuneration. Some investors might argue, that such a high degree of allocation to a single investment is of extraordinary risk.
I believe, however, that serious income investors with a plan to achieve financial independence and an intention to build sustainable wealth, won't find a better income vehicle in the high-yield equity market. There are a few companies, that are also highly attractive from an income point of view: For instance, Realty Income (NYSE:O), Omega Healthcare Investors (NYSE:OHI), Linn Energy (LINE) and Seadrill (NYSE:SDRL) also account for high allocations in my income portfolio. All stocks/units have in common that they provide investors with respectable distributions streams, skilled management and a track record of execution as evidenced by continued business and distribution growth.
KMP is a solid income vehicle to build long-term wealth
Now, I know that past performance is not a guarantee of future performance. Nonetheless, past performance results are likely to be repeated when the management is the same. I have previously written how comforting I find it to be investing alongside a billionaire company founder/Chief Executive Officer. Add to that the booming energy industry in the United States with an ever increasing demand for production-, transportation-, refinery- and storage capacity.
In other energy related articles I have voiced my conviction, that the domestic oil and gas business is the 'place to be' for investors in the next couple of years (actually it already has been the sector to be invested in since the early 2000s).
Kinder Morgan Energy Partners has a five-year unit return of 65%, whereas other high-yield pipeline companies such as Atlas Pipeline Partners (NYSE:APL) achieved a meaningfully better five-year performance: A return of 629%. I, too, hold APL in my income portfolio, and have repeatedly recommended this company for investors seeking diversification among their midstream equity investments (see here).
While Kinder Morgan Energy Partners has relatively underperformed other midstream companies over a five-year performance measurement period, the majority of its total return was, and is, likely to come from its cash flow distributions to unitholders. In a related article about Kinder Morgan Energy Partners I have pointed out, that high cash flow yields are extremely attractive in markets of extraordinary volatility and Bear markets and should not be traded in for higher capital gains. This theme gets easily forgotten in rising stock markets when select equity investments make for good headlines because of their stock returns. I believe long-term investors, who do not care too much about the swings in the stock market, but rather act opportunistically and buy more quality businesses when Mr. Market quotes irrational prices, will find Kinder Morgan Energy Partners a solid investment to drive long-term wealth via an increasing stream of distributions.
Since midstream companies structured as Master Limited Partnerships distribute the majority of their income to investors in form of cash dividends, investors should almost entirely focus on the distributable cash flow a Master Limited Partnership reports. Too often, investors focus on earnings for both MLPs (and Real Estate Investment Trusts as well). In both cases, cash flow is the item to look for.
It's all about the cash flow
As mentioned above, investors are well advised to look at Kinder Morgan Energy Partners' reported distributable cash flow in order to get an accurate picture about the development of its business.
Strictly being evaluated on an earnings basis would lead to the conclusion that KMP did poorly in the most recent quarter: Q1 2014 net income attributable to KMP was reported at $746 million compared to $783 million in the year ago quarter -- a decline of 4.7% y-o-y.
However, KMP's distributable cash flow before certain items actually increased a whopping 26% y-o-y from $550 million in Q1 2013 to $693 million in the most recent quarter. KMP's distributable cash flow per unit before certain items grew to $1.55 compared to $1.46 per unit in the year ago quarter: An increase of 6% and handsomely covering the quarterly distribution of $1.38 per unit.
Richard Kinder, Chairman and Chief Executive Officer of Kinder Morgan Energy Partners, commented first quarter results:
KMP had a strong first quarter and increased the distribution for the 51st time since current management took over in February of 1997. We earned distributable cash flow before certain items of $1.55 per unit for the first quarter, which equates to coverage in excess of our distributions of $76 million. Our five business segments produced $1.569 billion in segment earnings before DD&A and certain items, a 23 percent increase over the first quarter of 2013. Growth was led by contributions from the Copano acquisition, a dropdown from Kinder Morgan, Inc. (NYSE:KMI) associated with the El Paso Corporation transaction, outstanding results from the Natural Gas Pipelines group, increased oil production at our CO2 segment and strong results from our Terminals business. We continue to see exceptional growth opportunities across all of our business segments and currently have identified approximately $14.9 billion in expansion and joint venture investments at KMP that we are confident will come to fruition and drive future growth. This compares to a backlog of $13.5 billion in projects announced in our January earnings release.
Growing distribution stream
Another solid quarter with strong cash flow generation led Kinder Morgan Energy Partners to increase its quarterly distribution to unitholders. The company is now going to pay investors $1.38 per common unit quarterly -- up from the $1.36 per unit it paid previously and reflecting a sequential distribution increase of 1.5%. Annualized distributions now amount to $5.52 per unit which leads to a whopping annualized forward distribution yield of 7.11%. The most recent increase in quarterly distributions is also the ninth increase in a row.

Click to enlarge
(Source: Kinder Morgan Energy Partners Investor Relations Website)
Assuming that Kinder Morgan Energy Partners achieves its 2014 cash distribution target of at least $5.58 per unit, which I think is realistic, the forward distribution yield would stand at an even more attractive 7.19%.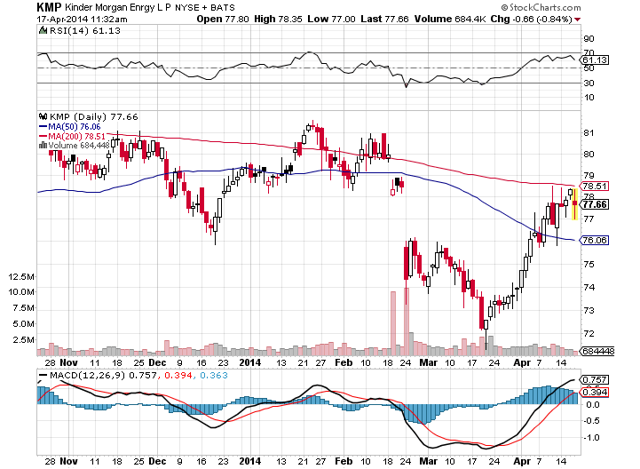 Click to enlarge
(Source: StockCharts.com)
Conclusion
Kinder Morgan Energy Partners has proven critics and Bears wrong once again. Strong y-o-y cash flow growth is the result of KMP's focused growth strategy in the past years with both organic and purchased growth adding to Kinder Morgan's performance results. Increasing distributions as a result of soaring cash flow is also the right move to benefit unitholders, many of whom depend on an increasing cash flow stream to fund their living expenses/liabilities.
Kinder Morgan Energy Partners remains a cornerstone income vehicle for investors who seek to build long-term wealth via a dominant midstream business in an industry with highly attractive capital deployment opportunities ($15 billion worth of growth investments). Strong, long-term BUY of Kinder Morgan Energy Partners as a solid wealth building vehicle.
Disclosure: I am long KMP, APL, LINE, O, OHI, SDRL. I wrote this article myself, and it expresses my own opinions. I am not receiving compensation for it (other than from Seeking Alpha). I have no business relationship with any company whose stock is mentioned in this article.